Christian Mother Meriam Ibrahim to Receive NRB Award for Showing 'What It Means to Not Be Ashamed of Christ'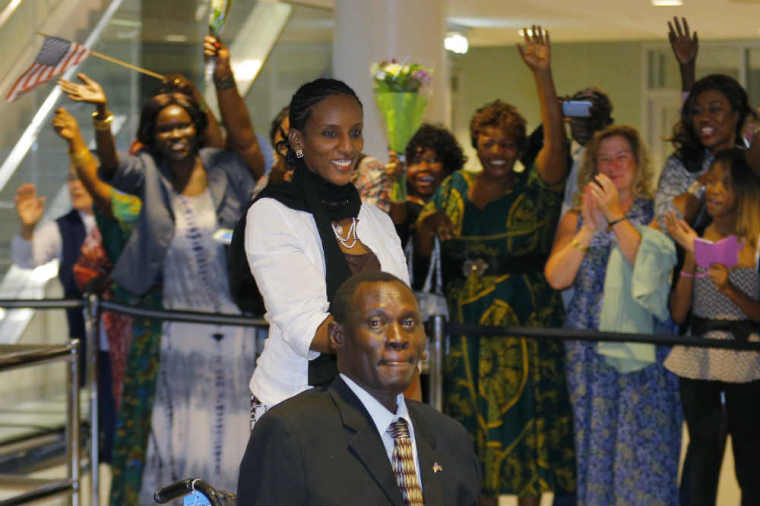 Meriam Ibrahim, the Christian mother who was held prisoner and initially sentenced to death in Sudan for her faith, is set to receive the National Religious Broadcasters' President's Award later in February for showing "what it means to not be ashamed of Christ."
"Mariam Ibraheem is a modern-day example of what it means to not be ashamed of Christ," said NRB President and CEO Jerry A. Johnson. "We are honored to welcome her to NRB15 as we rejoice with her over God's protective care in her life."
The Islamic government of Sudan sentenced Ibrahim to 100 lashes and to death in 2014 for the crimes of apostasy and adultery for marrying Daniel Wani, an American Christian citizen. The mother was forced to take care of her young son while in prison, and to give birth to her second child while in chains.
Ibrahim was told that she could save her life if she renounced her faith in Christ and converted to Islam. The mother refused to do so, however, and explained that she had been raised a Christian and continues to identify as one.
Following intense international pressure, the government of Sudan agreed to clear Ibrahim of the charges and released her from prison on June 24, 2014.
Although she was once again detained for carrying a false passport, Ibrahim and her family finally left Sudan for Italy following help from the Italian government. Persecution watchdog groups celebrated the departure, and called it an "answered prayer" for the thousands who had signed petitions and offered prayers.
"The ACLJ, in conjunction with nations and organizations worldwide, fought for Meriam and her family their basic religious liberties. Because of the unwavering dedication of the American people, the four are now safe in Italy and hoping to be in the United States soon," Jordan Sekulow, executive director of the American Center for Law and Justice, said at the time.
Ibrahim, who is now living with her family in New Hampshire, has said that she hopes to return to Sudan one day to campaign for others who are facing religious persecution.
"It wasn't easy, I can't describe it," she told BBC News of her time in prison. "But there are others who are in worse conditions in Sudan than those I was in."
"Sadly, this was all under the guise of the law. So instead of protecting people, the law is harming them."
NRB will present Ibrahim the award on Feb. 25 in Nashville, Tennessee, where the Christian mother will first be honored at the Hope for the Heart women's breakfast. Ibrahim will be joined by June Hunt, CSO and founder of Hope for the Heart, as well as by syndicated talk show host Janet Parshall.