Christian School Arms Teachers With Guns in Arkansas; 'We Have Right to Protect Children,' Says Pastor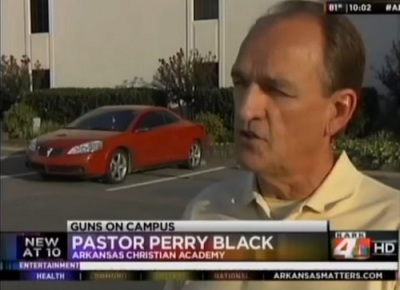 An Arkansas Christian private school has decided to train and arm its staff, and has posted signs around campus to warn would-be shooters against stepping onto school grounds.
Following the lead of their church affiliate that recently installed armed security for its Sunday services, Arkansas Christian Academy will have one to seven armed staff members on site every day.
Signs around campus have been posted that read: "Staff is armed and trained. Any attempt to harm children will be met with deadly force."
Pastor Perry Black explained that the decision came from a desire to protect students.
"I just felt like with what's going on in many of the public sectors where there seems to be a lot of shootings we need to take the same stance that we do in church on Sunday for our kids Monday through Friday," Black told KARK 4.
Arkansas Attorney General Dustin McDaniel recently ruled that state law did not permit arming teachers in public schools.
"Simply put, the code in my opinion does not authorize either licensing a school district as a guard company or classifying it as a private business authorized to employ its own teachers as armed guards," McDaniel wrote in a legal opinion.
Republican gubernatorial Chris Coleman commended Arkansas Christian Academy's efforts to keep students safe.
"I admire the school's administrator, Perry Black, for recognizing that every moment counts when a gun-toting criminal intent on taking innocent lives is on campus," he said in a statement.
Black felt that he was doing nothing more than his duty to look after students.
"We reserve our right as American citizens and as Christians to protect the children on our campus," said Black.