Christian University Stands by Decision to Keep Bill Cosby as Speaker at Benefit Dinner, Despite Outcry From Sexual Assault Victims Group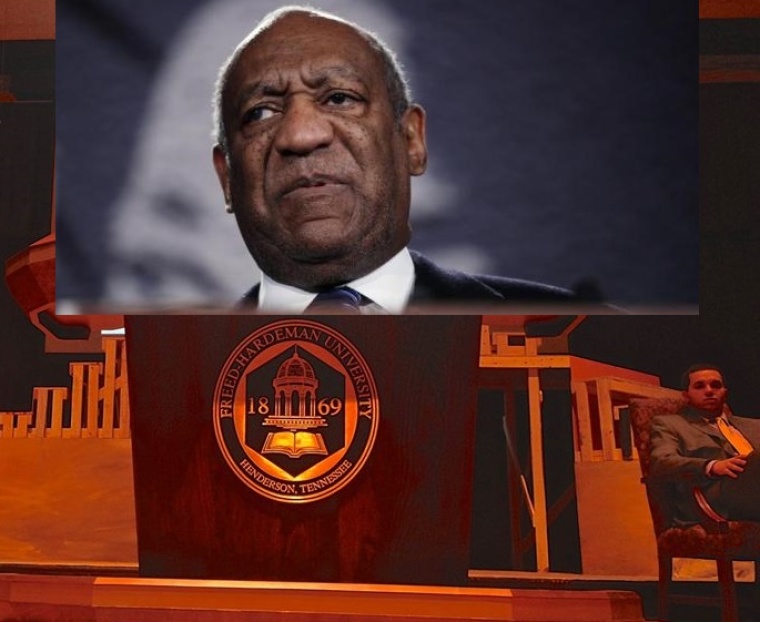 Officials at a West Tennessee Christian University sparked a fiery debate over Christian values Wednesday for standing by their decision to invite embattled comedian Bill Cosby to serve as keynote speaker for the school's benefit dinner scheduled for next month, despite outcry from an advocacy group for victims of sexual assault.
David Brown, leader of the Memphis Chapter of Survivors Network of those Abused by Priests, charged in a WREG report that if the officials at Freed-Hardeman University — a private Christian institution associated with the churches of Christ — go ahead with plans to host Bill Cosby at their benefit dinner on Dec. 5, he will protest.
Cosby, who declared in a New York Post report in 2013 that, "I am a Christian" is facing mounting allegations of rape from multiple women. The allegations have resulted in him being dropped from projects with NBC, Netflix and TV Land, according to CNN. Freed-Hardeman University, however, is standing by its position, infuriating Brown.
"If he does show up Dec. 5 to the auditorium, I'll be out there protesting, and I won't be alone," Brown threatened, according to WREG.
"I know this is about raising money, but you can raise money more admirably than this," he continued.
Brown explained that he sent a letter to the university, saying, "If you keep him as your keynote speaker, your fine university will hurt so many, and you will never know the harm that you have done."
In a response to his letter, Brown said the university noted: "oh, we are glad you got healed from your problem; however, we are still going to go forward."
In interviews with The Christian Post on Thursday, officials at the university noted that the decision to invite Cosby to speak at the benefit dinner was made in the spring and pointed to a statement on the school's Facebook page as their official response to the fiasco.
"Our 50th FHU Benefit Dinner remains scheduled for Friday, Dec. 5, to focus on our main goal — providing an avenue for donors to invest in the students' lives. We committed to a contract with Bill Cosby many months ago after soliciting input from alumni and friends," began the statement.
"While recent developments have drawn attention to our event because of the speaker, we hope that people will remember: 1.) this dinner is about helping students, and 2.) while we are reading stories in the media, they represent real people whose lives will be affected long after FHU's dinner has passed. Please join us in praying for healing and peace for those involved," it ended.
Frank M. Smith Jr., executive vice president at Simmons College of Kentucky and senior pastor/founder at Christ's Church for Our Community who is also an alumnus of the university, said the school's response was appropriate.
"This is an excellent opportunity for FHU to make a bold, compassionate advance for the Gospel of Jesus Christ. To have open arms and receive one who is undergoing the personal trauma of allegations is consistent with the grace and mercy of our Lord," he noted in a response to the university's statement.
"The criticizing world only knows how to accuse and condemn. Christ presents a gracious alternative that we all find ourselves beneficiaries. Sometimes the providence of the Lord is so timely — all He needs from His redeemed people is to respond in a redemptive manner as a follow-through on whatever His plan and purpose may be. The students need the benefit dinner to proceed, but Bill Cosby needs the healing touch of Christ-followers. This event could prove to be a most pivotal turning point in his life," he said.
Cosby has refused to respond to any of the rape allegations so far. The AP released video footage from an interview it conducted earlier this month in which Cosby was surprised by questions about the allegations and then asked the reporter to "scuttle" the section of the interview declining to address the matter.
"No, no, we don't answer that," Cosby told the AP reporter who continued to push for a response. "There is no comment about that and I'll tell you why. I think you were told, I don't want to compromise your integrity, but I don't talk about it."
With the cameras still rolling at the end of that exchange Cosby asked: "Now can I get something from you? That none of that will be shown? …I would appreciate it if it was scuttled. I think if you want to consider yourself to be serious, that it will not appear anywhere."
Penny Nance, president and CEO of Concerned Women for America, the nation's largest public policy organization for women, said she believes Cosby's decision not to comment on the allegations is based on advice from his lawyers.
"I think that he is listening to his lawyers. Any kind of ongoing investigation, particularly a criminal investigation, people usually don't talk, so it's not surprising," she told CP on Thursday.
"Rape is a very serious allegation and it breaks my heart because I grew up watching the 'Cosbys' like many, many Americans; and I have this idyllic view of Bill Cosby and I hope that it's wrong, but it has to be fully and vigorously investigated," Nance said.
"I've only heard one side of the story, but the thing that bothers me is that this isn't just one woman. There has been smoke and innuendo to this effect for a couple of decades and so I don't want to believe that. I think that he has done some beautiful work and he's done some important things in our culture and America loves him. But if he is a rapist he needs to suffer the consequences, these women deserve justice," she said.