Christians Are More United This Month Than Ever on Climate Change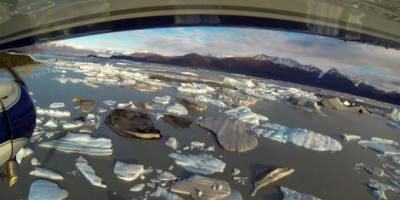 Christianity and climate change. For people used to reading headlines describing certain powerful American Evangelicals' rejection of the science on climate change, hearing these two phrases may conjure up a third: "controversy."
However, it is important to recognize that Christians have never been more united in solving the climate crisis. The devastating storm in Texas and the Gulf Coast region is, sadly, a perfect example of why we care about climate change.
Climate change means, on average, a warmer ocean and wetter air. Both of these can intensify storms like Harvey. When disasters like this confront us, our best response is love. We can dedicate ourselves to protecting not just the victims of this hurricane, but those of all the hurricanes to come.
This month, all around the globe, Christians are praying, gathering in worship services, and taking concrete action to tackle climate change during the Season of Creation. The Season of Creation lasts from September 1, the World Day of Prayer for Creation, to October 4, the Feast of St. Francis of Assisi. The events have special resonance this year, the 500th anniversary of the Reformation that brought about the schism between Protestant and Catholic churches.
The World Day of Prayer (on Sept. 1), first introduced by the Orthodox Church in 1989 and embraced by other Christian churches since, was joined by the Catholic Church after a statement by Pope Francis in 2015. This means it is now celebrated by the vast majority of major Christian churches. Together, Catholics and Protestants are responding to an urgent moral call to reduce greenhouse gases and help our neighbors adapt to a warmer world.
Over the coming weeks, the Archbishop of Canterbury, principal leader of the Church of England, will be officiating at a prayer service on caring for our common home. In Toronto, Canada, Indigenous and non-Indigenous people will be walking side by side to promote better protection of waterways. More Christian groups are expected to announce their plans to remove stocks in fossil fuel companies from their investment portfolios.
Christians of diverse backgrounds are united on climate change because caring for creation, and caring for the vulnerable people who are already suffering the consequences of a warmer world, is essential to our faith. I am taking action, too. I will be talking to people in Seattle about the latest climate science and how it relates to Pope Francis's June 2015 Encyclical on humanity's relationship with the planet, Laudato Si' (a title which can be translated as "Praise be").
As a science reporter and then as Chief Meteorologist at KING Television in Seattle, Washington, I forecast and presented the weather over a 38-year period. As a mountaineer, sailor, and diver, and again as an aviation meteorology instructor for the U.S. Army and U.S. Coast Guard, I have experienced and closely observed our natural environment.
During that time, our climate has changed. It has changed on a global level that can sound abstract: 2016 was, on average, the hottest year globally since our records began, breaking the record set by 2015 and 2014 before that. A world in which we continue to emit copious amounts of greenhouse gases is a world where we can expect to see continued rising temperatures coupled with more frequent and intense extreme weather events from floods to droughts to wildfires--the science is clear on this issue, as a new federal report reiterates.
The climate has changed in concrete ways for people in Texas and all around the Gulf. It has also already changed on a local level that I have myself witnessed. In Washington, mountains that routinely set world records for annual snowfall are now seeing their glaciers shrink. Tinder-dry vegetation ignited by lightning strikes or human carelessness resulted in record wildfire seasons.
A few of these effects may seem merely odd or inconvenient. However, many consequences of climate change threaten the livelihoods and even the lives of our fellow human beings. It is true that wildfires and floods have always happened, but it is the human thumb on the scale that makes them more frequent and more intense.
As a Christian, I believe that our Earth is a gift from God and that we are called to protect this gift for the benefit of the human family. As a scientist, I know that this gift is under threat, and that it is in our power to mitigate this threat significantly.
It should give us hope that, globally, ever more Christians feel the same. This month's Season of Creation is an opportunity to turn this recognition into action and to make certain that when people think of Christianity and climate change, the first words that come to mind are not controversy, but caring, charity and courage.
Jeff Renner was Chief Meteorologist at KING Television in Seattle, Washington, for 38 years, winning nine Emmy awards for his science and environmental reporting. He is the author of several books on weather and mountaineering.