Christians Erect Giant Cross Outside Mosul to Mark Victory Over ISIS Jihadists
Christians Erect Giant Cross Outside Mosul to Mark Victory Over ISIS Jihadists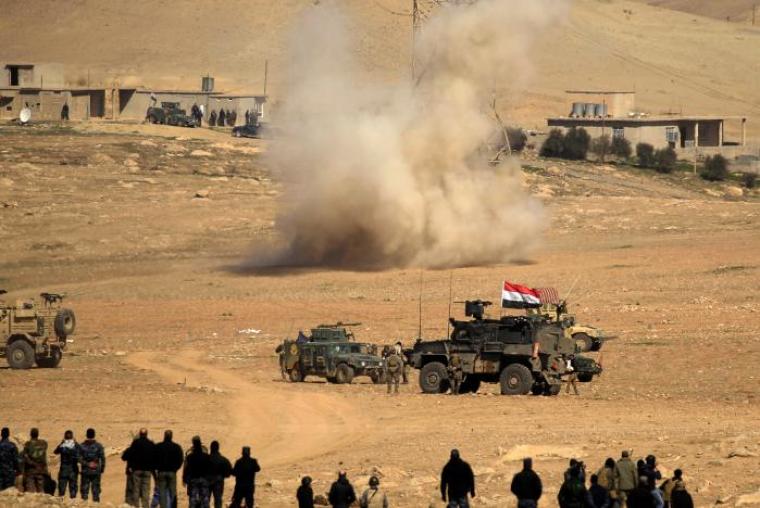 As a village outside the city of Mosul is being rebuilt after its liberation from the Islamic State terror group, a giant cross has been erected on one of its hills to celebrate the victory of faith over "darkness."
The Chaldean Catholic Patriarch of Baghdad, Louis Sako, inaugurated the cross and attended the the first Mass held after two and a half years in Saint George Church, according to Catholic News Agency.
He called the cross, erected in the village of Telekuf-Tesqopa, about 17 miles from Mosul, "the first spark of light shining in all the cities of the Nineveh Plain since the darkness of ISIS, which lasted almost two and a half years."
"This is our land and this is our home," Sako said during the mass, and added that the cross will announce "to the world that this is our land, we were born here and we will die here. Our ancestors were buried in this pure land and we are going to remain to preserve them with all our might and for future generations."
The people set off fireworks and cheered, "Victory! Victory! Victory! For those who chose the faith and those who return!" according to Breitbart.
Last month, Iraqi forces reclaimed a majority of Mosul's airport from the control of Islamic State, also known as IS, ISIS, ISIL or Daesh. The victory was part of the wider efforts to completely expel IS militants from the city.
Iraqi forces previously seized the eastern half of the city but with significant Iraqi casualties as a consequence. About 500 Iraqi military personnel reportedly perished while around 3,000 were wounded in the operation.
After taking the eastern half of the city, Iraqi forces halted operations for three weeks in order to form a strategy that would retake the city's western half. The offensive was then resumed by seizing the rest of the city on multiple axes in order to hinder IS from coordinating defenses.
A week ahead of the operation, the United States led airstrikes on 33 targets, some of which are believed to be command centers of IS.
The evangelical humanitarian aid group Samaritan's Purse is helping save the lives of those who were badly injured during the liberation battle in Mosul, including IS fighters.
In a recent Facebook post, the organization's president, Franklin Graham, a leading evangelical and son of famed evangelist Billy Graham, defended President Donald Trump's Jan. 27 controversial and wide-ranging executive order that suspended refugee resettlement for 120 days, refugee resettlement from Syria indefinitely and temporarily halted travel of citizens from seven Muslim-majority countries for 90 days.
"At Samaritan's Purse we work in over 100 countries and have worked in most of those on the banned list, so I feel I have something to say about this issue," Graham wrote. "For example, right now with our Emergency Field Trauma Hospital outside Mosul, Iraq, we are treating Muslims, wounded civilians — men, women, and children — many of whom were shot by ISIS snipers as they fled Mosul.
"At the same time, we are treating badly wounded ISIS fighters," he added. "Our medical teams take them in, perform surgery, bind up their wounds, and give everyone the same compassionate, Christian care — helping them in Jesus' Name."