Christians face harassment in more countries than any other religious group, Pew study finds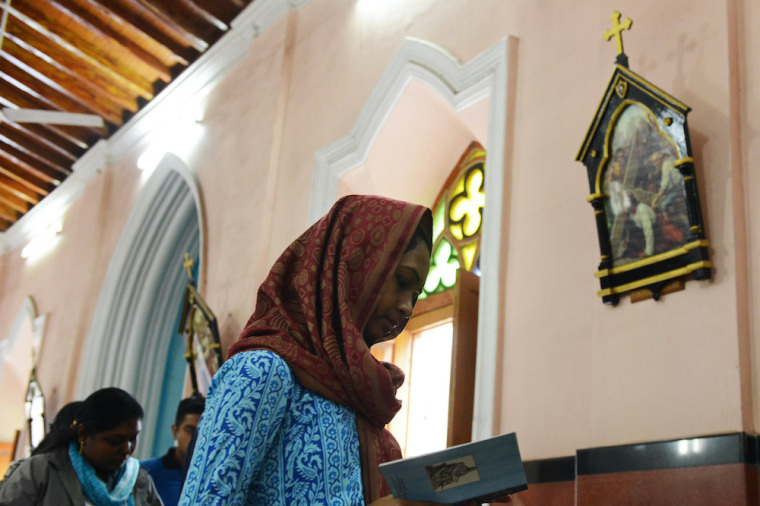 Christians faced harassment in more countries than any other religious group amid the COVID-19 pandemic in 2020, according to a recent Pew Research study finding an increase in 45 countries where followers of Christ face social or government abuse or violence since 2012. 
The data on restrictions to religion around the globe, released last November, was featured in a Jan. 27 report showing that Christians face harassment in over 155 countries in 2020, an increase from 110 in 2012. 
The organization's definition of "harassment" can include a wide range of actions, including verbal abuse to physical violence and killings committed by governments, social groups or individuals. The study captured "cases where individuals or groups feel singled out or unable to express their religious belief or nonbelief." 
The study rated 198 countries and territories by their levels of government restrictions on religion and social hostilities involving religion using the same 10-point indexes used in the previous studies.
Pew's Government Restrictions Index (GRI) measures government laws, policies and actions that restrict religious beliefs and practices, while its Social Hostilities Index (SHI) measures acts of religious hostility by private individuals, organizations or groups in society.
Researchers sifted through over a dozen publicly available data sources for the report, including the U.S. Department of State's annual peports on international religious freedom and annual reports from the U.S. Commission on International Religious Freedom.
Overall, physical harassment related to religion occurred in more than two-thirds of countries in 2020, the research shows. 
Muslims faced harassment in 145 countries, an increase from 109 in 2012. Jews, who make up 0.2% of the global population, face harassment in 94 countries, up from 71 in 2012. 
The study found that Christian groups were "targeted by private individuals and organizations in nine countries" as Christians were often blamed for the rise of the COVID-19 pandemic. 
"In Turkey, an Armenian Orthodox church's door was set on fire, and news reports said the man told police that he acted because "they [Armenian Christians] brought the coronavirus" to Turkey," the Nov. 27 Pew report states.
"In Egypt, conspiracy theories blamed the pandemic on the Coptic Orthodox Christian minority, which international Christian observers said exacerbated the discrimination the minority group already faced."
In India, two Christians were beaten and killed while in police custody for violating COVID-19 curfews in Tamil Nadu, according to the U.S. State Department's annual international religious freedom report. 
The study also found a nine-fold increase in countries where non-religious people face harassment. Pew named the United States among 27 countries where "religiously unaffiliated people" were harassed in 2020.
"Restrictions on religion don't just affect those who are religious. Religiously unaffiliated people also are harassed because of what they believe," states the Jan. 27 report by research analysts Sarah Crawford and Virginia Villa, which focuses on harassment against the religious unaffiliated.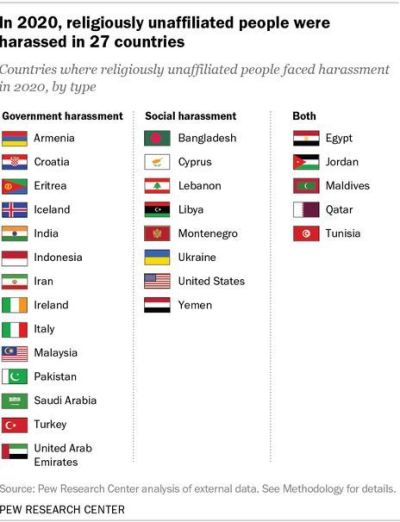 The report also found that the religiously unaffiliated faced harassment in 12 majority-Muslim nations and six majority-Christian countries. 
Forms of government harassment for atheists, according to Pew, included atheist groups in Croatia — a majority-Catholic country — who alleged the presence of the cross and other Roman Catholic symbolism in public buildings like hospitals and courtrooms were unconstitutional. 
And in countries like Pakistan, where Islam is the state-sanctioned religion, atheists are not given a "no religion" option for their identification cards, although the "government requires people to state their religious affiliation."
Examples of social harassment cited by Pew included a political satirist in Lebanon who called atheism the "religion of donkeys" during a program on a TV channel backed by that nation's Christian Free Patriotic Movement political party.
While the rise of the religious "nones" isn't new, Pew predicts the trend could result in the number of Christians of all ages shrinking from 64% to as low as 35% of all Americans by 2070.
The Pew findings come as the global persecution watchdog organization Open Doors reported last year that over 360 million Christians experienced high levels of persecution and discrimination across the globe. 
But even as more people shy away from identifying with any religion, many of those who report no religious affiliation still partake in a wide variety of religious and spiritual practices and beliefs. 
According to a 202 Baylor University study, many "nones" still attend religious services, pray, meditate, believe in God or a higher power, have religious experiences, and believe in Heaven, Hell and miracles.