North Korea ranks as worst persecutor of Christians after enacting 'anti-reactionary thought law'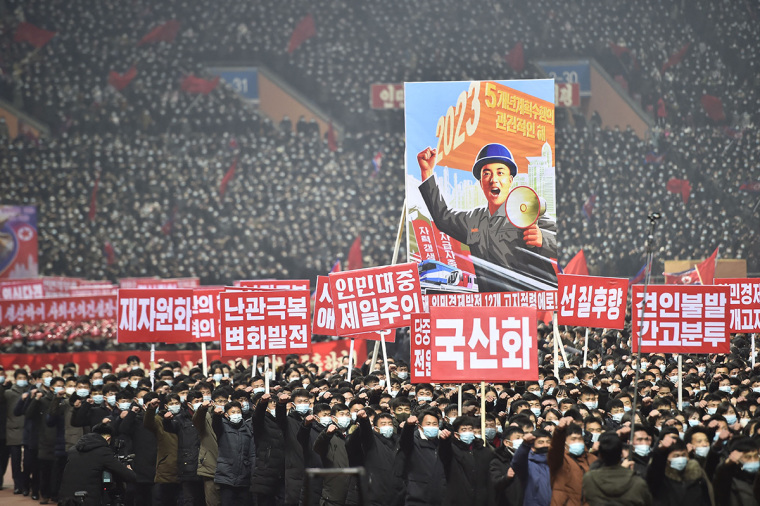 North Korea has reclaimed its position as the world's worst persecutor of Christians, according to the latest World Watch List report prepared by the religious persecution watchdog Open Doors US.
Open Doors US released its 2023 World Watch List on Tuesday. The document, released annually since 1993, ranks the countries of the world based on the severity of the persecution and discrimination Christians are subjected to. While Afghanistan took the top spot in 2022, North Korea regained its status as the world's worst persecutor of Christians in 2023. Somalia, Yemen, Eritrea, Libya, Nigeria, Pakistan, Iran, Afghanistan and Sudan round out the top-10 worst persecutors of Christians on this year's World Watch List.
In a statement announcing the findings of the 2023 World Watch List, Open Doors US cited an "anti-reactionary thought law" implemented in North Korea as a particularly troubling development. Open Doors US Interim CEO Lisa Pearce told The Christian Post in an interview that the law was enacted in 2020.
Pearce described the "anti-reactionary thought law" as a "way to legitimize persecuting anybody who has any literature, anything of Western influence," including the Bible. She pointed to the law as "another reason" for North Korea's presence at the top of this year's World Watch List while acknowledging that "in practice, it's difficult for things to be more brutal for the Church than they already were."
Open Doors US cited a comment from North Korean escapee Timothy Cho when painting a picture of the hostility faced by Christians there. Cho said, "Christians have always been in the front line of attack for the regime," referring to the Kim dynasty that has ruled the country with an iron fist for several decades. According to Cho, "Their aim is to wipe out every Christian in the country. There can only be one god in North Korea, and that is the Kim family."
As for Afghanistan, which claimed the title of world's worst persecutor of Christians last year amid the Taliban's highly publicized takeover after the Biden administration's withdrawal of U.S. troops from the country, World Watch List founder Wybo Niccolai told CP that the situation has "really not changed" in the past year even though the country dropped from No. 1 to No. 9 on the list. He noted that "a number of things have changed" that led to Afghanistan ranking further down on the list of the world's worst Christian persecutors this year. 
"The Taliban, during the time of takeover, they killed a lot of Christians. They are no longer there," he said. "Many other Christians fled so they are no longer there." Niccolai also detailed how a large number of Christians who have decided to remain in Afghanistan have gone "deep down underground." 
One Christian who fled Afghanistan following the Taliban's takeover, identified as Zabi, elaborated on the situation on the ground in a neighboring country in a statement to Open Doors US: "Our situation is desperate. My mother and I managed to cross the border into another country. I am praying that I can leave this country and go somewhere safe. I may have to go into hiding or I'll be deported to Afghanistan. If that happens, I may be killed."
The World Watch List also listed Nigeria as a hotbed for Christian persecution. The number of religiously motivated killings in the African nation rose from 4,650 to 5,014 in the course of a year, accounting for 89% of the international total of 5,623 Christians killed for their faith in 2022. The number of religiously motivated killings worldwide marked a slight decrease worldwide from the 5,898 measured the previous year.
Pearce called on the U.S. State Department to "re-establish Nigeria as a country of particular concern," a designation reserved for the worst violators of religious freedom. She contended that based on conversations with "our teams of people who live there," Nigeria's absence from the list of countries of particular concern for the second year in a row is "a difficult thing to reconcile." 
The World Watch List also reflects the emergence of Sub-Saharan Africa as a troubled spot for Christian persecution, home to four of the top-10 worst persecutors of Christians. "The whole region is heading into catastrophe," said World Watch Research Managing Director Frans Veerman. 
"The aim of Islamic State and affiliated groups is to destabilize the entire region, establish an Islamic caliphate — ultimately across the entire continent — and, long term, they are confident this is within their reach. They are helped by other Islamists focusing on non-violent, systemic Islamization," he added.  
Veerman stressed that "it isn't just governments in Africa that aren't facing up to the true nature of this religiously motivated purge, it's governments across the world." He warned that "the price of this denial is incalculable, not just to Africa, but to the whole world."
Statistics compiled by Open Doors US reveal that more than 360 million Christians worldwide find themselves subject to discrimination and persecution on the basis of their faith, accounting for one out every seven Christians. The watchdog organization characterized the persecution of Christians as at "the highest levels since the list began nearly 30 years ago." 
This year's World Watch List marks the first to be released after Open Doors USA, the organization that previously released the World Watch Lists, separated from Open Doors International and assumed the name Global Christian Relief. Open Doors International announced on Jan. 1 that its U.S. chapter would henceforth be known as Open Doors US. 
Open Doors US identifies itself as a "global NGO network which has supported and strengthened persecuted Christians for 68 years and works in more than 70 countries" to provide "practical support to persecuted Christians such as food, medicines, trauma care, legal assistance, safe houses and schools, as well as spiritual support through Christian literature, training and resources.