Christina Aguilera Weight Loss: Reveals Slim Waist on 'Voice' After 1,600 Calorie Diet
Christina Aguilera Weight Loss: Reveals Slim Waist on 'Voice' After 1,600 Calorie Diet
After months of speculation and harsh criticisms, Christina Aguilera made a "Voice" appearance on Wednesday night, debuting a shocking weight loss.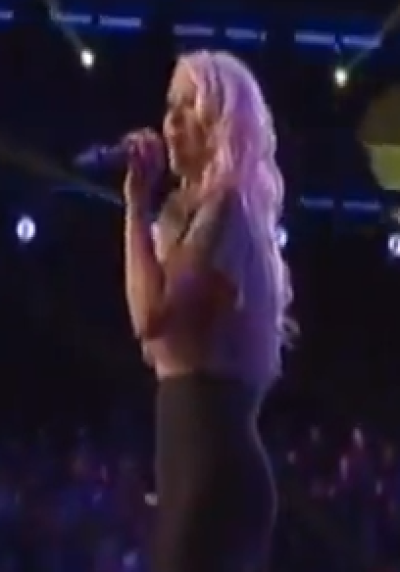 The former "Voice" judge has struggled with weight loss for the past couple of years, receiving constant criticism from the media about her appearance. But on Wednesday night during the finale of "The Voice," Christina Aguilera had nothing to hide.
Reports haves suggested that the "Beautiful" singer will be returning to "The Voice" next season as a judge, but during her time off it appears that the singer has been busy losing weight. Performing "Feel This Moment" on the "The Voice" stage with Pitbull, Aguilera revealed her new slim figure in a black pencil skirt and see through top.
The star was motivated to lose weight after becoming tired of public criticism, sources told Us Weekly.
"A lot of people were on her about her weight and it depressed her," a friend told the magazine. "She went through a bad time because of the criticism."
Much of the criticism was focused around Aguilera wearing clothes that were too tight to flatter her new form. The singer however had said in previous interviews that she was not ashamed of putting on a few extra pounds.
"Actually, the challenge I've always had is being too thin," she told Lucky magazine before her weight loss. "Hey, if you can work it and you can own it, that confidence is going to shine through."
To lose the weight, the pop star attempted a Fresh Diet program online, which regulated her to 1,600 calories a day, a source told Us. But the motivation to succeed was all on Aguilera.
"She did it all on her own," the source told the magazine.
Check out the video of her performance here.
Christina Aguilera Shows Off Weight Loss