Church Overwhelmed by Angry Calls for Wishing Muslims a 'Blessed Ramadan'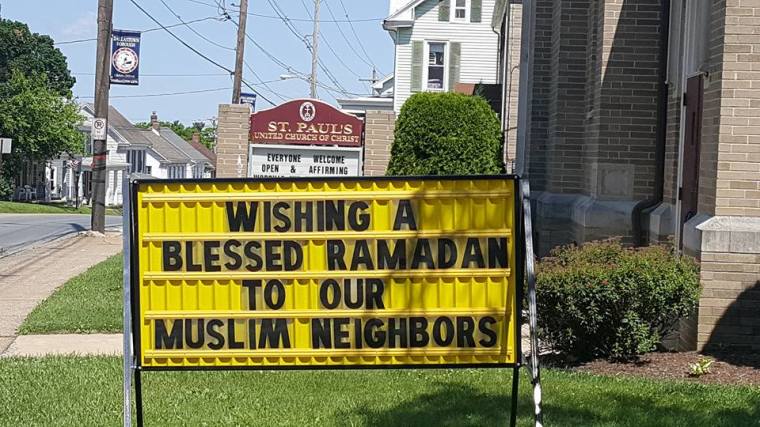 A Pennsylvania pastor says he's been inundated and harassed with phone calls and emails after a Donald Trump delegate and local school board member took to Twitter to voice his opposition to a Ramadan greeting posted outside the church to show solidarity with Muslims.
The Rev. Christopher Rodkey, the pastor of St. Paul's United Church of Christ in Dallastown, Pennsylvania, told the York Daily Recorder that he received a nasty voicemail to his cell phone on June 11 from an unidentified man who took issue with a sign posted out front of the church that reads: "Wishing a blessed Ramadan to our Muslim neighbors."
"I am completely shocked by that sign out in front of your church, that you are wishing [blessings on] people who subscribe to a faith that is not only godless but pagan, in front of your church, aligning it with the name of Christ," the voicemail states, according to a recording obtained by the York Daily Record.
"It is unbelievable that you would wish them a blessed Ramadan. Are you serious? Is there something wrong with you?" the voicemail continues. "I am posting your picture that you displayed up on Twitter and on Facebook so everybody can see what you have done. This is despicable, unbelievable."
Rodkey explained that he looked up the phone number and found that it belonged to a Spring Grove Area School District board member named Matthew Jansen. Jansen is also an elected delegate to the Republican National Convention who plans to support billionaire real estate mogul Donald Trump, a presidential candidate that has called for a temporary ban on Muslim immigration.
On the same day, Jansen posted a picture of the sign to his Twitter page and also tweeted out the church's phone number.
"Choose your battles but if this is your hill here is the church's # 717-244-2090." @AnnCoulter," Jansen tweeted.
"Choose your battles but if this is your hill here is the churchs' # 717-244-2090." @AnnCoulterpic.twitter.com/k5HkYmwwyv

— Matthew Jansen (@TheMattJansen) June 11, 2016
Since Jansen posted the tweet, Rodkey said the church has been swarmed with many disruptive phone calls and emails. Jansen added that the church's phone and answering machine were disconnected with the hope that the calls would eventually stop. But even after five days, the annoying phone calls still came in.
Jansen told the York Daily Record that even though he has seen many other "disturbing things" on the church's sign as he has driven by the church in the past, the church's Ramadan greeting "was over the top as far as I was concerned."
Jansen explained that the purpose of his phone call and tweet was not to intimidate the church but rather to address the "greater issue of Islam."
"I don't see Islam — or the Muslim belief — I don't see it as legit," Jansen told the York Daily Record.
Jansen also explained that he meant to include his name and number in his original voicemail to Rodkey's cell phone but he forgot. However, he says he did add his name and number in the voicemail left with the church.
Rodkey, who pastors a self-proclaimed "unapologetically, progressively, offensively Christian" church, said the Ramadan sign was posted because the church is "interested in religious tolerance." The pastor added that he believes Muslims are often used as scapegoats by the religious right.
In an op-ed posted to the York Daily Record, Rodkey wrote that Jansen's reaction to the church's sign is the "very definition of islamophobia as a fear."
"But what concerns me most is that this is who York County has selected to represent at the Republican National Convention," Rodkey wrote. "This is who a local school district has elected on a school board: someone who hates Muslims, despises gays and calls some parents 'disgusting and wrong.'"
A petition has been launched on Change.org calling for Jansen to be removed from his position on the school board. As of Monday afternoon, 473 people have signed in support of the Jansen's removal. The petition was launched by York resident Jacob Ross.
"As a representative for the school, this man cannot be doing things like this," the petition argues. "There are Muslim students in the school where he is on the school board. Also, it's incredibly unprofessional to do such a thing. I am hoping the Spring Grove Area School District will remove Matthew Jansen and not let our school be represented by someone so ignorant and out of order."
Lisa Smith, a spokesman for the school district, told PennLive that there is no item regarding Jansen's removal on the school board meeting agenda. However, she admits the school district has received "many more than dozens" phone calls and emails in regards to Jansen.
In a tweet Monday, Jansen has apologized and wrote that he was "out of line" for "venting" about the Ramadan sign.
"Jesus died for hardline Islamist just like He did me," he wrote. "I do apologize for venting to the church. I was out of line."
Despite the petition, Jansen told the York Daily Record that he is "not going to walk away."
Jesus died for hardline islamist just like he did me. I do apologize for venting to the church. I was out of line. https://t.co/ZhT2vOXufI

— Matthew Jansen (@TheMattJansen) June 20, 2016