Church Files Lawsuit to Determine Who Is Entitled to $200K Raised for Saeed Abedini's Family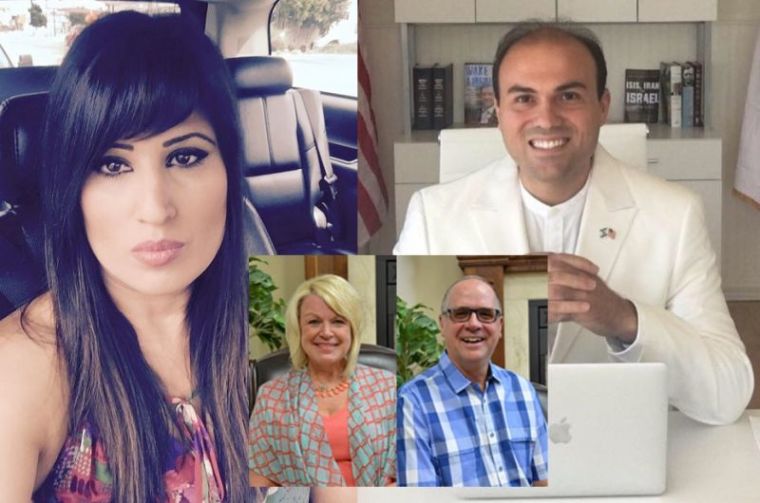 A California church that raised nearly $200,000 to purchase a home for the family of Pastor Saeed Abedini while he was imprisoned for his faith in Iran in 2013 filed a lawsuit in order to settle a dispute over the money.
Joshua Springs Calvary Chapel, located in Yucca Valley, California, had raised the funds for Abedini's wife, Naghmeh, and their two children who were living in Boise, Idaho. But matters became complicated following Abedini's release from prison in January 2016 and the couple's divorce proceedings.
According to the lawsuit, the church claims that Abedini implicitly demanded that the funds be given to him. But given that he and his wife are now separated and that the church had collected donations to buy a house for Naghmeh and their children, the church says that "a substantial controversy exists concerning entitlement to the charitable donations."
"Plaintiff (Joshua Springs Calvary Chapel) cannot distribute the benefits because it cannot determine which of the competing claimants, if any, is entitled to the said funds," the lawsuit states.
Abedini, who established house churches in Iran, was imprisoned for his faith for more than three years and was released in January 2016 after suffering torture and other forms of persecution. His wife as well as prominent Christian leaders campaigned heavily for his release.
But in recent weeks, Abedini has posted critical messages against those Christian leaders, his wife and Joshua Springs Calvary Chapel.
"Idaho media recently asked about the $200,000 which was raised for me when I was in prison and wanted to know what happened to that money and I didn't have any answer," he wrote on his Facebook page on Sunday.
"I told them I knew a Calvary Chapel Pastor fundraised but since I got released he never called me to let me know so I don't know what they did with that money. After 1 year because of the news push to get to know, I called Pastor Hagerman and his attorney told me they sued me and took me to court," he explained.
A copy of the lawsuit provided by the church's lawyer, David Earl Jacobs, explains that Merrily Hagerman, wife of Joshua Springs Pastor Jerel Hagerman met Abedini's estranged wife Naghmeh through mutual friends in Idaho. After hearing about the plight of her husband in Iran, Merrily launched a fundraising campaign to buy a house for Naghmeh and her children, according to the lawsuit, and raised a total of $198,350.
"I called her up and said, 'Naghmeh, the Lord put it in my heart to buy you a home,'" Merrily Hagerman told MagicValley.com about how she connected with Naghmeh Abedini in 2014. "I really know it was the voice of the Lord. Why would I want to raise this? When you feel that prompt, it's from God."
In that same report, Naghmeh said when she told her then imprisoned husband that they would be getting a house, he wept knowing that he would have a home when he left prison.
"For him (Saeed), as the head of the family, it's a dream he's had," Naghmeh told the publication at the time. "It's what he wanted to provide for the family, that's why it's so emotional. The burden that has been on him for so long has been taken by other people."
Naghmeh told the publication that she would wait until late March in 2014 to even think about looking for a home with the money raised. Her dream at the time was to go house-hunting with her husband.
The dream, however, was shattered almost as soon as her husband was finally freed from prison in January 2016. She revealed that they were having significant marriage trouble and then announced last October that they were getting a divorce.
The church explained in its lawsuit that on Dec. 2, 2016, Saeed Abedini contacted Merrily Hagerman and asked about the money that was collected "under my name ... to buy us a home."
Five days later on Dec. 7, 2016, the church told him that the money was raised "'to buy a house for your wife & children' and that the change in circumstances were such as for them to question their duties and obligations to '… the donors with respect to these funds, nor do we know what obligations we have to your wife & children,'" the lawsuit shows.
The church said it filed the lawsuit to get declaratory relief to determine who should get the money and that it did so "in good faith and without any collusion from or collaboration with any of the parties who might be entitled to the said funds."
"The interests of Saeed and Naghmeh have become adverse as now they are engaged in a divorce proceeding and Saeed has made an implicit demand for the said funds. As the funds were raised for the specifically stated purpose of providing a home for Naghmeh and her children, plaintiff is uncertain with respect to the present entitlement to the said funds, including the rights, if any, of known donors to the funds given pursuant to the stated purpose for which the funds were being raised," the lawsuit states.
Jacobs, the church's lawyer, said the money for the house is currently being held by the church in an account until the court makes a decision on the funds.
"When they (church) came to me explaining they were holding these funds and that Saeed Abedini and Naghmeh were involved in a divorce and they asked me what should be done with the money, I told them that that's a good question legally. Because either it's to be used for the charitable purpose it was raised for or it should be returned to the donors," Jacobs told The Christian Post Monday.
When asked why the money wasn't handed over to Naghmeh Abedini at some point between 2014 and Saeed Abedini's release in January 2016, Jacobs said, "You're gonna have to talk to Naghmeh about this."
"Naghmeh Abedini is up in Idaho. And she is the one who said not yet. She said 'Great. Let's do that,' but never did she find good time to do that because of her being involved in everything she could to help get her husband released while she was living at this time with her parents. And her parents were helping to raise the children and the money was always available for Naghmeh at any time to use for the purpose of buying her that house. But she just said, not yet, not yet, not yet," Jacobs said.
When asked if Naghmeh had ever asked the church for the money before her husband's release, Jacobs replied: "The premise of the question is faulty. I don't know if she has ever asked for the money. She certainly did not before her husband was released. She always said 'wait' and yeah, at the appropriate time, 'thank you.'"
Asked why the church didn't write Naghmeh a check instead of holding on to the money for two years, Jacobs said:
"I think you're presuming way too much. They raised they money and they raised the money for a purpose. They said to Naghmeh, at any time, we're ready to fulfill that purpose. I don't know that it would have been appropriate for them, and I wasn't asked, cause it never came up, if he'd have just said 'we'll just give you the money.' I don't know if it would have been appropriate for them to turn it over to her without fulfilling the purpose that the donors gave the money for," he said. "But again that decision was never made or ever even questioned."
He then explained that the only reason why they haven't given the money to Naghmeh was because "Saeed is making a claim for it."
"If Saeed would say 'fine, I won't assert any claims,' we'll right now go ahead and write the check to Naghmeh. If Saeed backs off on his claims and the judge says now this money should just be paid over to Naghmeh, it will happen within 60 days. And that will be more like 15 days when the judge says it," he noted.
"Pastor Jerel and Merrilly are clean as the driven snow on this. They tried to raise this money for a purpose."
Jacobs explained that Saeed Abedini does not currently have a lawyer and he wasn't sure if his Naghmeh has one either. Naghmeh did not respond to requests for comment from CP.
A hearing on the case is scheduled for June 26 at 8:30 a.m.