Church of England Leaders Deliberate on the Next Archbishop of Canterbury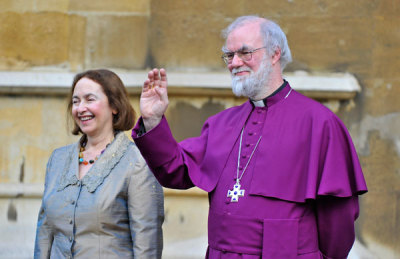 Ahead of the official departure of Dr. Rowan Williams the Archbishop of Canterbury, officials are meeting to decide who will serve as the successor to Dr. Williams and become the spiritual leader of 77 million Anglicans.
The grouped tasked with recommending an appropriate candidate is known as the Crown Nominations Commission (CNC). Members of the CNC, who are also responsible for appointing senior Church of England officials, will begin a 3-day meeting today to choose a candidate that will fill the position that has been held by the Archbishop for the last decade.
The CNC will continue its deliberations at a secret location. The commission, which has 16 voting members, is chaired by former Conservative arts minister Lord Richard Luce. Once the members have decided on a candidate and a second-in-line candidate, a formal submission will be delivered to Prime Minister David Cameron.
After a decision made during a convention in 2007, once the Prime Minister receives the recommended candidate, he then relays word of the recommended candidate to the Queen for final approval. The second candidate would only be recommended if an unforeseen circumstance occurs prevent the appointment of the first choice candidate.
The transition involving the top post in the Anglican Church comes during a turbulent time. There has been heated debate in recent years over whether or not to appoint women clergy as well as the position of the Church regarding homosexual clergy and same-sex marriage.
There is currently no clear frontrunner for the post that has emerged from the Church of England, but a number of prominent senior religious figures are slated as possible successors.
The possible candidates include; Dr. John Sentamu, Archbishop of York, the Rt. Rev Richard Chartres, the Bishop of London, Rt. Rev James Jones, the Bishop of Liverpool, and the Rt. Rev Graham James, the Bishop of Norwich.
Dr. Williams has previously stated that those vying for the position should mentally prepare themselves and also be equipped with a ''constitution of an ox and the skin of a rhinoceros."