Church of England Committee Fails to Choose New Archbishop of Canterbury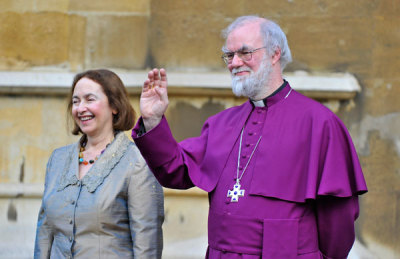 A 16-member committee has failed to agree on a successor to Dr Rowan Williams as the next Archbishop of Canterbury. Despite deliberating for a scheduled three days the group was unable to make a choice for the next spiritual head of the worldwide Anglican Communion.
It was hoped that the committee would be able to come up with two names - a "preferred candidate" and a "runner-up" - to send to the British Prime Minister and then the Queen for approval.
The search for the new Archbishop of Canterbury has been unique in that there has been no clear outstanding candidate for the job, as well as the fact that for the first time ever candidates have been interviewed by the Crown Nominations Commission. However, despite the unprecedented move to question candidates face-to-face the committee has been unable to come to a conclusion.
A fourth meeting will now be scheduled to take place, with the likely date being some time in October.
The Church of England has released the following statement: "This week's meeting of the Crown Nominations Commission has been accompanied by much speculation about possible candidates and the likely timing of an announcement of the name of who will succeed Dr Rowan Williams as Archbishop of Canterbury when he steps down to become Master of Magdalene College."
It added, "The CNC is an elected, prayerful body. Its meetings are necessarily confidential to enable members to fulfill their important responsibilities for discerning who should undertake this major national and international role. Previous official briefings have indicated that an announcement is expected during the autumn and that remains the case; the work of the Commission continues.
"There will be no comment on any speculation about candidates or about the CNC's deliberations. Dr Williams remains in office until the end of December."
Among the names being discussed by the committee have been the Bishop of Norwich, Graham James; the Bishop of London, Richard Chartres; the Bishop of Liverpool, James Jones; the Bishop of Durham, Justin Welby; the Bishop of Coventry, Christopher Cocksworth; and the Archbishop of York, John Sentamu.
Whoever is eventually called upon to fill the position will have to lead a fragmented worldwide Anglican Communion, which has 77 million members across the globe.
The global body has been split on the issue of women clergy, as well as homosexual ordinations and same sex marriage. For years the Anglican Communion has bordered on a full out schism, with Dr Rowan Williams struggling to navigate the issues and successfully unite members together.
Dr Williams has come forward in recent days to imply his successor's role would be almost "impossible," and one candidate, Bishop Graham James, has admitted he has been "hoping and praying" that he would not be chosen for the position.