City Officials Might Say 'I've Got to Put My Bible Under My Desk and Keep My Mouth Shut About What I Believe,' Says Ousted Atlanta Fire Chief (Interview)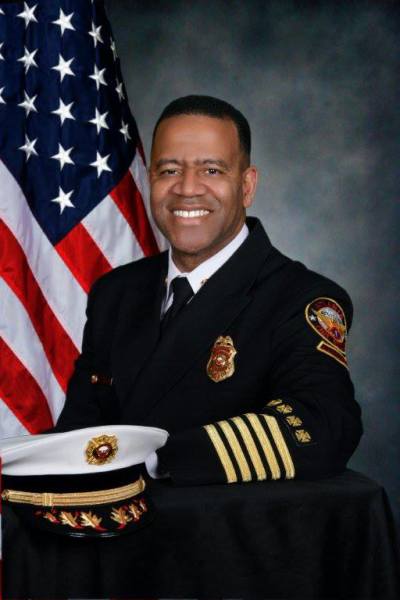 Ousted Atlanta Fire Rescue Department Chief Kelvin Cochran is exploring legal options after being fired last week for espousing his Christian beliefs on homosexuality in his self-published book and sharing it with employees.
The married father of three says that his First Amendment rights were violated when city officials dismissed him as fire chief, one month after he was suspended without pay and forced to undergo sensitivity training.
In his 2013 book, Who Told You That You Are Naked?, Cochran openly expressed his beliefs on faith and spirituality and an interal complaint was filed when he distributed copies in the workplace.
He believes that his dismissal is symbolic of a growing threat on religious freedoms facing Christians and other people of faith and, subsequently, he wants to sue.
"Well, I'm in discussions right now, but I'm pretty certain that I'll take legal action," Cochran told The Christian Post exclusively. "There are others (fire chiefs, police chiefs, and military folks, etc.) out there who, once they see this can happen to Fire Chief Kelvin Cochran in a large city like Atlanta, [will say] 'I've certainly got to put my Bible under my desk and keep my mouth shut about what I believe.'"
Cochran, who first served as fire chief in 2008, says that he was inspired to write his book, which targets Christian men, after studying the "fall of mankind." He related this topic back to the biblical story of Adam and Eve and took a close look at "salvation and redemption."
"I'm finding that there are a lot of saved men who are still walking around in condemnation and deprivation, so they're clothed but they're acting like they're naked, and so that's where the question is for modern men today in the body of Christ — 'who told you that you were naked?'" he said.
The book's title is taken from Genesis 3:11 in which God asks Adam and Eve about their decision to eat from the forbidden tree. The scripture reads: "Who told you that you were naked?" the LORD God asked. "Have you eaten from the tree whose fruit I commanded you not to eat?"
In the book, Cochran calls homosexuality "sexual perversion" and "vulgar" and also likens it to "bestiality" among other things, which one city spokeswoman previously described as "alarming."
Cochran claims that he was given legal permission to write the book from the city's ethics officer during a five-minute conversation.
"I had legal authority to write the book, however, she cannot remember that conversation even though she doesn't deny her statements. Atlanta Mayor [Kasim Reed] says I should've gotten permission from him and he used that as the basis of my termination," he said.
The book was first brought to attention when a member of AFRD complained about it to a councilmember, and Cochran faced disciplinary action in November last year because he violated policy by distributing the book to fellow employees. He says the book was given to a select number of employees as a "gift" and that they were mostly fellow believers.
"My spiritual convictions regarding sexuality do not equate to anger, hatred, or malice toward LGBT members," he said. "The greatest of my Christian values is a love without condition for all humankind. In the fire service, I have had the privilege to live out this virtue everyday for the past 34 years — to the extent that I would lay down my life for anyone in the communities of which I have had the privilege to serve."
Cochran says that he cited the U.S. constitution (which protects religious freedoms) during his meeting with city officials. He still stands by a statement he made in the book about his beliefs that he had an "obligation to cultivate a culture that glorifies God" as fire chief despite this being deemed "inappropriate" by officials.
"I explained to them that the precursor to the U.S. constitution has 'Creator' in it and that we have these unalienable rights. ... And leaders in America have an obligation to cultivate a culture to generate 'life, liberty and the pursuit of happiness,'" he said. "And in doing so we honor the Creator that's mentioned in the constitution and that in the pledge of allegiance we say 'one nation under God.' Leaders should embrace their obligation to cultivate a culture of unity, liberty and justice in the workplace."
Reed previously expressed "disappointment" and said that he was "deeply disturbed" by Cochran's book, which some critics blasted as Christian persecution.
In an article on redstate.com, conservative writer Erick Erickson said Cochran, like many other evangelical Christians, is under attack by the "gay mafia." He also urged Christians to showcase support for the ousted fire Chief, who he described as being a "role model," by buying his book and sending copies to Reed.
Since his termination, support for Cochran has grown rapidly with fellow believers creating support pages online and directly contacting Mayor Reed to express their outrage.
Faith Driven Consumers, an advocacy group representing 41 million Christians, has called on the mayor to reinstate Cochran as fire chief and also apologize for his termination via its extinguish intolerance campaign. So far it has garnered more than 4,000 signatures.
Cochran, who regularly attends Elizabeth Baptist Church in Atlanta, said that he is grateful for the overwhelming support and called on Christians to unite to protect their religious freedoms.
"I would like to see a unified effort in the body of Christ. I think that our denominational boundaries, our racial boundaries, even our boundaires along political lines, democrats, republicans and independants has all weakened our voice on religious freedom," he said of the Christian community. "Unless we come together and put all those boundaries and barriers aside for a unifed voice ... we're not going to actually have the strength politically like members of the LGBT community do."
In 2009 Obama appointed Cochran as the fire administrator for the U.S. Fire Administration. He returned to his job as Atlanta's fire chief the following year.
The Christian Post contacted the mayor's office but did not receive comment at the time of this publication.