CNN's Van Jones admits his faith was tested; TV show showed him forgiveness is what world needs (First Look)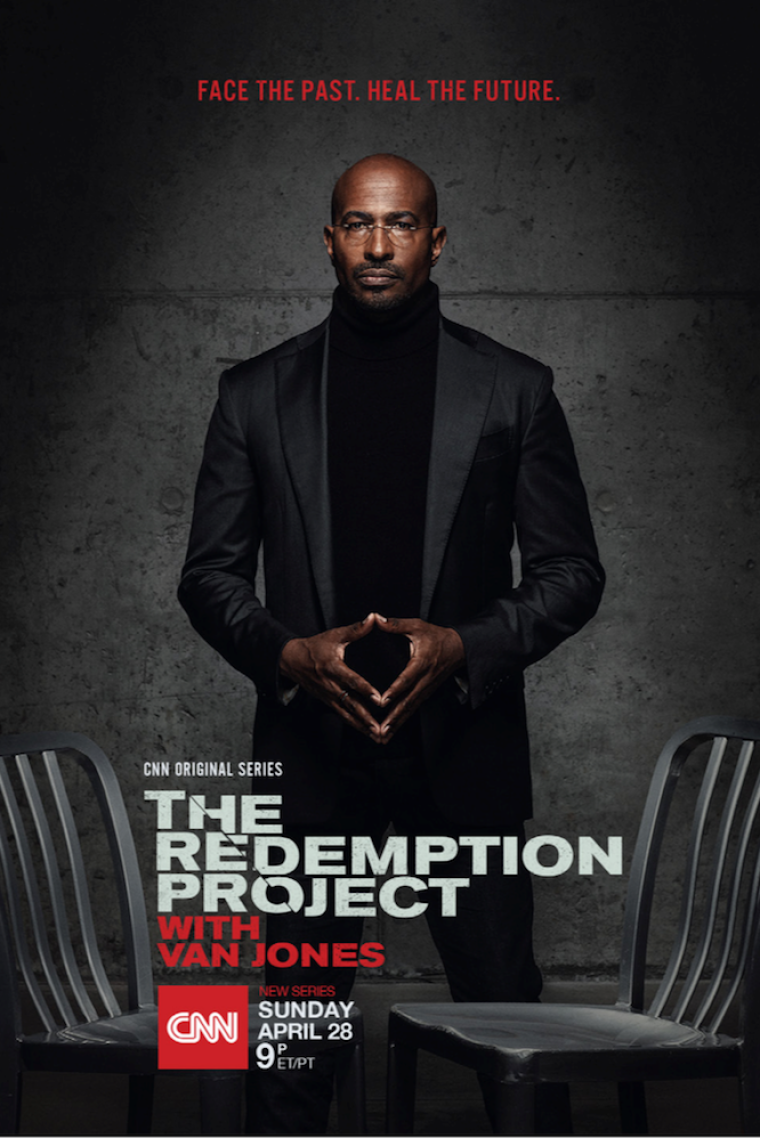 Van Jones admitted his faith had been challenged because of the lack of empathy in the world. Shooting his new show, "The Redemption Project" on CNN, revealed to him that forgiveness and mercy are what the world needs.
The new CNN original series, called "The Redemption Project with Van Jones," premieres April 28 and will highlight the "transformative power" of forgiveness, healing and grace. In it, Jones will give viewers a front seat to the "restorative justice" process by following "victims, or surviving family members, of a life-altering crime as they journey to meet face-to-face with their offender in the hopes of finding answers or some sense of healing."
The new eight-part program will premiere with the first-ever meeting between a victim and an offender in the history of Alaska's prison system. According to realscreen.com, the meeting is between Terria Walters, a mother whose son was killed during a drug deal gone bad, and convicted killer Joshua Beebe. Watch an exclusive first look at the episode below:
Jones was raised in the Christian Methodist Episcopal Church and works as a guide in the series for the viewer throughout the life-changing experiences that take place. Below is an edited transcript of an interview between Jones and The Christian Post where he talks about why he wanted to create the show and the role faith played on both sides throughout the journey of forgiveness.
Christian Post: How has it been for you dealing with the theme of forgiveness? Did people rely on their faith to get to that point of forgiveness in "The Redemption Project"?
Jones: I can tell you that nine out of 10 times in this series, people's faith was a big factor, really on both sides of the table. We're talking to people who have done really bad things who want to make amends, and we film those people and then we turn around and we talked to people that they've hurt or all too often the surviving family members. We talked to them, and then we film them talking to each other for the first time. It's very powerful. If you have any money, I invite people to invest in the Kleenex Corp because if this show catches on there's going to be a lot of Kleenex sold in America.
What I can say, when it's all said and done, like I said nine times out of 10, it took faith on both parties' part to sit down together. Then for me, I've been really challenged in my faith over these past several years, as I'm just watching forgiveness and empathy and caring and compassion just exit the culture. It is now become so trendy to have no empathy, no respect of blocking people on social media, canceling people; it's an epidemic. I wanted to go 180 degrees the other direction and show people, who if anybody should cancel anybody, it would be the mother who lost her child. And to see that person sit down and be willing to look in the eyeballs with somebody and try to have that conversation I thought was medicine that the culture needed.
CP:  You had to sit down with people who were responsible for murders, people that had to walk through really difficult situations. How was it for you questioning those people?
Jones: I've been in and out of prisons for 25, working in criminal justice, working as a lawyer, working as an activist, so I know the truth that people sometimes go into prison being one way, very misguided, very wrong, or very arrogant, not wanting to take any responsibility then over the course of 10, 15, 20 years, not because of the prison system but despite it, can transform into some of the wisest and strongest people I've ever met.
So I knew for sure how many diamonds there were sparkling behind those prison walls that nobody would ever see. So I wanted for those people to be able to speak for themselves, not to make any excuses but just to give people an opportunity to see that people can go from making those kinds of horrific decisions to having true remorse and becoming a better person. So because I know, in my heart, that on the other side of those tough questions and on the other side of those very, very shocking answers, there is still potential for redemption, I don't mind.
I really want for the audience to be surprised themselves and by the end of the show, they have some human understanding and empathy for everybody, even people at the beginning of the show in which they say, "there's no way" and then be able to see a different side. We need to exercise that muscle more, that muscle where again, we don't have to lower our standards to open our heart, we can have a high standard for people. I'm not a part of any kind of pro-crime lobby, I don't want people going around doing bad stuff to each other but you can hold people to high standards and still keep your heart open to their humanity and their journey and have a healthier society overall.
CP: There's a quote in one of the episodes which says, "There's grace in this room." People will enjoy watching you watch what's happening between the family and those guilty of hurting them. Can you talk about the power of that grace in the room and the transformation that took place right before your eyes?
Jones: The thing about it is, I'm stressed out because I've spent hours and hours with both sides and I understand the humanity and the pain on both sides and when they walk in there together, I'm stressed out. The first time when we finally got to finish and it wasn't a disaster, which I was afraid it was going to be, I cried so hard my nose started bleeding because my blood pressure was that high. It's very emotionally demanding to do this.
At a certain point, if people have done their work and they really come there for good intent the molecules start changing in the air, and it's just beautiful to see so much weight start to slide off of people's shoulders 10 years later, 20 years later. Somebody said literally, they just been stuck with the same question in their mind over and over. if you're a surviving family member or the victim of a violent crime, even though the person who committed the crime goes to a physical prison you're still in a certain kind of prison of fear and not understanding. You may have questions, "What was my loved one's last word? Or why did you do this in the first place? Or were you paid to do this or were you in a gang? Do you care? Have you done anything to really show that you learned something?" People go to the grave with those questions because our system does not allow people the right to sit down and have those discussions. We had to go through hell in some of these prisons to see that happen.  
To be sitting there and watching these two people I've come to love and I've come to respect sit down next to each other, you're like "Oh my God," you're praying and you're worrying. You forget the cameras are in there, you're just hoping it works out.
CP: How can people get involved to help more of these kinds of conversations happen?
Jones:  I'm also a part of organizations that are trying to make a difference, thereformalliance.com, cut50.org, so if people are moved and they want to see more fairness and more justice and more compassion in our society watch the show, sign up to the groups. I believe that we've gone as far as we can go in this negative direction; it's time to come back home.
Jones serves as executive producer of "The Redemption Project," along with Jonas Bell Pasht, Jonah Bekhor, Jason Cohen, Sonia Slutsky and Jana Carter. Amy Entelis and Lizzie Fox executive produce for CNN.