See Why Conservative Senator Mike Lee Praised Barack Obama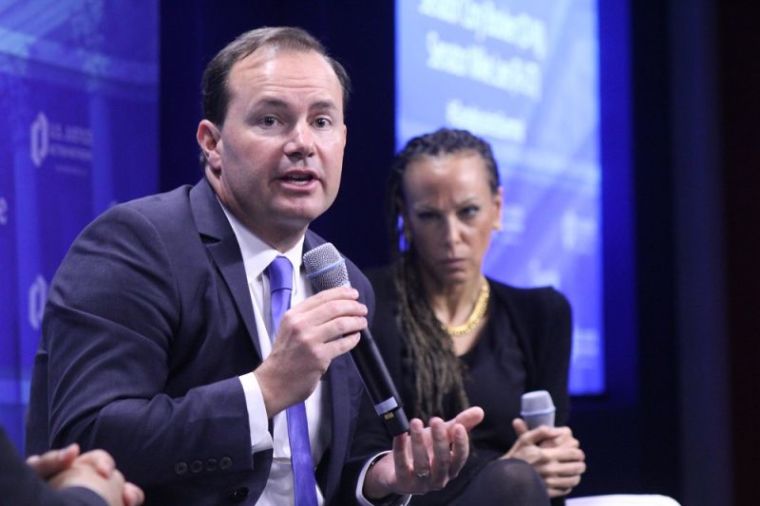 WASHINGTON — It's not too often that a socially conservative senator praises the work of President Barack Obama and the work of a liberal senator, but Sen. Mike Lee, R-Utah, did just that on Thursday morning.
While there are many partisan differences at play in Washington and in state capitals around the country that many Americans feel are dividing the country, one issue that both Democrats and Republicans are increasingly coming to an agreement on is the call to reform prison and criminal justice systems across the country.
Two of the leading voices on justice and prison reform in the United States Congress are Lee and Sen. Cory Booker, D-N.J., whom each have their own reasons why they are passionate about reforming the United State's unjust federal criminal justice system.
Speaking as panelists during Google's first-ever summit on justice reform held at the tech company's office in Washington D.C., Lee and Booker explained why there is such a dire need for criminal justice and sentencing reform in America and why they have become so passionate about the issue.
Lee told the audience that his reason for becoming so active in criminal justice reform is because of the unfair sentencing laws that he came across during his time as a federal prosecutor — laws that he says are "unreasonably harsh" and "absolutely counter intuitive."
Lee recalled one instance he came across when a man who was busted for selling three dime bags of marijuana (a very small amount) and charged for having a gun that he didn't brandish or use was sentenced to 55 years in prison.
"The district judge imposing the sentence in that case ... took the unusual step issuing an opinion disagreeing with the sentence that he was about to impose, saying there are rapists and terrorists and arsonists and bank robbers who get convicted and sentenced to far less than this," Lee stated. "This was a young man in his mid-20s and the judge said 'This makes no sense, only Congress can change this law. I am a judge and powerless to do it. Only Congress can fix it.'"
After Lee arrived in the Senate in 2011, he didn't forget the judge's words.
"When I got elected to the United States Senate, those words were still echoing in my head and I started looking for allies. And, this was before Senator Booker got here. I teamed up with Dick Durbin from Illinois and shared this passion," Lee explained. "There weren't a lot of people who were all that interested in it at the time."
"But it gained a lot of momentum when my friend Cory Booker got here [in 2013] because you won't find a smarter or more passionate or more effectively speaking senator than Cory Booker," Lee said.
Lee recalled that on the first day that Booker arrived in the Senate, Booker approached him.
"He said, 'I heard you were doing a thing on criminal justice, I want in,'" Lee recalled. "That has helped tremendously to have him."
Lee said that another big help has been Obama's support for criminal justice reform.
"I think it has also helped, by the way, that President Obama has been very passionate about this issue," Lee said. "His advocacy has really helped."
Booker, who some believe is "the best chance for America to have its next black president" if he runs in 2020 and is the former mayor of Newark, New Jersey, told the audience that he didn't let the fact that Lee was on the opposite end of the political spectrum stop him from building a relationship over their shared passion.