Controversial Rapper Tekashi 6ix9ine Gives His Life to Jesus at Stop the Violence Event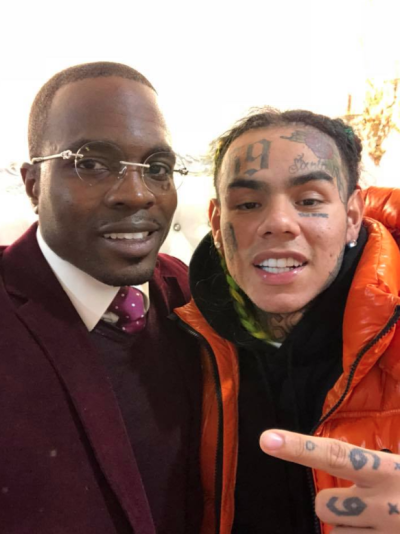 New York rapper Tekashi 6ix9ine attended a peace conference in a Brooklyn church earlier this week and gave his heart to Jesus Christ.
Known for his vulgar lyrics and his incessant bullying ways, 22-year-old rapper, born Daniel Hernandez, has made a name for himself in the mainstream music industry. From the hood in Bushwick, Brooklyn, Tekashi was forced to grow up quickly after his father was brutally murdered. He initially began drug slinging with his older brother and then ventured into music.
Idolized as an icon by Gen Zers, Tekashi is seemingly trying to change his unruly ways. Bishop Lamor M. Whitehead invited the young rapper as a guest of honor at "The Peace Conference: 'Stop The Violence'" on Tuesday that was held at the Leaders of Tomorrow Brooklyn Ministry. There, he was presented with awards from the New York state Senate and state Assembly for his "outstanding" community service.
During the conference, sergeants and police officers from different Brooklyn districts were invited on stage and one by one they all encouraged Tekashi to pursue peace and speak out against gun violence.
"The New Chapter!! The Bishop And @6ix9ine !! He Came To The Church For Prayer And Gave Is [sic] Life To Jesus!" Whitehead shared on Facebook after the event. "Yes @6ix9ine Accepted Jesus Christ As His Lord And Savior! Let's Celebrate @6ix9ine As We Honor Him !! PEACE CONFERENCE!!! STOP THE VIOLENCE!!"
Throughout the service, which was live streamed on Facebook, Whitehead and those in the church assured Tekashi that they support him and know that he has a great heart.
"This young man that's standing next to me, right here, I have his back. I'm his bishop; I'm with him," the bishop declared during the service. "This young man is going to be working with me with tons of initiatives and we're going to be doing charity together. And guess what, he's going to talk to me; he's going to answer to me as a spiritual advisor. Let me help him change."
"I've performed around 100,000 people and I've never felt this type of nervous," Tekashi said when asked to talk at the conference.
The young man could not get himself to say much else and just rocked back and forth during the service but noticeably took every word in and applauded most of what the bishop said to and about him.
There's no telling whether or not this will be the beginning of a new road for Tekashi 6ix9ine but the seed has definitely been planted.