Coptic Teacher Shot in the Head by Radical Islamists as Attacks on Christians in Egypt Escalate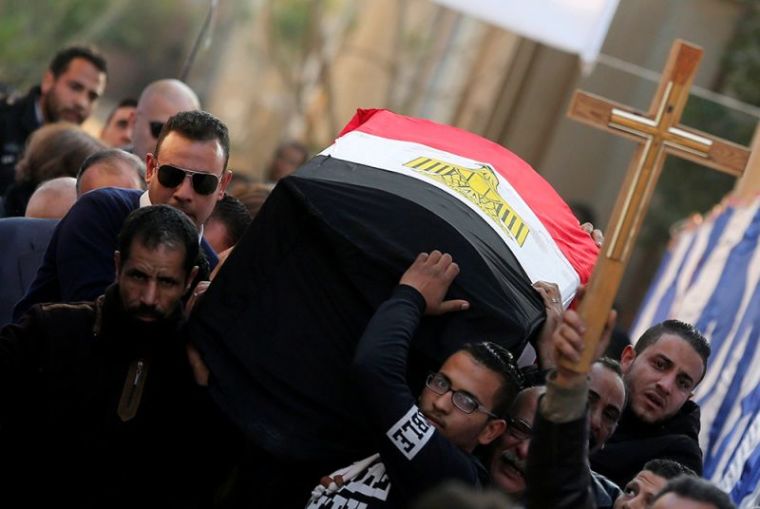 A 50-year-old Coptic Christian teacher was shot in the head by two Islamic militants in Egypt while on his way home from school Thursday, as attacks on Christians continues to rise at an alarming rate in the Muslim-majority country.
The Associated Press reported that the killing of Gamal Tawfiq took place in the coastal city of el-Arish when the teacher was attacked by two militants on a motorbike on his way home from El-Samran School.
Tawfiq's death was confirmed by a school official, but no further details of the crime have yet been provided.
It's the second murder of a Christian in less than a week in the same northern Sinai region, after suspected militants gunned down Bahgat Zakher, a local vet, on Sunday. Wale Milad, a merchant and Coptic Christian, was killed in late January after militants stormed his shop.
Copts make up only 10 percent of the nation's 92 million population, and have often been victims of Islamic militants who have vandalized churches, Christian bookshops, orphanages, and other buildings.
As many as five Copts were murdered over a two-week timespan in January, with persecution watchdog groups criticizing the government for not doing enough to help protect Christians from such attacks.
"My brother had no enemies; he was a very simple man, and peaceful," said a family member of one of the victims. "He left his wife and children to work in Cairo to support them. His family will now face difficulties as he was the primary bread-winner.
In December, Cairo's largest Coptic cathedral was bombed by Islamic State terror group supporters, killing 25 people, including women and children, in what was one of the deadliest attack against Christians in Egypt in years.
President Abdul Fattah al-Sisi declared a three-day period of national mourning over the attack, insisting that the country stands against such violence.
"Vicious terrorism is being waged against the country's Copts and Muslims. Egypt will emerge stronger and more united from this situation," al-Sisi said at the time.
International Christian Concern, which monitors attacks on Christian communities worldwide, said that the bombing must serve as a "wakeup call to the Egyptian government and the international community that the Christian population in Egypt is in grave danger from religious attacks."
"Entire Christian communities have been assaulted by mobs of Muslim radicals on four separate occasions in 2016 because there was a rumor that a church was being constructed. Now, we have witnessed one of the worst assaults on Egypt's Christian community in years. More must be done to protect Christians and their places of worship in Egypt," said William Stark, ICC's regional manager.
Other watchdog groups, such as Open Doors USA, have ranked Egypt as the 21st worst nation in the world when it comes to the level of persecution Christians face in that country.