'When Calls the Heart' Co-Creator Explains Why Series Is a Hit With Christian Audiences

Hallmark Channel's most-watched and longest running primetime series, "When Calls the Heart," has a loyal following, says Brian Bird, the show's executive producer who's worked in Hollywood for over 30 years. 
Bird, who's written and produced dozens of films as well as 250 episodes for network television — including five seasons of the original TV series "When Calls the Heart" alongside his partner Michael Landon Jr. — spoke to The Christian Post about his Christian background and explained why a devotional was created to go along with the series. 
"I am a Christian. I was raised in the church. My grandfather was a pastor. My father was a pastor, for a time, and I pledged really early on in my writing career that I was going to find a way not to have an agenda or not to browbeat people over the head with my worldview. But my prayer has always been that my words would move men closer to God in some way or another," Bird, who co-founded Believe Pictures with Landon, told The Christian Post in a recent interview.
"I don't necessarily believe that film or TV is good evangelism, so I'm not a TV evangelist. But what I do believe is that good stories full of hope, faith and love, and redemption, forgiveness, resurrection, sacrifice, courage and all the great virtues you can find in almost every faith — they are obviously the core of Christianity as well — I believe that good storytelling, which includes those things, stirs up soul cravings," he said.
The series' storyline has resonated with millions of people across the world which cultivated an ardent grassroots movement of fans known as "the hearties." Bird credited the hearties with the show's success. 
"In season one, they (the hearties) began talking to us through social media on Facebook and Twitter and a handful of them named themselves the hearties, like trekkies on steroids," Bird said.
"Michael Landon Jr. and I were just trying to get the show done in the first season the best way possible but we were smart enough to say, 'OK, they're talking to us, so we need to talk back to them.' I began to lead that charge during the first season and we began live tweeting on Twitter during the show with the hearties," Bird explained.
"I very humbly will say that I believe the hearties are the reason for the show. It's very difficult in today's day and age of 500 different TV shows. So when you have that much content out there, the competition for hearts and minds is extremely tough," Bird said. 
"To get your message out through all the clutter of noise when everybody else is trying to get their message out, it's really challenging. So when you have an organic movement like this that grows up around a show like ours, it's golden," he continued. "You could never buy that, you couldn't pay for it. I've often joked that the hearties are the marketing department of 'When Calls The Heart' because they're doing what, what I like to call, e-fangelism."
The hearties often share messages with the creators and they gush about watching the episodes with their children and having conversations about their takeaways. Bird grew up watching TV with his family as well and said it's great material that causes great dialog in families.
"The best way to use media, in my opinion, is not to do evangelism, but to stir up soul cravings that get human beings talking to each other. Because if we believe that this faith that we own, that we trust in, is the cure for everything that ails [the] universe, if we believe that, it's the most precious thing ever. So it needs to be hand delivered between real people," Bird said.
"When Calls the Heart" is a Canadian-American drama series, inspired by the first book in Janette Oke's Canadian West series.
The TV series tells the story of Elizabeth Thatcher (Erin Krakow), "a young teacher accustomed to her high-society life. She receives her first classroom assignment in Coal Valley, a small coal-mining town in Western Canada. There, life is simple — but often fraught with challenges. Elizabeth charms most everyone in Coal Valley, except Royal North West Mounted Police Constable Jack Thornton (Daniel Lissing) who eventually falls in love with her. The town of Coal Valley was renamed Hope Valley in Season 2 after the coal mine was closed."
Bird said he believes TV and film can stir up what he describes as soul cravings, and that has been his mission throughout his career. And he's vowed to continue creating content that produces a hunger for family-friendly themes.
"If I don't do it, who else will? Nobody is making this kind of programming anymore. Nobody is making family programming anymore," he said. "The Hallmark Channel is sort of a one loan place where you can still find it. I have always wanted to create content that whole families could watch together in one room, because I believe in that."
"There's a whole giant underserved audience that is starving for shows like 'When Calls the Heart.' If they're starving for food, you have to give them food. And if you do give them food they will really love you for it," Bird said.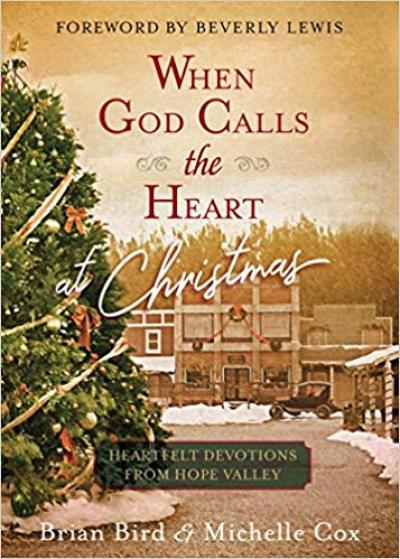 As a way to give the people more, Bird and his partners created a devotional to go along with the hit TV series. The fictional town of Hope Valley is a town that practices the great virtues of the Bible. While not pounding people over the head with Scripture, the episodes do highlight great virtues found in the Bible.
"I heard from enough people that if we were to do a devotional, we could take that conversation a little deeper," he said. "We could use the episodes as a jumping off point for that conversation, a little summation of the episode and then spin that into a deeper devotional dive. And that's honestly what we've done."
The first devotional, released in February, was titled after the series. In September, Bird will be releasing another devotional that has a Christmas theme. A third devotional will be released in 2019. 
"They all are, are similar in that we're trying to take hearties on a deeper dive into the content of the show, but also into a deeper reflection for their spiritual lives," Bird said.
A father of five, Bird revealed that the devotional will also include several contributions from the series' beloved fans and feature Christmas stories and recipes.
"It's just been a blessing, the show, the devotionals. People have really responded and I will be forever grateful for them because they're hungry and we're giving them food. They are responding so generously to the show by being big supporters," he said of the hearties.
The hearties have their own version of comic-con every year where hundreds of fans fly to Vancouver and spend a few days with the cast members, attend autograph signings, and a set visit where fans can wander around their fictional town of Hope Valley.
The fourth annual event will take place Oct. 19–21.
At a Hallmark TCA event in July, Crown Media announced that as "When Calls the Heart" gears up for Season 6, it will also have a spinoff show titled, "When Hope Calls." It will stream exclusively on Hallmark Movies, a new platform that will include original programming specific to the service.