Creflo Dollar Denies Abuse Charges, Mark Was 'Skin Abrasion from Eczema' (VIDEO)
A weekend after his arrest, Creflo Dollar Jr. has insisted that he is innocent and should not have been arrested, stating that the mark on his daughter's neck was nothing more the eczema.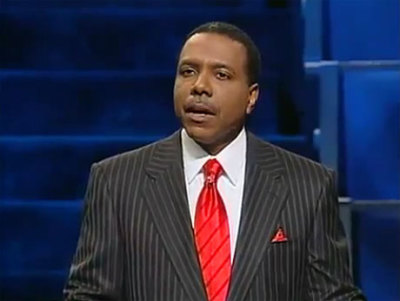 The megachurch pastor was arrested on Friday afternoon, following a report by his youngest daughter who claimed that she had been choked and beaten by her father when the two disagreed about her attending a party.
"The truth is that a conversation with our daughter got emotional and things escalated from there," Dollar said to an online congregation on Sunday while denying that he was guilty of beating his daughter. "The truth is she was not choked, she was not punched."
The police arrived at Dollar's house in response to a call made by the pastor's 15 year-old daughter, who had reported to 911 dispatchers that her father had "charged" at her and proceeded to beat her with his shoe. A police report allegedly noted a scratch on the girl's neck; Dollar's other 19-year-old daughter also corroborated the report according to news sources. The pastor, however, has stated that the mark on his daughter's neck was not a scratch, but a skin condition -- the rest was "sensationalism."
There were not any scratches on her neck," Dollar said. "But the only thing on her neck was a prior skin abrasion from eczema. Anything else is exaggeration and sensationalism."
Those in Dollar's congregation appeared supportive of the pastor, and those who worked closely with him were also skeptical of the allegations.
"I think you're looking at a bunch of sensationalism," George Blake, a member of Dollar's congreation, told ABC News. "It's not up to me to me to be satisfied with what he had to say. This is a man of God spreading the word of God."
"When I first heard what he was accused of, I didn't believe it. I knew there had to be more to the story," Phyllissa Wolley, a 23-year-old daycare worker who has attended the church for about five years told ABC. "I felt like he addressed the accusations today, and I believe what he said. To hear from him personally, I really appreciated that. I was glad to hear his side of the story."
Dollar was released Friday after his arrest, and now faces charges on battery and cruelty to children. The pastor has five children in all. His wife stated that she did not witness the event.
Pastor Creflo Dollar Speaks About His Arrest in Church