Creflo Dollar: I Should Have Never Been Arrested; Devil Trying to Discredit Me (VIDEO)
Creflo Dollar Jr., who was arrested Friday on battery charges involving his daughter, received a standing ovation from his World Changers Church International congregation Sunday as he emphatically denied punching or choking his 15-year-old daughter. He said he never should have been arrested and believes that the arrest was part of the devil's plan to "discredit" him as a messenger of God.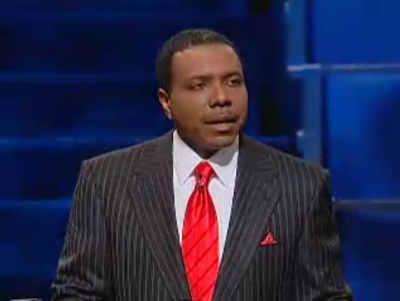 "The truth is that a conversation with our daughter got emotional and things escalated from there," Dollar, who has five children, told the 30,000-member congregation in Atlanta and others listening online. (Watch Dollar making statement here.)
"The truth was that she was not choked, she was not punched," he continued. "There were not any scratches on her neck but the only thing on her neck was a prior skin abrasion from eczema."
He called the media reports "sensationalism."
Dollar was arrested and taken to Fayette County jail early Friday morning after his daughter called 911 around 2.a.m.
According to Investigator Brent Rowan of the Fayette County Sheriff's Office, Dollar allegedly got into an argument with his youngest daughter over whether she could attend a party. His daughter told authorities that Dollar choked her, threw her to the ground, punched her and hit her with his shoe. In the report, a deputy also noted a scratch on her neck.
Dollar's 19-year-old daughter corroborated most of her sister's story, but Dollar disputed the account, telling a sheriff's deputy that he was trying to restrain her when things escalated.
The prominent black pastor was released Friday and faces charges of simple battery and cruelty to children.
On Sunday, before preaching his sermon, Dollar repeatedly denied hurting his children. He expressed outrage at the police for taking a photo of his daughter's neck and using that as evidence in the case.
"I can't imagine, if I punched my kid it would hurt her. If I choked my kid, you would see visible signs on her neck. But to come to take a picture of a mark that's been there for 10 years, and not have the intelligence to ask the parents what it is, is appalling," said Dollar.
"Again, I would never approach any of my children and intentionally inflict bodily harm."
Dollar said that he and his wife love their children but have the responsibility as Christian parents to "correct" them when they choose "incorrectly" and to "raise our children in the nurture and admonition to the Lord."
"I will never put any fault on my children as Jesus would never put any fault on me. I love her with all of my heart. Amen?"
"There are two things that are certain in the life of a Christian parent. Number one, we win," said the World Changers pastor to applause. "Number two, is that that test will come as a trial to shake your faith."
Dollar said he should have never been arrested.
"I want to say this very emphatically: I should have never  been arrested. Never!" said Dollar to a chorus of "Amen's."
"And when the facts of this come out, you will be appalled."
Thanking his church members for their love and prayers, Dollar then began to offer a spiritual interpretation of his arrest.
"You've got to understand something. It's not as much against me as it is against this message, a voice," said Dollar.
"The devil knows in order to discredit the message, you have to first of all discredit the messenger."
He added, "I'm a human being and you know; I had to do a lot of prayer. My family has been very supportive. Because when I feel like an injustice has been done, I feel angry. And yet I respect the law."
Dollar said he understood what Apostle Paul must have gone through when Paul asked God to take away his suffering. Just as God told Paul that His grace is sufficient for him, Dollar said he believes God's grace will help him through this trial. And when it's over, he believes God will be glorified.
Dollar concluded his statement by reading from Psalm 35: 11-28, a passage in which King David appeals to God against his enemies that hated and persecuted him:
11 Malicious witnesses testify against me.
They accuse me of crimes I know nothing about.
12 They repay me evil for good.
I am sick with despair.
13 Yet when they were ill, I grieved for them.
I denied myself by fasting for them,
but my prayers returned unanswered.
14 I was sad, as though they were my friends or family,
as if I were grieving for my own mother.
15 But they are glad now that I am in trouble;
they gleefully join together against me.
I am attacked by people I don't even know;
they slander me constantly.
16 They mock me and call me names;
they snarl at me.
17 How long, O Lord, will you look on and do nothing?
Rescue me from their fierce attacks.
Protect my life from these lions!
18 Then I will thank you in front of the great assembly.
I will praise you before all the people.
19 Don't let my treacherous enemies rejoice over my defeat.
Don't let those who hate me without cause gloat over my sorrow.
20 They don't talk of peace;
they plot against innocent people who mind their own business.
21 They shout, "Aha! Aha!
With our own eyes we saw him do it!"
22 O Lord, you know all about this.
Do not stay silent.
Do not abandon me now, O Lord.
23 Wake up! Rise to my defense!
Take up my case, my God and my Lord.
24 Declare me not guilty, O Lord my God, for you give justice.
Don't let my enemies laugh about me in my troubles.
25 Don't let them say, "Look, we got what we wanted!
Now we will eat him alive!"
26 May those who rejoice at my troubles
be humiliated and disgraced.
May those who triumph over me
be covered with shame and dishonor.
27 But give great joy to those who came to my defense.
Let them continually say, "Great is the Lord,
who delights in blessing his servant with peace!"
28 Then I will proclaim your justice,
and I will praise you all day long.
"Now that's all I've got to say about that. Let's get to the message that the enemy is trying to stop," concluded Dollar.
For his sermon, Dollar preached on the passage from Isaiah 54, which speaks about the righteousness of God. Dollar implied that his sermon was unrelated to his statement, saying he prepared the sermon two or three weeks beforehand.
Creflo Dollar's Official Statement on His Arrest at World Changers Church (VIDEO)