Creflo Dollar, Megachurch Pastor, Arrested for Battery Charges
Creflo Dollar Jr., founder and senior pastor of the World Changers Church International, was arrested on charges of simple battery Friday in Atlanta.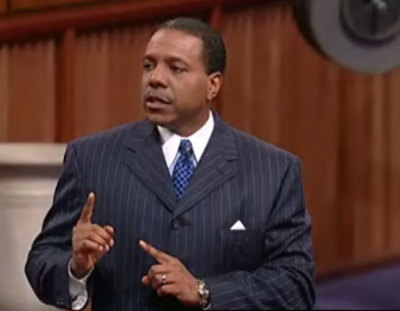 Creflo Dollar Jr., renowned megachurch pastor, was arrested and taken in to Fayette County Jail at about 2 a.m. Friday morning on the simple battery charges, according to WSBTV.com. He was booked, and a judge determined that Dollar's bond would be set at $5,000 in a hearing Friday morning.
Although Dollar was arrested and booked, authorities have not yet released information as to the nature of the crime, arrest, or victim of battery. The circumstances surrounding the situation are still unknown.
Despite the relative opaqueness of the situation, many are already weighing in on the matter.
"So what! Creflo dollar was saved from his imperfections by Gods perfection. Being Christian doesn't make u perfect it makes u whole," posted SoChi on Twitter, attempting to defend the pastor from judgment.
"Free Pastor Creflo Dollar he gotta preach Sunday!" wrote MissLOL, referring to the pastor's two large churches of 30,000 and 6,000 in College Park, Ga. and New York City, N.Y., respectively.
Others, though, thought that Dollar's arrest was indicative of his crime.
"I used to watch Creflo Dollar every morning when I came home from work," tweeted Jerz. "I always thought his teachings were good. Was I being flamboozled?"
Creflo Dollar has prospered over the course of his 30 years in ministry, with his Changing Your World telecast reaching over a billion homes across the globe, according to his website.
Dr. Creflo Dollar-Winning in Troubled Times Book Interview
Pastor Creflo Dollar - Miracle Healing