Dallas Sniper Shootings: 5 Officers Dead, 6 Wounded in Targeted Killings at Black Lives Matter Protest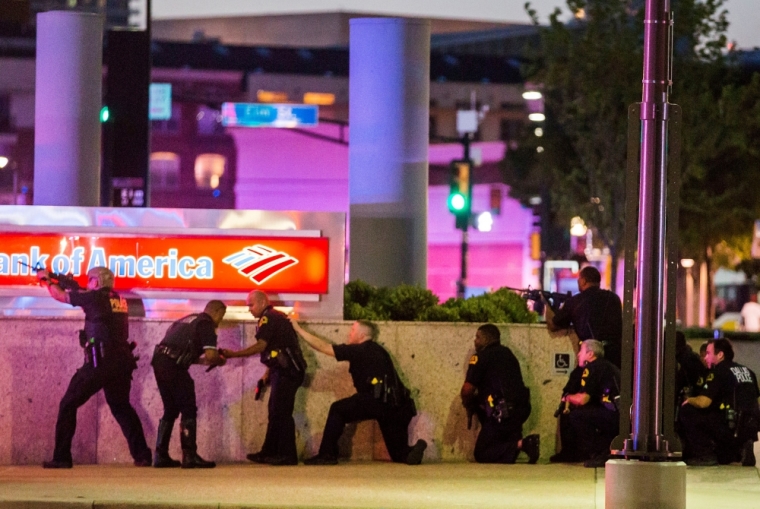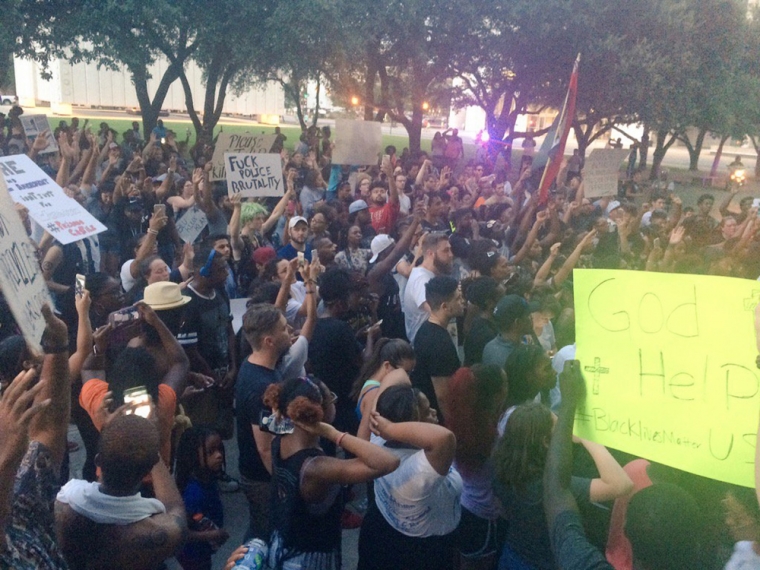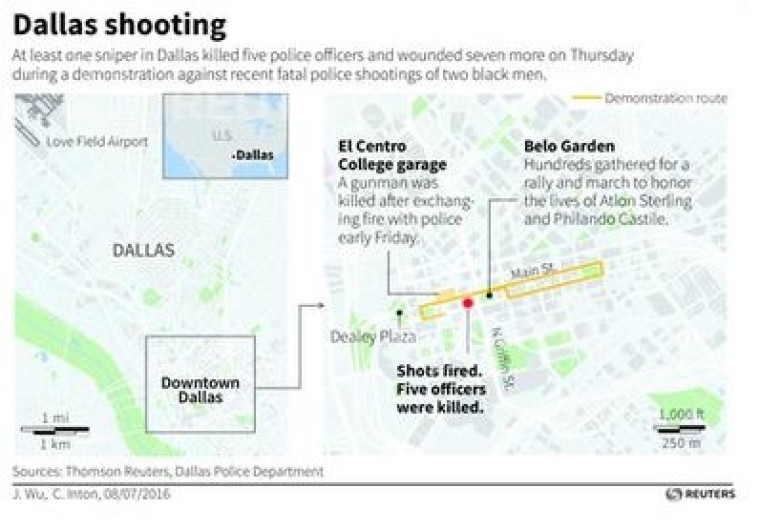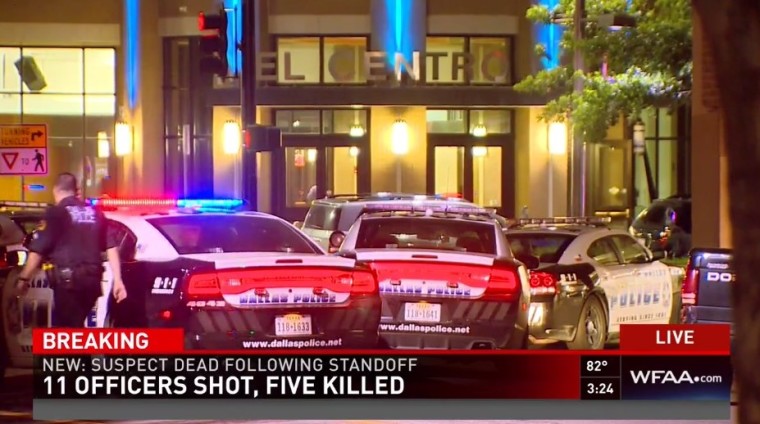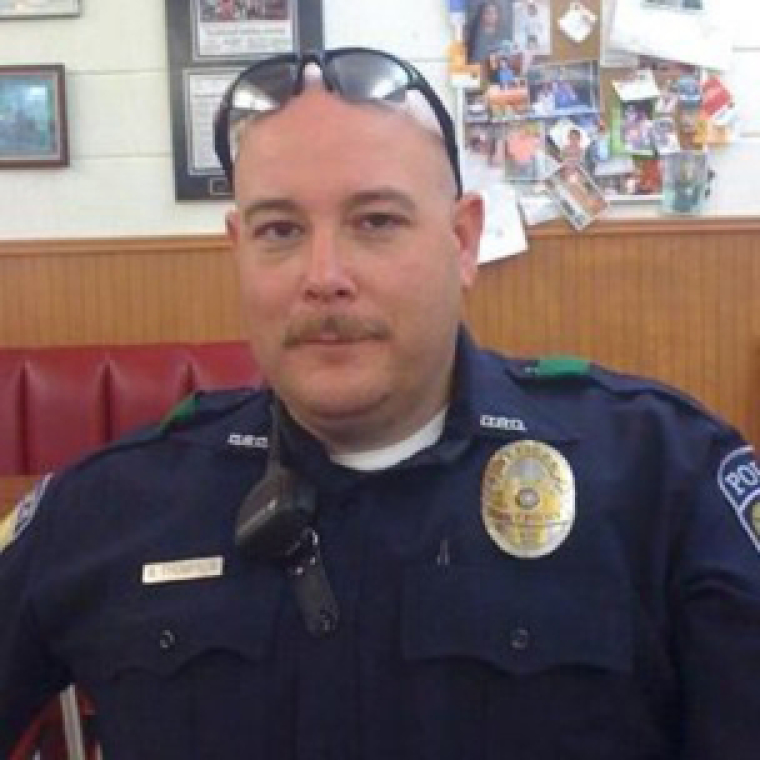 View Photos
UPDATE: 3:15 AM ET: A fifth Dallas police officer has died from injuries he sustained after being shot by a sniper Thursday at the end of a Black Lives Matter protest, the Dallas Police Department confirmed in the early hours of Friday morning.
"It has been a devastating night. We are sad to report a fifth officer has died," the Dallas Police Department said on Twitter at 3:08 a.m. Friday.
The local CBS news station also reported that Mark Hughes, a man named as a person of interest after being seen wearing a camouflage T-shirt and carrying an unloaded AR-15 at the protest, has been released by Dallas police and is not a suspect.
UPDATE: 1:37 AM ET: Police Chief David Brown said during a second news conference that officers are in negotiations with a suspect who's on the second floor of the El Centro Community College parking garage in downtown Dallas and has been exchanging gunfire with officers in a standoff.
Brown said the suspect has told negotiators "the end is coming" and he "is going to hurt and kill" more law enforcement officers. The suspect has also claimed that bombs have been placed throughout the parking garage and other locations in downtown Dallas.
A female was also apprehended near the El Centro garage, he said. Police also followed a Mercedes-Benz "with two suspects who had camouflage bags who officers stopped in Oak Cliff," in southwest Dallas.
Brown further stressed that he's not certain police have captured all of the suspects.
Five police officers are dead and six wounded after at least two snipers shot at police Thursday night just before 9 p.m. CT during a Black Lives Matter protest in downtown Dallas in which one civilian was also injured and transported to an area hospital.
Four of the officers killed worked for the Dallas Police Department and one was an officer with the Dallas Area Rapid Transit system, also known as DART.
The officers and one civilian were transported to Parkland Memorial Hospital and Baylor University Medical Center in Dallas.
The Dallas Police Department told local media that two suspects were in custody. One of the suspects was apprehended after a shootout with Dallas SWAT officers.
Police Chief David Brown confirmed four fatalities during a news conference around 11:30 p.m. CT and said seven other officers and one civilian were also wounded. Two of the officers were in surgery and three were in critical condition.
Brown said the shooters positioned themselves in two parking garages in downtown Dallas and "planned to injure and kill as many law enforcement officers as they could."
"(They were) working together with rifles, triangulating at elevated positions in different points in the downtown area where the march ended up going," Brown said.
He added that the suspects might have planted a bomb in the area.
Police later said that a suspicious package found near one of the suspects was secured by the department's bomb squad.
A person of interest who was seen walking in the protest wearing a green and tan camouflage T-shirt and carrying an AR-15 surrendered himself and his weapon to police after a photo of him was circulated on social media and TV Thursday night.
The nationwide protest was organized on social media Wednesday following the fatal police officer-involved shootings of 32-year-old Philando Castile in Falcon Heights, Minnesota, and 37-year-old Alton Sterling in Baton Rouge, Louisiana.
The Dallas protest started around 6 p.m. near Lamar and Main Streets. Organizers and bystanders said the protest was peaceful, though some people lashed out at the officers, yelling "f--- the police."