Delaware City Removes Noah's Ark Display From Children's Playground After Atheist Grandparents Complain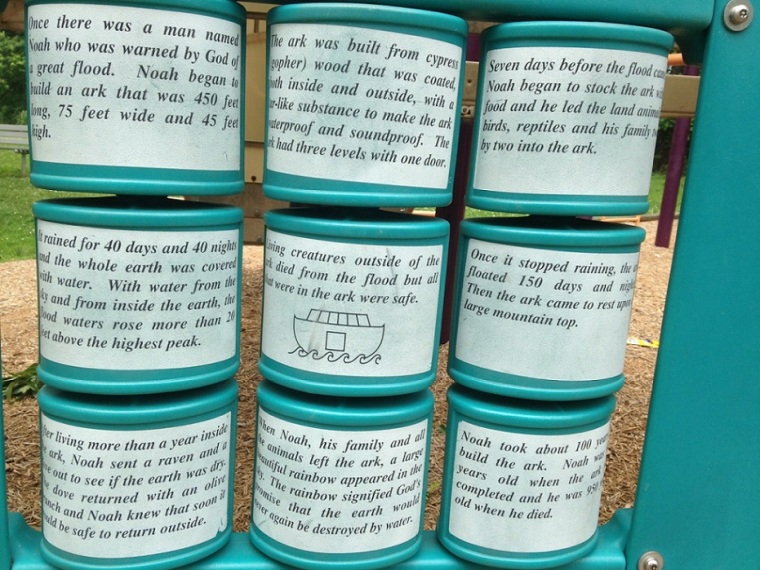 The city of Newark, Delaware, has removed a Noah's Ark display from a children's playground after receiving a complaint from a secular group threatening a lawsuit.
Officials said that although the equipment has been at the park for a long time, they decided to remove it because it includes verses from the book of Genesis in the Bible, which Americans United for Separation of Church and State claimed is a violation of the establishment clause in the U.S. Constitution.
"Earlier this month, the city of Newark received a complaint regarding the playground equipment, which had been installed for some time, alleging that it was in violation of the establishment clause, citing numerous examples of case law," a city spokesman told The Christian Post on Friday about the approved playground equipment at Norma B. Handloff Park.
"After review, our city solicitor advised that the display be removed, and the Parks and Recreation Department, acting on this advice, removed the display."
The complaint came from the Washington, D.C.-based Americans United for Separation of Church and State, as well as its local chapter, Delaware Valley Americans United.
Janice Rael, vice president of DVAU, told CP that her organization had "a strong role in having the Noah's Ark display removed" from the park.
"DVAU received citizen complaints from some atheist grandparents who did not want their grandchildren to see the Bible verses or the cartoon rendition of the Noah's Ark story," said Rael.
"We sent photos to the legal department of Americans United for Separation of Church and State who investigated and found that the installation of the biblically-themed design on the public playground equipment was indeed a violation of church-state separation."
The investigation prompted a letter of complaint sent last month to Newark officials giving them 30 days to respond to their query.
Just weeks after sending their complaint to city officials, the DVAU declared victory on their Facebook page amid hearing that Newark had the Noah's Ark materials removed.
Likewise, both DVAU and Americans United announced on Twitter that their efforts had been successful, but made no further comment on their respective organizational websites as of Sunday.
"I am sure that the city meant no harm, but the government must remain neutral on religious matters, so they had to take that installation down," Rael told CP.