Democratic Strategist Accuses Pastor Jeffress of Using Religion to Promote Bigotry
Gay Marriage Advocate Claims Children Raised by LGBT Parents Are Happier, Better Adjusted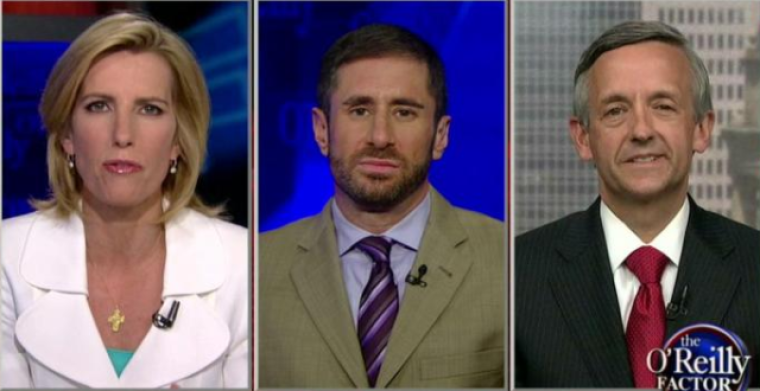 In a debate between Democratic strategist Bernard Whitman and Pastor Robert Jeffress of First Baptist Church in Dallas, Texas, about Wednesday's Supreme Court decision to overturn a provision of the Defense of Marriage Act, Whitman accused the megachurch pastor of "using religion to promote bigotry."
"I'm not going to allow Pastor Jeffress to continue to suggest that children raised by gay couples are any bit less well-adjusted," Whitman said.
"The fact that you use religion to promote bigotry against gays and lesbians has to stop."
The two were featured on Fox News' "The O'Reilly Factor," where Whitman claimed that Christian conservatives weren't offering a good case against homosexual marriage except for Bible-thumping.
 Jeffress responded, saying that "there is a good case beyond the Bible for traditional heterosexual marriages."
"In my book, I quote Princeton sociologist Sara McLanahan who said, 'if we were trying to design a situation in which to best raise a child, it would be one in which the child is connected to both of its biological parents.' That's not always possible, but it ought to be the preferred status, and government ought to promote it, instead of discourage it," the Dallas pastor said.
Countering Jeffress' statement, Whitman claimed that children who are raised by LGBT couples are better adjusted and healthier than those who are raised by heterosexual parents. "In fact, there's a study just out in Australia – 500 kids – that showed children of gay couples are actually healthier and get along better with their family members than do straight," he cited.
On Wednesday, the Supreme Court struck down a key provision of DOMA in a narrow 5-4 vote, now allowing married gay couples to receive the same tax, health and retirement benefits that are available to married heterosexual couples.
Jeffress, who leads an 11,000-member congregation, has been outspoken about his disagreement with the Supreme Court's decision, and has been featured on local and national news programs affirming that he believes the ruling was based on "the shifting sands of public opinion rather than enduring legal and moral principles."
Following Whitman's accusation that Jeffress promotes bigotry, radio host and political commentator Laura Ingraham said she didn't like Whitman branding people who believe in traditional marriage as being "intolerant or anti-gay."
Continuing his argument against same-sex marriage, Jeffress said he wanted to remind Whitman that neither he or anyone else would be here had it not been for a heterosexual union between a man and a woman.
"Nature teaches us, and I believe it's God, that the best relationship in which to raise a child is with a father and a mother," the pastor said. "To say that two men can just as easily and effectively raise a child is to demean the role of women. And listen, even though culture changes and the court may change, God's word never changes. He designed marriage, He knows how it best operates."
Whitman replied, "You do not have a lock on God, sir, and my God does not agree with you."