Democrats Blast Images of Nancy Pelosi's Face Photoshopped Onto Bikini-Clad Miley Cyrus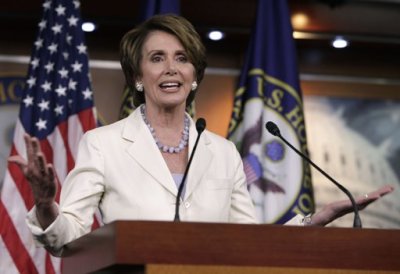 Democrats have criticized advertising graphics from a conservative news outlet depicting Nancy Pelosi's head on Miley Cyrus' bikini-clad body.
DNC Chairwoman Debbie Wasserman Schultz (D-Fla.) called on Breitbart to remove its advertisement of the U.S. House minority leader seemingly wearing the same outfit Cyrus wore during her MTV Awards "twerking" performance.
"If GOP leaders are serious about their rebrand, then both their elected and party leadership should condemn this outrageous behavior, call on Breitbart News to immediately remove the ad, and not continue to use this website as a forum for their views," Wasserman Schultz said in a statement.
Wasserman Schultz added that it was "no wonder the Republicans are having problems appealing to women."
"To say the least, the Breitbart News ad is foul, offensive and disrespectful to all women. It is a disgusting new low and would be reprehensible against any woman — regardless of party," she continued.
In the 2012 presidential election, Democrats won the female vote by 11 points. In a CNN/ORC International poll released in February, 55 percent of Americans said that the GOP doesn't understand women; the number increased to 59 percent among all women polled, and 64 percent among women older than 50.
In addition to the Pelosi-Cyrus photoshopping, the Brietbart West Coast advertisements also include Facebook founder Mark Zuckerberg's head attached to a woman's topless body, with Breitbart logos covering the woman's otherwise uncovered breasts.
One Twitter user suggested that it was hypocritical for Democrats to slam Breitbart following Miley Cyrus' suggestive portrayal of Michele Bachmann on Saturday Night Live last October.
"Democrats 'outraged' by Pelosi as Miley loved it when it was done to Bachmann and Boehner. And how could you not?" tweeted Jimmy.
The Christian Post reached out to two conservative women's groups, Concerned Women for America and National Federation of Republican Women, but neither responded to CP by press time.