Denver Broncos vs Philadelphia Eagles Live Stream: Watch Online NFL 2013 Football (Start Time, TV Info)
Denver Broncos vs Philadelphia Eagles takes place in week 4 of the NFL 2013 regular season on Sunday, with many fans looking forward to seeing the Broncos, who have been by far the standout team of the season so far. The game will start at 4.25 p.m. ET and can be watched online through live stream (details below).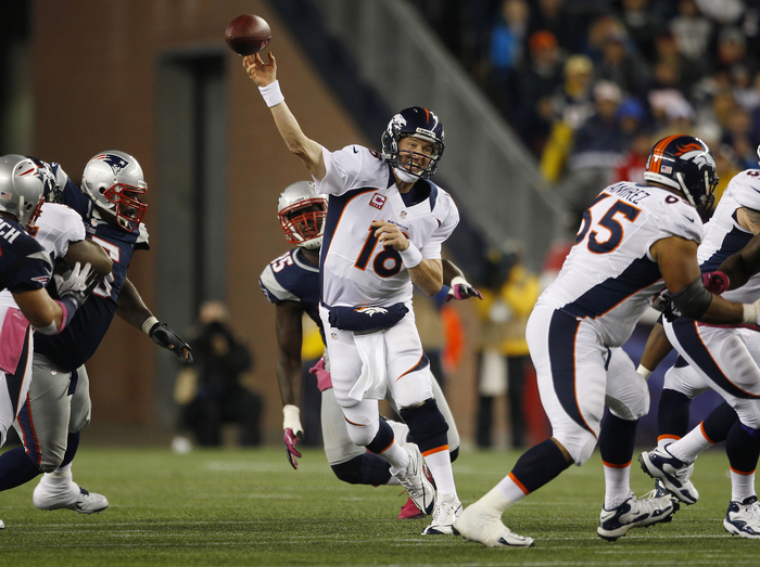 Peyton Manning and his Broncos team have had a phenomenal start to the season and enter this game on the back of three large wins. In week 1 the Broncos took down the Baltimore Ravens, piling on the points in a 49-27 win. They followed that up with a 41-23 win over Eli Manning and the New York Giants, before last week's assured win over Oakland 37-21.
The Broncos are head and shoulders above any other team in the NFL when it comes to offense this season. They are ranked number 1 in the league in total points scored per game (42.3 points), total yards made per game (486.7 yards), and total pass yards gained (374.7 yards).
Peyton Manning has been extraordinary, breaking records, and setting newer heights for his peers. Through weeks 1 and 2, the Broncos had scores as many points in the second half alone as any other team in the NFL had scored in total.
Then last week Peyton Manning also broke Tom Brady's record for most touchdown passes through the first three games of a season, after he threw three more touchdowns in the first half of the Broncos' game against Oakland. In that game he finished 32 of 37 for 374 yards, with three touchdowns, and again, no interceptions.
Overall this season so far, Manning is 89 of 122 for 1143 yards and 12 touchdowns, and it's fair to say that if the Eagles don't find a way to pressure him and stop him then they will simply be the latest team to get a beat down from Denver this week.
The Eagles enter this match up with a record of 1-2, and on the back of two straight losses. They lost in week 2 30-33 to San Diego, and last week again to Kansas City 16-26.
Philadelphia will attempt to counter Peyton Manning and the Broncos' powerful offensive unit, by penetrating the Denver defense on rush. The Eagles surprisingly are ranked number 1 on rush, with an average of 209 yards per game. In total yards per game they are also second only to the Broncos themselves, with 461.7 yards on average.
However, the Eagles' problem hasn't really been on offense, but their defense, and in the past two weeks alone they've conceded 59 points. That bodes very badly for them against the Broncos, and Peyton Manning could have a field day unless Philadelphia turn their defensive frailties around today.
Denver Broncos vs Philadelphia Eagles will start at 4.25 p.m. ET and can be seen on TV on the Fox network, or online through live stream by clicking here.
Philadelphia Eagles - Week 1 Highlights 2013
Philadelphia Eagles 2011 Ultimate Highlights