Christian Football Player Shot Dead by Pastor Who Allegedly Got His Wife Pregnant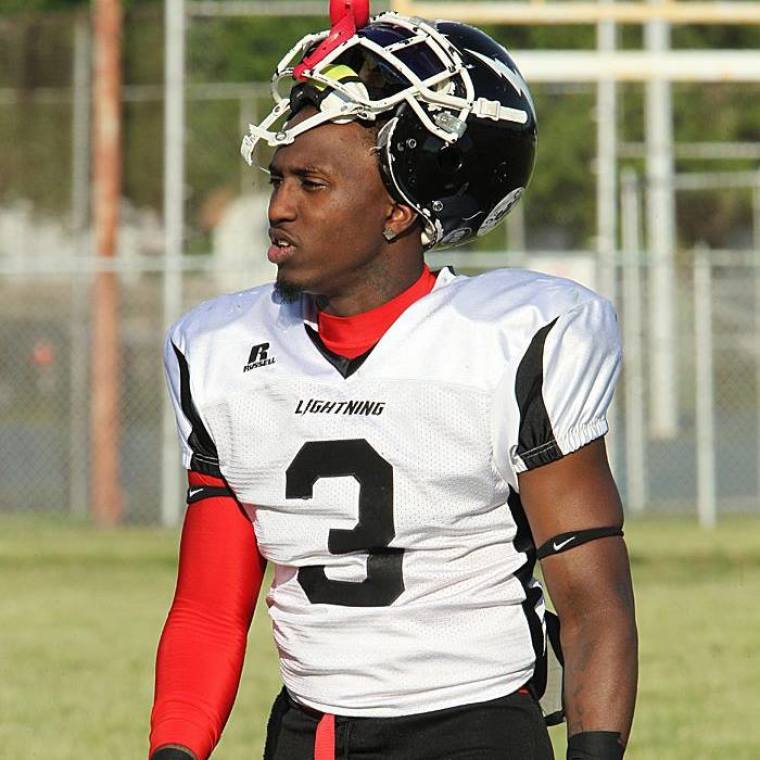 Three days before Christmas in 2014, Deante Smith, 25, a player with the semi-pro football team Michigan Lightning, openly praised God in a Facebook video because he felt the "fire" of God's Spirit and called the church a place where men "don't cheat on our women."
"I'm just trying to get higher so I'm steady climbing up on God because the more I get of him the harder it is for you to pull me down. That's the true wisdom behind it," said Smith in the video.
"That's why you got a majority of the people say if you scared, go to church. But no, the truth is if you ain't scared come to the church because that's where the real men at. That's why we don't cheat on our women. That's why we raise our kids. That's why we correct our sons. We ain't teaching them to shoot, gangbang and do stuff that had us crying," he said.
On Sunday, however, Smith was shot dead inside the City of God Church in Detroit, Michigan, by his pastor who was allegedly having an affair with his wife.
It was at this church, says his family, that Smith got the "Holy Ghost" as a teenager and made a complete "360," beginning a years-long commitment to God.
"He switched his life from being in the streets. I mean, it was meant basically for him to go to God to become a Christian. The way his 360 happened. When we see him again we didn't even know who he was. That's how he got so involved with God so quick. Once he got that Word in him. That Holy Ghost in him. That's all he needed," said his aunt, Darcel Ward, during an interview with The Christian Post on Monday.
It was inside that small church, too, that Pastor Keon Allison had taught Deante the virtues of godly living and helped fuel his fire for the Lord.
On Sunday, Deante's light was permanently extinguished by the man many said he trusted like a son would trust his father.
"He called the pastor his daddy. He loved that pastor like he was his daddy. That's how much the pastor and Deante were so cool," said Ward.
A statement released by the Detroit Police Department to CP on Monday did not identify Smith or his pastor by name, but family members identified both Smith and his pastor as the victim and suspect in a WXYZ report.
According to the DPD, officers from the 8th precinct responded to a shooting "that just happened" at about 1:40 p.m. on Sunday.
"Upon arrival officers were directed to the inside of the location where they observed the 25-year-old male victim suffering from multiple gunshot wounds to the body. The suspect, a 36-year-old male, who was still on scene, advised officers that he shot the victim," said the statement.
The pastor reportedly charged that Smith had harassed him multiple times in the past and on Sunday had attempted to attack him with a brick.
"During that time the suspect produced his firearm and fired multiple shots at the victim striking him in the body. The victim was transported to Botsford Hospital where he was pronounced deceased. The suspect was temporarily detained for questioning and released pending further investigation. The suspect was not injured," the statement continued.
Police are still investigating the case, according to DPD's press office, and the prosecutor's office will determine whether or not any criminal charges will be filed in Smith's death. The pastor was detained then released in that process.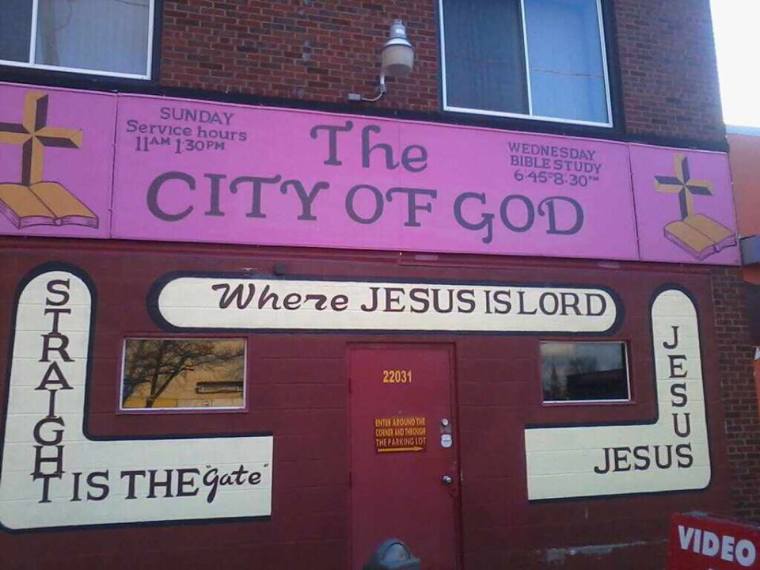 As Deante lay dead in a local morgue, his family now wants his killer to pay and cannot understand why the pastor isn't behind bars.
"That was real, real, super sad. What we want out of this is that, that church never opens its [expletive] doors again. Excuse my language. We know that's one of his (Deante's) wishes," said Ward.
"He loved God before anybody and then his wife was next. He catered to his wife, he clinged (sic) to his wife. His wife didn't have to work. He took care of her well," said Ward, who had nothing but doting words to share about her nephew.
"He knows the Scripture so good. He is a very loving little boy. He's only 25 years old. His birthday just passed Sept. 12. He was not a bad kid. I know when he came to my house he told me everything. He said the pastor was sleeping with his wife," she said.
Ward also shared a text message with CP allegedly showing someone identified as Keon admitting that he shot Deante after he caused a Ruckus at his job. That text was sent on Oct. 16. Smith, according to reports, was shot inside the church on Oct. 19.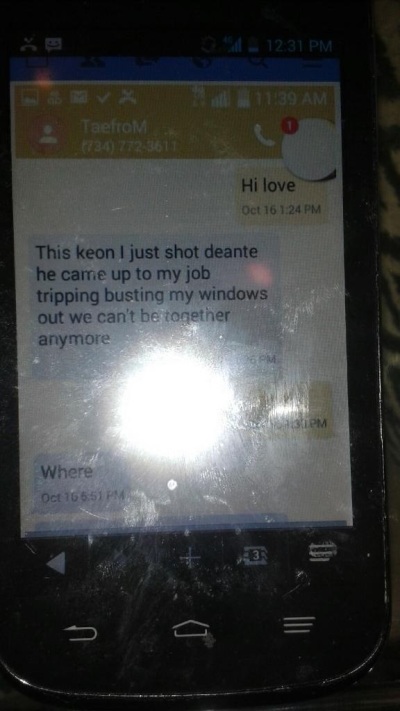 "I have a text message on my phone. I don't understand how he got killed on the 18th and the text message got out on the 16th," she said.
She also raised questions about the members of the church who have mostly refused to speak publicly over her nephew's killing.
An examination of Smith's Facebook page shows his unraveling beginning in late August, early September.
Up until Aug. 21, his posts appear committed to the work of his church and excitement over his wife's pregnancy. On Sept. 1, he posted a picture of the fictional Batman supervillain Two-Face then followed up with a cryptic post saying: "My momma always told me every strong horse need a strong friend I finally understand truly what she meant ..."
By mid-September, Deante revealed on Facebook that his wife had been cheating with his pastor and that at least some of his fellow church members were aware of the affair.
"These church folk some of the main ones lying and [expletive] knew this [expletive] wasn't no good taking me for my money fake praying and [expletive] and they [expletive] standing right there talking about stay because it's a sin to get divorced but when a homosexual come in the door yall laughed them to scorn even my RETARDED [expletive] WIFE WAS LAUGHING WHEN THIS [expletive] AIN'T WORKED IN 4 YEARS EVERYWHERE WE WENT SOMEBODY THAN HAD SEX WITH HER DAMN EVEN IN THE CHURCH AND PASTOR TOLD HER NOT TO TELL ME MAN [expletive] YALL CHURCH FOLK. I GOT GOD AND HE GOT ME SEE YALL LATER BYE FELICIA...," he wrote.
Ward said her nephew confided in her that the pastor's wife told him her husband was sleeping with his wife, and his whole family encouraged him to get a divorce but he struggled because of his feelings for his wife and his faith. Ward said her nephew told her that his wife had a miscarriage and it was shortly after his wife's miscarriage that he learned she had been unfaithful. (Another version of the story is that Smith's wife allegedly had an abortion, which was paid for by the pastor).
"Deante got a knock on his door from the pastor's wife coming to tell him that her husband had sexual affairs with his wife. That's how he found out," said Ward, who added that his mind was not the same afterwards.
Deante was also supposedly planning to get a divorce but he was "so in love with her he kept bringing her back home. He kept saying 'all I know is God's way.' Everybody kept telling him to get a divorce," said Ward.
"He was at his wit's end with this whole situation," Smith's cousin, Detrese, told WXYZ. "It didn't have to end like this for him, he was a great boy."
In the video he posted last year, Smith talked about his pain and how God had given him the strength to be strong.
"I just wanted the world to know that I was touched. I got a lot of pain built up inside of me but I spend so much time being strong because I have to be. My God called me to be strong. He called me not to break. He called me not to crack so that I can make it to show everybody else that it is possible," he said.
He also lamented the people who were trying to pull him down.
"You know every man is gonna have what he want to have. You know your life crooky, you know your life wrong, you know that you deserve better, but you see that there's a fight that come with you getting that better. And you choose to lay down, you know what I mean. So you see a young brother like me and you want to pull me down, but I thank God for this teaching because teaching keeps you prepared for all the demons that want to hide under people's faces," he said.
"His teaching says if somebody trying to pull you down then they already beneath you, so just peep that for a second. Like if you trying to pull me down and you already be up under me to get to my legs. So I ain't even paying attention to you," he said.
WATCH PASTOR KEON ALLISON PREACH BELOW: