Did Bishop T.D. Jakes Really Need a Caged Lion on Stage During Leadership Sermon? Some Critics Think It Was Too Much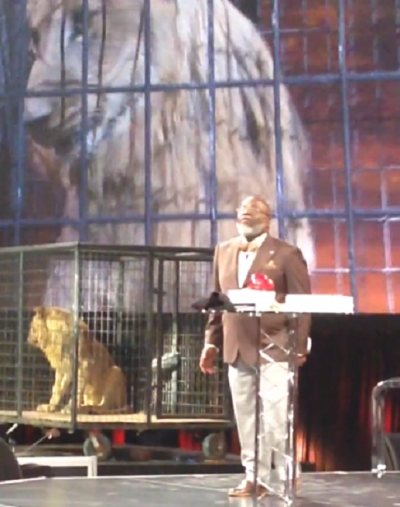 Popular megachurch pastor Bishop T.D. Jakes surprised attendees at his International Pastors & Leadership Conference in Orlando, Fla., last Friday when he brought a caged lion to emphasize his point that they are like caged lions waiting to break free.
Many praised Jakes' "creative anointing" on social media for the act, but some felt the lion was an unnecessary prop; dismissing it with terms such as "theatrics," "sideshow" and a "distraction."
While twitter lit up with surprised reactions from attendees Friday, it was Gospel singer Marvin Sapp who set-off a fierce debate over the use of the lion after he shared images and video from the event with his 2 million Facebook followers.
"I bet if that lion got out CHURCH would be OVER!" quipped fan Pamela Turner.
"Can't believe people are still being taken in by these stage theatrics, complete with props. ... Stop being so amazed, you are the ones who paid for this spectacle. ... WAKE UP!" wrote Jamal Johnson.
"Poor animal. ... So unnecessary. ... Church shouldn't be a side show," wrote Denise Lewis Privott.
Another fan, Tony Rivera, felt the charismatic leader should have simply stuck with the Bible.
"With the kind of money he's pulling in he can rent the Bronx Zoo to be there! All we need is a Bible!" said Rivera.
While praising Jakes for his message, critic Sean Russell felt the money that was spent on the lion was a waste of money.
"Great message, but the money that was used to rent the lion could've gone toward something else in my opinion," he said.
Some commenters, like Brenda D. Powell, said Jakes' use of the lion was great for her and she is happy the animal was there.
"I see in this thread as with everything there are critics. This is my question to the critics? Are you doing your part to spread the Gospel to the world? This was great for visual people like myself, I learn best with illustrations," she said.
Janice Houston, another supporter of Jakes' use of the lion in the sermon, dismissed critics as jealous "haters."
"Some are haters by nature. Some are hating they didn't come up with the idea before Bishop Jakes. Oh shut up! Naysayers. Hush yo mouth!" she said.