DOMA Ruling Reaction From Obama, Mike Huckabee, John Boehner, Michele Bachmann, Nancy Pelosi (VIDEO)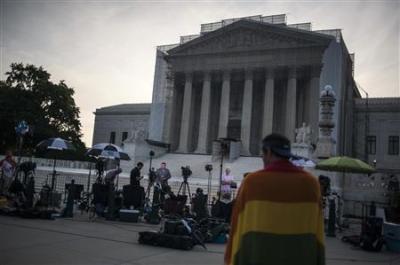 Wednesday's DOMA ruling has sparked a huge wave of reactions from across the United States, from both ends of the political spectrum.
The U.S. Supreme Court struck down Wednesday a key provision in the Defense of Marriage Act (DOMA) that denied benefits to legally married gay couples. The ruling was given with a narrow 5-4 vote, and means married gay couples will now be able to receive the same tax, health and retirement benefits that are available to married heterosexual couples.
Most U.S. states uphold the traditional definition of marriage, but same-sex couples are now allowed to legally marry in 12 U.S. states, as well as Washington, D.C.
Here are some of the reactions:
President Barack Obama has reacted through Twitter, simply saying: "Today's DOMA ruling is a historic step forward for #MarriageEquality. #LoveIsLove."
Meanwhile, House Speaker John Boehner has said, "While I am obviously disappointed in the ruling, it is always critical that we protect our system of checks and balances. A robust national debate over marriage will continue in the public square, and it is my hope that states will define marriage as the union between one man and one woman."
New York Sen. Kirsten Gillibrand (D) said, "I am overjoyed the Supreme Court has ruled to end the discrimination that had been enshrined into U.S. law. Marriage is the true foundation for strong families. Every loving, committed couple deserves the basic human right to get married, start a family, and be treated equally under the law."
Rep. Michele Bachmann (R-Minn.) has said that "marriage was created by the hand of God. No man, not even a Supreme Court, can undo what a holy God has instituted. For thousands of years of recorded human history, no society has defended the legal standard of marriage as anything other than between man and woman. Only since 2000 have we seen a redefinition of this foundational unit of society in various nations. Today, the U.S. Supreme Court decided to join the trend, despite the clear will of the people's representatives through DOMA. What the Court has done will undermine the best interest of children and the best interests of the United States."
Nancy Pelosi, Minority Leader of the United States House of Representatives, has said, "No surprise, I know and that they knew that it was unconstitutional, it's just a matter of the court confirming that. It was, I think, blatantly unconstitutional from the start. Republicans knew that, that's why they passed a bill ten years after DOMA was passed to strip the court of the power to judge its constitutionality of the law and now it's gone."
Meanwhile, House Majority Leader Eric Cantor (Virginia Republican), has said he's "disappointed in this decision, and the marriage debate will continue in the states"
Sen. John Cornyn of Texas, the No 2. Senate Republican, said, "It sounds to me that that battle will be moving to the states. The issue is not going away and there are going to be havens of traditional values like Texas where I don't think the law is going to be changed."
Mike Huckabee, former presidential candidate, posted on his Facebook page: "My thoughts on the SCOTUS ruling that determined that same sex marriage is okay: 'Jesus Wept.' 5 people in robes said they are bigger than the voters of CA and Congress combined. And bigger than God. May he forgive us all."
Here is a video of a news report announcing the DOMA ruling from the Supreme Court: