Donald Trump Inauguration Speech: Americans a 'Righteous People,' 'Protected by God'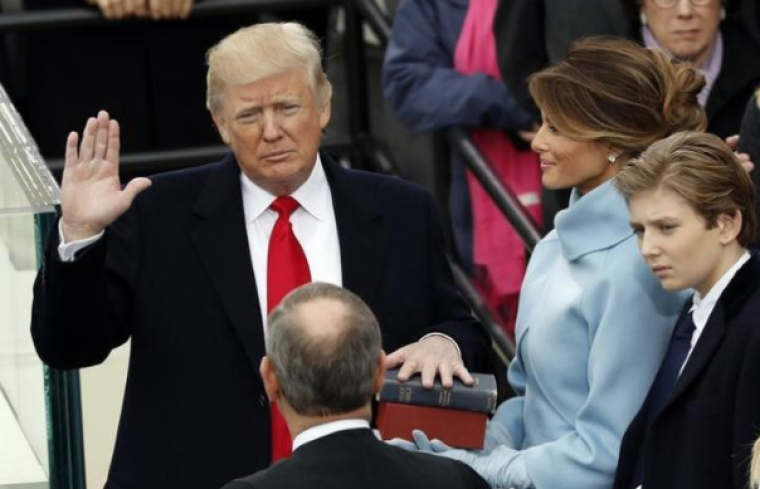 President Donald Trump told the nation in his Inauguration Day speech that Americans are a "righteous people" and "protected by God."
On Friday, Trump was sworn in as the new president of the United States, giving a speech in which he spoke about his rise to power as a "historic movement."
"At the center of this movement is a crucial conviction, that a nation exists to serve its citizens. Americans want great schools for their children, safe neighborhoods for their families, and good jobs for themselves. These are just and reasonable demands of righteous people and a righteous public," stated Trump.
"We are one nation and their pain is our pain. Their dreams are our dreams. And their success will be our success. We share one heart, one home, and one glorious destiny. The oath of office I take today is an oath of allegiance to all Americans."
Trump also told those gathered on the rainy day in the District of Columbia that there "should be no fear" when it comes to national security.
"We are protected and we will always be protected. We will be protected by the great men and women of our military and law enforcement. And most importantly, we will be protected by God," continued Trump.
Trump also quoted from Psalm 133:1 when he said "how good and pleasant it is when God's people live together in unity."
This appears to be from the New International Version of the Bible, as other English translations render "God's people" with the more gender specific "Brethren" or "Brothers."
Last November, Trump defied the expectations of numerus polls and pundits when he won the presidential election against former Secretary of State Hillary Clinton.
Trump ran a controversial campaign, vowing among other things to institute a temporary ban on Muslim immigration to the United States and to build a wall on the nation's southern border which Mexico would be compelled to pay for.
Trump's inaugural speech bore resemblance to the themes he spoke of on the campaign trail, with some expressing concern over the frankness of his declaration of "America first."
"From this day forward, a new vision will govern our land. From this day forward, it's going to be only America first, America first," declared Trump to a cheering crowd at National Mall.
"Every decision on trade, on taxes, on immigration, on foreign affairs will be made to benefit American workers and American families. We must protect our borders from the ravages of other countries making our products, stealing our companies and destroying our jobs."