Did Donald Trump's Lewd Sex Tape Hurt His Poll Numbers? 3 Views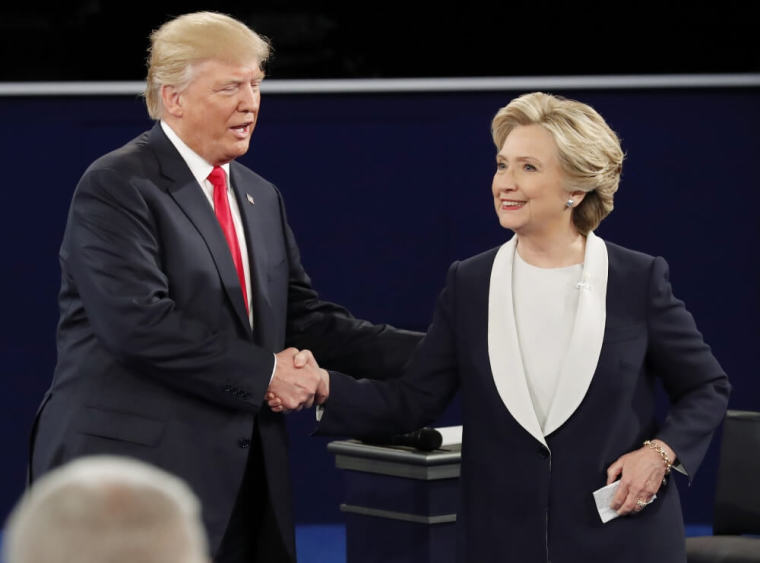 With the presidential election only a few weeks away, Republican nominee Donald Trump is experiencing a new level of turmoil thanks to a wave of bad press surrounding comments he made in 2005 and allegations of sexual assault.
On the other side, Democratic nominee Hillary Clinton is finding controversy with remarks made by her campaign in emails posted online by Wikileaks.
How are these "October surprises" affecting the race to become president? Three polls offer insight into how things have changed in the home stretch.
1. Real Clear Politics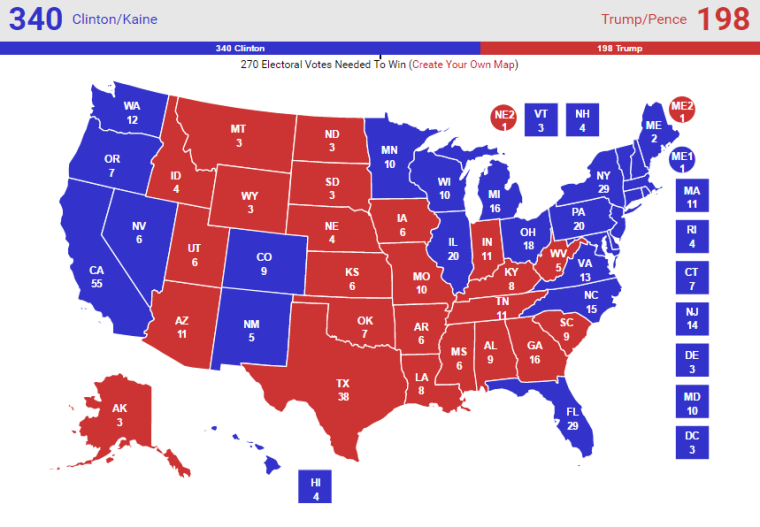 On its "no toss ups" map accessed Thursday morning, Real Clear Politics predicts a landslide victory for the Clinton campaign if the election were held today, with the Democratic hopeful securing 340 electoral points versus Trump's 198.
Based off of voter data from various sources, the predicted outcome contrasts sharply with their map from earlier this month, when Clinton had 292 electoral points to Trump's 240.
Unlike earlier in October that predated the release of Trump's 2005 comments, the new no toss-ups map gave Clinton the states of Colorado, Nevada, North Carolina, and Ohio.
While a sharp decrease from a couple weeks ago, the RCP's no toss-up map's current electoral prediction is identical to what it was in early September.
2. Polly Vote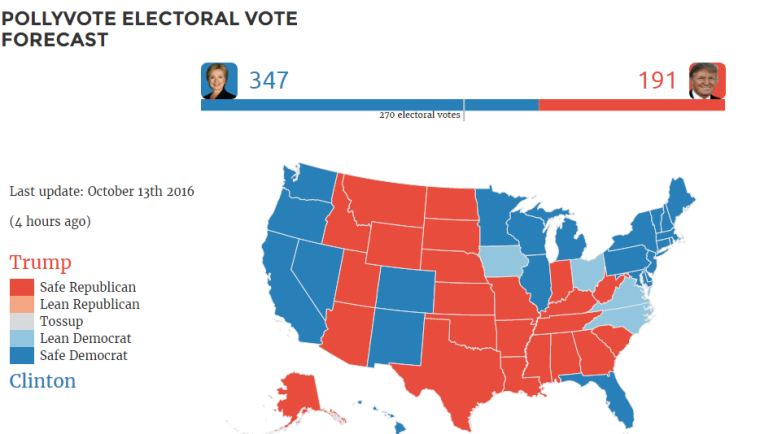 The election forecasting website PollyVote gave Clinton a landslide victory on points, with the Democratic hopeful getting 347 electoral points to Trump's 191.
Accessed Thursday, the PollyVote site also predicted Clinton will get 53.3 percent of the popular vote while Trump receives 46.7 percent of the vote.
PollyVote put Colorado and Nevada in the "safe Democrat" category and put Iowa, North Carolina, Ohio, and Virginia in the "lean Democrat" category.
The landslide victory for Clinton is a slight increase from what PollyVote predicted earlier this month, which was Clinton getting 341 electoral points to Trump getting 197.
3. Five Thirty Eight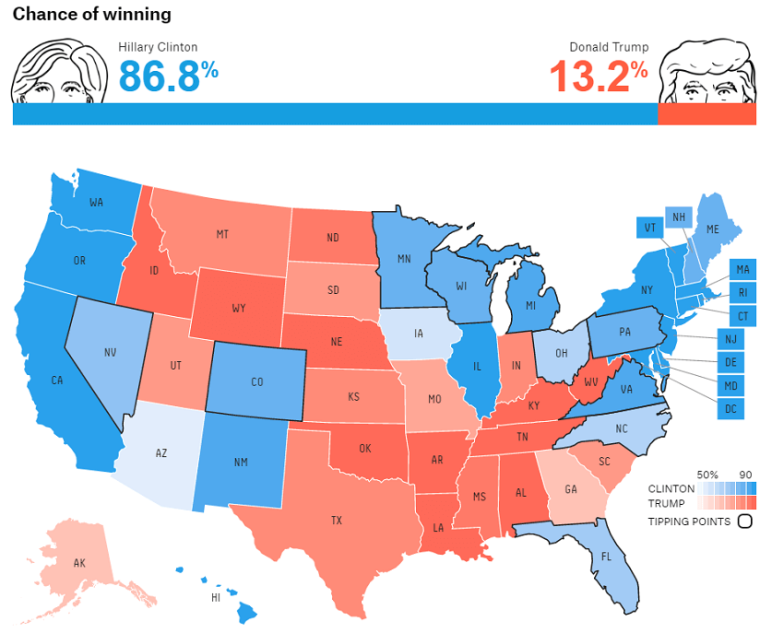 The site FiveThirtyEight showcases a major Clinton victory, stating that Clinton has an 86.8 percent chance of winning versus Trump's 13.2 percent chance.
Over the past couple months, Trump's chances of winning according to FiveThirtyEight has progressively gotten smaller.
In mid-September, Trump was listed as having a 40.7 percent chance of winning and in early October he was listed as having a 31.3 percent chance of winning.
Accessed Thursday, FiveThirtyEight predicts Clinton getting 341.7 electoral points and 49.3 percent of the popular vote.
This contrasted with Trump's 195.9 electoral points and 42.7 percent of the popular vote and Libertarian Gary Johnson's 0.2 electoral points and 6.5 percent of the vote.