Donald Trump Refuses to Apologize for Disputing John McCain's War Hero Status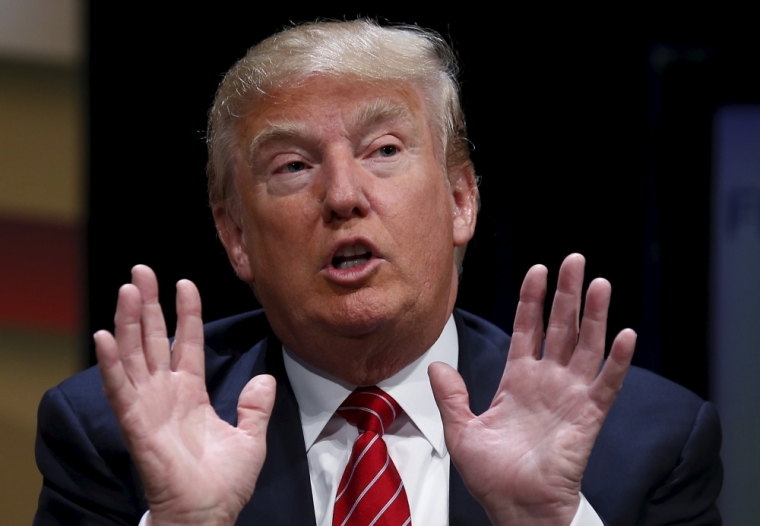 GOP Presidential candidate Donald Trump said he will not be apologizing to Arizona Senator John McCain despite suggesting that he is not a war hero "because he was captured" and spent five years as a prisoner of war. Trumps' comments have stirred outrage across the Republican field, while McCain's daughter Meghan has expressed her "disgust" at the claim.
Trump told ABC's "This Week" on Sunday that he has no intentions of pulling out of the race despite his controversial comments made on Saturday during a campaign event in Iowa.
"When I left the room, it was a total standing ovation," the billionaire business man claimed. "It was wonderful to see. Nobody was insulted."
On Saturday at the Family Leadership Summit, Trump said about McCain: "He's a war hero because he was captured. I like people that weren't captured, OK?"
Trump was referring to McCain's capture in Vietnam in 1967 as a naval aviator, where he spent five years as a prisoner of war and endured beatings and torture by the North Vietnamese.
The GOP candidate further clarified that he was trying to highlight the stories of servicemen who were never captured but do not receive the same war hero status.
"People that fought hard and weren't captured and went through a lot, they get no credit," he said. "Nobody even talks about them. They're like forgotten, and I think that's a shame, if you want to know the truth."
Trump also criticized McCain for failing to do more in his political career to help veterans in the U.S.
"I'm very disappointed in John McCain because the vets are horribly treated in this country," he added. "I'm fighting for the vets. I've done a lot for the vets."
Trump's comments prompted sharp condemnation from the Republican spectrum, however, leading with Meghan McCain, who Tweeted on Saturday: "I can't believe what I am reading this morning. Horrified. Disgusted. There are no words."
The author and social commentator later added sarcastically that she has a "brother that just returned from Afghanistan a month ago, glad he can come home to this being said about his father and his service."
Trump's 2016 GOP rivals also used social media to speak out against suggestions that McCain is not a war hero.
"As a fellow veteran I respect @SenJohnMcCain because he volunteered to serve his country. I cannot say the same about Mr. @realDonaldTrump," Former Texas Governor Rick Perry said.
Former Florida Governor Jeb Bush added: "Enough with the slanderous attacks. @SenJohnMcCain and all our veterans - particularly POWs have earned our respect and admiration."
Louisiana governor Bobby Jindal alluded to the fact that Trump did not serve in the Vietnam War, after receiving four student deferments and an additional medical deferment.
"After Donald Trump spends six years in a POW camp, he can weigh in on John McCain's service," Jindal said.
Trump has claimed that he would have "proudly served" if he was drafted in the lottery.
"If I would have gotten a low number, I would have been drafted. I would have proudly served," he said. "But I got a number, I think it was 356. That's right at the very end. And they didn't get, I don't believe, past even 300, so I was not chosen because of the fact that I had a very high lottery number."