Drag Queen Children TV Shows Coming to America, 'Drag Tots!' Features Cross-Dressing Toddlers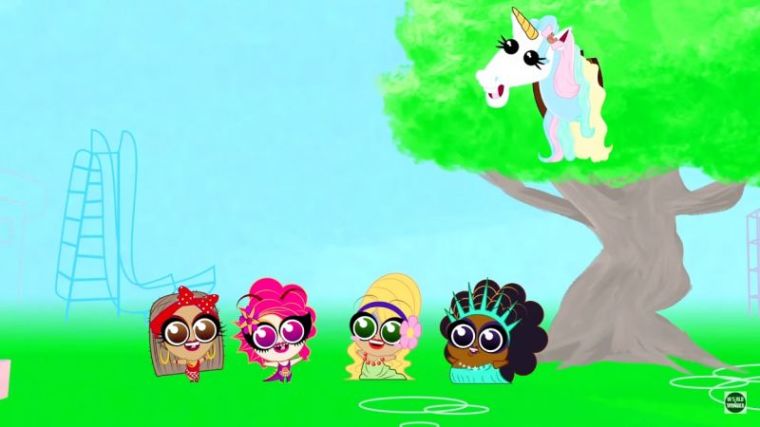 At least two new animated television shows about drag queens, one featuring children characters, are set to debut in America, drawing high concern from conservative commentators.
World of Wonder released a trailer in May about "Drag Tots!," a show about toddler drag queens coming June 28th, featuring transgender model RuPaul.
"In a world on the brink of chaos, where fear is the rule of the land, the voices of a generation have banded together to give our planet what it needs...BABY DRAG QUEENS!" proclaims a preview on YouTube.
On May 31, Netflix announced the animated "Super Drags," with a teaser preview that is yet to be given a release date stating:
"By night, they tighten up their corsets and transform into the baddest SUPER DRAGS in town, ready to combat shade and rescue the world's glitter from the evil villains. Get ready, because the SUPER DRAGS are going deeper than you think."
In a Saturday post on The American Conservative website, Orthodox Christian author Rod Dreher described such shows as "woke pederasty."
"Netflix is turning drag queens into animated superheroes, and RuPaul's streaming service is turning drag queens into child superheroes," Dreher warned.
"You might think — I certainly hope you think — that your child will not be exposed to this filth. The thing is, your child, and all of us, have to live in a world in which this is normal, and in which the popular culture thinks that dressing little boys up like sexually provocative women is not only permissible, but a sign of cultural progress," he added.
The author pointed to other such efforts, like the "Drag Queen Story Hours" that have been held in libraries across America.
They have been adapted by other countries as well, including the United Kingdom, with activists defending the idea of drag queens reading to children.
"For me the project is about drag queens providing fun and inclusive reading for children about issues around misogyny, homophobia, racism, LGBTQ and gender fluidity in a way which they can understand," said 25-year-old Tom Canham, the founder of Drag Queen Story Time.
Dreher pointed to his book, The Benedict Option, which calls on Christians to withdraw from "decadent culture," however. He also urged believers to "build ourselves up, teach those who are willing to be taught, and then build our versions of abbeys, to which Christians struggling in the world can rely on to form their own children."
"If not now, you conservative Christian readers, then when? What's it going to take for you to get serious?" he asked.
Acculturated author Amelia Hamilton has warned that even if children being exposed to cross dressers is aimed at introducing new ideas and opening their minds, "it is clear that the events skew in a particular political direction."
"As the author of two patriotic (and apolitical) children's books, I can attest to the fact that the left is highly suspicious of exposing children to anything that could potentially be considered conservative," Hamilton said at the time, in comments directed at Drag Queen Story Time.
"The hate mail I received for educational books about America's founding proved that liberals were extremely uncomfortable with patriotism, which they see as political. Why teach children facts when they can learn left-wing talking points instead?"
Back in November 2017, The Disney XD channel introduced its first "boy princess" storyline in an episode of "Star vs. The Forces of Evil."