'Drag Queen Story Time' Urges Kids to Embrace Transgenderism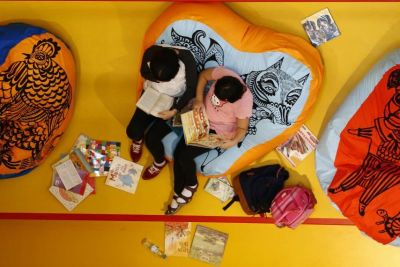 A young gay man in Bristol, U.K., is seeking to emulate the "Drag Queen Story Hour" project that has been going on in the United States. He has launched "Drag Queen Story Time," which currently has 30 drag queens to read aloud "feminist fairytales and gender fluid novels for young children."
"For me the project is about drag queens providing fun and inclusive reading for children about issues around misogyny, homophobia, racism, LGBTQ and gender fluidity in a way which they can understand," Tom Canham, a 25-year-old call center employee and the founder of Drag Queen Story Time, told Bristol Post.
Canham said he will start the project at this year's Bristol Pride and then spread it across the city, targeting primary schools and libraries.
"Racism, homophobia, misogyny and the like are all learnt behaviours — we aren't born with any form of hatred, you get taught it over time," he said. "And if projects like these can go some small way to helping prevent or curtail that, then it can only be a good thing."
Canham said he was inspired to launch "Drag Queen Story Time" after reading about "Drag Queen Story Hour."
"I saw a tweet from the producers of the drag TV show, 'RuPaul's Drag Race' about 'Drag Queen Story Hour' and replied saying 'why can't we have something like this in the UK?' To my amazement they replied and suggested I set up my own group, and it went from there really."
However, the project in the U.S. has received criticism.
An Acculturated author, Amelia Hamilton, said while the story time is ostensibly meant to introduce children to new ideas and open their minds, "it is clear that the events skew in a particular political direction."
"As the author of two patriotic (and apolitical) children's books, I can attest to the fact that the left is highly suspicious of exposing children to anything that could potentially be considered conservative. The hate mail I received for educational books about America's founding proved that liberals were extremely uncomfortable with patriotism, which they see as political. Why teach children facts when they can learn left-wing talking points instead?"
"Drag Queen Story Hour" is about "drag queens reading stories to children in libraries, schools, and bookstores," the project's website says. "DQSH captures the imagination and play of the gender fluidity of childhood and gives kids glamorous, positive, and unabashedly queer role models. In spaces like this, kids are able to see people who defy rigid gender restrictions and imagine a world where people can present as they wish, where dress up is real."
It was created by Michelle Tea and RADAR Productions in San Francisco, but the project is now operational in Los Angeles, New York and San Francisco, and "events are popping up in other cities across the U.S., Canada, and the U.K.!" the group boasts.
In Canada, an "Over the Rainbow Storytime," event was hosted by Edmonton Public Library in Alberta, according to CBC News. The idea for it came from Kristopher Wells, the faculty director of the Institute of Sexual Minority Studies and Services at the University of Alberta.