'Duck Dynasty' Star John Luke Robertson Engaged; Says 'A Lasting Marriage Depends on How Much You Love God Almighty'
'Duck Dynasty' Star John Luke Robertson Engaged; Says 'A Lasting Marriage Depends on How Much You Love God Almighty'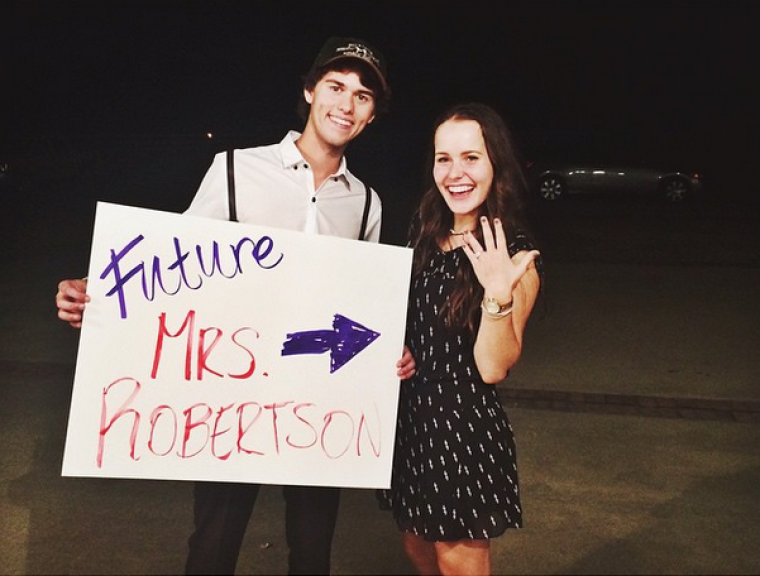 "Duck Dynasty" star John Luke Robertson said that he knew fiancé Mary Kate McEacham was "the one" for him after they met four years ago.
"We actually met four years ago at a Christian summer camp," Robertson, 19, told Us Weekly. "There was some chemistry! I had tried to date her before, and she kept turning me down. I just kept at it and she finally said yes!"
The couple got engaged on Saturday, Oct. 11, but the engagement did not come without a lot of prayer on Robertson and McEacharn's part.
"I had always prayed God would bring a Christian boy into my life," McEacharn, 19, explained. "When John Luke came into the picture, I figured God had placed him there. He's an awesome man of God. He's really funny, you never know what's going to happen with him. He's full of surprises. Plus, he's pretty cute."
The high school sweethearts have not set a wedding date yet but are enjoying just being engaged. Robertson wanted to surprise his future bride with the proposal and successfully did so with a lot of planning. He told his fiancé that he wanted to show her a book he'd made of all the photos he'd collected since they met at Christian camp … it was also his birthday, so he used that to his advantage as well.
"We got to the last two pages [of the homemade book], and I had a note written: 'Love you so much … we've had so many adventures with each other, and I can't wait for the rest of our lives,'" Robertson said.
He had already planted a photo of the wedding ring in the album as well, stunning McEacharn.
"She looked up at me, and when she looked up, I had the ring in my hand. I said, 'Mary Kate McEacharn, will you marry me?' And she started crying," he said.
"I honestly had no idea. We were just going through the book and having a great time laughing and looking at the pictures," the bride-to-be said. "I think I went into a stage of shock. I was just like, 'Is this for real?' He was like, 'Yeah.'"
The couple posted photos to their Instagram accounts, letting the public in on their special moment. Robertson's family could not be happier, and the couple is looking forward to saying "I do" soon.
"Some people say we are too young," Robertson posted to his blog. "I have heard all the stories and all the advice. I have come to the conclusion that a lasting marriage does not depend on when you get married. A lasting marriage depends on how forgiving you are and how much you love God Almighty. Those are the things that hold people together."