'Duck Dynasty' Star Willie Robertson Heralds Donald Trump as Defender of Middle America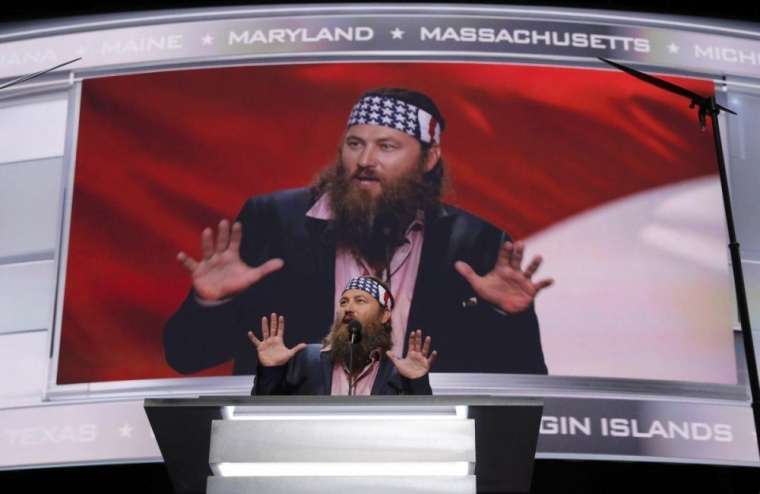 Willie Robertson, star of "Duck Dynasty," the most watched nonfiction cable series in history, wasted no time in making his point to Middle America at the Republican National Convention in Cleveland, Ohio, on Monday. "Donald Trump will have your back," he said. And it was no light endorsement of the brash billionaire.
Robertson's presence at the convention may have seemed like an oddity for average politicos but according to USA Today's Carly Mallenbaum it made perfect sense.
"Convention attendees love Robertson (we talked to a bunch of delegates earlier in the day who said he was the celebrity they were most excited to see)," Mallenbaum wrote.
Middle America loves Robertson and his "Duck Dynasty" clan, too.
Using viewership data from Experian Marketing Services, the American Communities project concluded in 2013 that: "People in the ACP's Aging Farmlands, Rural Middle America and Working Class Country counties were almost twice as likely to have watched the show in the last seven days as those in the Big Cities. The Evangelical Hubs were also big viewers."
And in his brief, down-to-earth conversational speech, Robertson addressed the audience at the RNC like an inside voice they already knew too well.
"It's been a rough year for the media experts. It must be humbling to be wrong about so much for so long but I have a theory about how they missed the Trump train," he said.
"They don't hang out with regular folks like us who like to hunt and fish and pray and actually work for a living. Heck, I don't even know if they know how to talk to people from Middle America. I mean when I tell them I'm from Louisiana, they really start talking real slow and real loud," he continued in an attack on the stereotypical views people on the coast tend to have about Middle America.
"Let me tell you why I've been on the Trump train from the beginning. See, when you're from the South and you grow up with rednecks, there are some occasional disagreements. Sometimes those disagreements turn into fisticuffs but anytime I was ever in a bad spot I always knew my brothers would have my back. And today in a lot of ways America is in a bad spot and we need a president who will have our back. And I can promise you this, no matter who you are, Donald Trump will have your back," he said.
Robertson tapped the Republican presidential nominee's message very well, "America is in a bad spot" and it resonates deeply in Middle America.
In Middle America, "God and the flag were always important, but the idea of self-advancement, both for oneself and the greater good, was braided into the DNA of the Constitution," according to a 2014 op-ed in The Guardian.
This idea of self-advancement however has been significantly threatened in recent years.
According to a New York Times analysis in 2014, while the wealthiest Americans are outpacing many of their global peers, across the lower- and middle-income tiers, citizens of other advanced countries have received considerably larger raises over the last three decades.
"After-tax middle-class incomes in Canada — substantially behind in 2000 — now appear to be higher than in the United States. The poor in much of Europe earn more than poor Americans," said the report. "The numbers, based on surveys conducted over the past 35 years, offer some of the most detailed publicly available comparisons for different income groups in different countries over time. They suggest that most American families are paying a steep price for high and rising income inequality."
According to the 2014 op-ed in The Guardian, just over 100 years ago, it was a similar squeeze on Middle America that gave rise to the populist president from New York City, Theodore Roosevelt much like Trump is hoping to become.
"More by luck than design, an ebullient populist with a taste for poker and big-game hunting emerged to renew the American challenge and lead his country into the so-called Progressive era. Middle America adored Theodore Roosevelt. They even named the teddy bear after him," said the op-ed.
And Robertson believes Trump is the answer to the squeeze on Middle America in 2016.
"If you're looking for a job or trying to grow a business like I am, Donald Trump will have your back. If you're a serviceman overseas or a cop risking their lives to help keep us safe at home, Donald Trump will have your back. If you're an average American who feels like you've been forgotten, neglected by faraway leaders, that the deck is stacked against you and you just can't win, Donald Trump will have your back," said Robertson to the adoring delegates.
"Now he may not always tell you what you want to hear. You may not always agree and he may not always be politically correct but when your father is Phil Robertson, I'm used to that ok?" he continued. "But I tell you this, Donald Trump will always, always tell you the truth as he sees it. And that's why we can trust him to make America great again as our next president."