'Duck Dynasty's Si Robertson Says There's No Such Thing as an Atheist; Talks New Film 'Faith of Our Fathers'
NEW YORK — 'Duck Dynasty' star Si Robertson, who's known for being an outspoken Christian, told CP Voice earlier this week that as a Vietnam veteran he knows there's no such thing as an atheist because when people find themselves in a life-threatening situation they cry out to God.
Discussing his new film "Faith of Our Fathers," which tells the story of two Vietnam veterans — one a devout Christian and the other a skeptic — Robertson explained that the bonds soldiers develop in wartime are "thicker than blood, because they've faced death together."
In the film, the sons of the two veterans meet each other decades after Vietnam and seek to learn more about their fathers by reading through the letters they wrote to each other during the war, which reveal one soldier sharing the Gospel with the other.
In an interview with CP Voice on Wednesday, Robertson, along with the film's lead actor Kevin Downes, commented on how the Gospel is presented in the letters between the two men. "One is a skeptic. And there's a lot of skeptics," said Robertson. "I dont believe there's a such thing as an atheist. Because there's too much documentation. Our calenders are based on Jesus Christ."
"Whether you believe in Him or not, every time you write down the day's date you're saying He's here," continued Robertson, who reiterated his point that when it comes to circumstances of life and death, there aren't any atheists. "Because if you get in a serious bind, the first thing you'll do is say [God,] please help me."
Robertson also stressed two other aspects of the film, including the love these soldiers had for their sons, as well as honoring veterans, which is something that works perfectly with its release during the Fourth of July weekend, according to the movie's stars.
"America sends these boys and women to war. They come back. [And when we came back from] Vietnam it was not a good reception. So today, we've gotten better. I've actually been in airports where a soldier walks on a plane, some people out in first class get up and say, 'hey soldier, take my seat," said Robertson. "[It's] a neat thing. They've earned it. They went to war for us. So lets give them a good welcome home and the respect their due."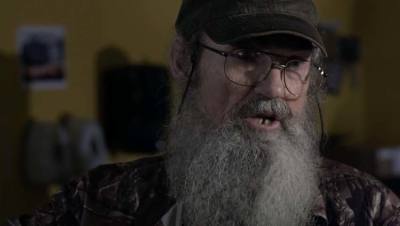 Along with honoring veterans, "Faith of Our Fathers" gives movie goers insight into the relationships soldiers' form during combat.
"It's been said and documented that those that go through combat together, their [bond is] thicker than blood.
Because they face death together. They've looked death in the eye daily. What better place for the Gospel to be. Somebody's looking death in the face. He might need to know about Jesus," said Robertson.
"Faith of Our Fathers" was developed by Pure Flix Entertainment, the same studio that brought viewers the 2014 smash "God's Not Dead" which grossed over $60 million in box office sales.
Downes celebrated the recent success of faith-based films such as "Heaven is For Real" and "God's Not Dead" while talking with CP Voice.
"What an amazing time we live in where doors have opened, where we can make feature films that are shown in theaters, not just in the U.S., but around the world, that clearly present the Gospel. As a filmmaker, that is a dream come true," said Downes, who believes "Faith of Our Fathers" provides a great Gospel presentation and is also effective in other ways for those who've been in combat.
"It is a ministry tool — not just to share the Gospel, but to provide some sort of healing for veterans; to bring awareness to their struggles," said Downes. "We've had veterans come up to us crying and saying, 'I never knew somebody cared about me so much.'"
He continued: "We're releasing this film on the Fourth of July weekend which is Independence Day. Why do we celebrate Independence Day? How did that happen? Men and women sacrificed for our independence. Let's bring attention to that. The fireworks represent something. We need to remember that. It's what "Faith of Our Fathers" is about."
"Faith of Our Fathers" is playing in theaters throughout the U.S.