Evangelical Christians Must Stand Against Drafting Women Into Combat, IRD Says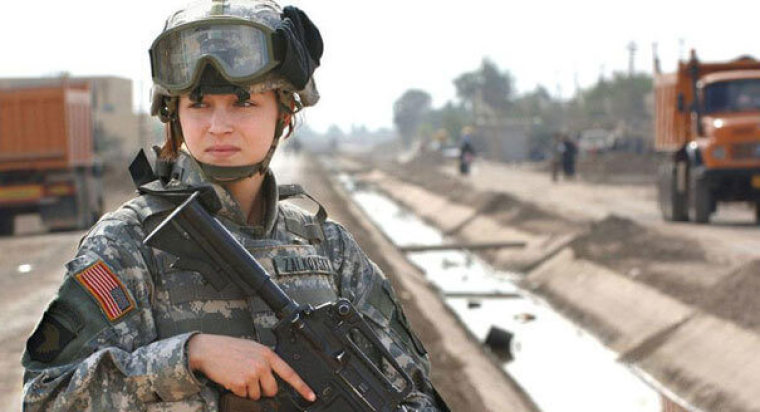 The Institute on Religion & Democracy has called on evangelicals, Catholics, and all Christians to stand together against proposals, backed by a number of Republican presidential candidates, to draft women into combat roles should the need arise.
"Christian leaders should oppose conscripting women into the military. Not only evangelicals, but also Catholics and Christian pacifists should speak out. Can the Church be silent about the potentially coercive militarization of America's daughters?" asked IRD's Evangelical Action Director Chelsen Vicari.
"Women are serving and have been serving their country alongside men. We support and thank them for their sacrifices. Women have important roles to fill in the military, but women also play vital roles in the home. Forcing mothers, daughters, and our sisters to register for Selective Service would be a tragic mistake," she added.
Sen. Ted Cruz slammed support for registering women for a hypothetical military draft from his fellow Republican candidates earlier this week, arguing that such a situation would be both "immoral" and "nuts."
The question of whether women should now register for the draft was prompted after the Pentagon decided late last year to clear women to serve in all combat roles.
New Jersey Gov. Chris Christie said at the last GOP debate that including women in the registry would be a matter of fairness, equal access and opportunity, and said that it would teach American girls about their abilities and obligations.
Fellow candidates Sen. Marco Rubio and former Florida governor Jeb Bush agreed, though did not clarify whether they think women should be allowed or required to register for selective service.
Cruz, however, argued that suggestions to draft women are due to political correctness.
"Political correctness is dangerous, and the idea that we would draft our daughters to forcibly bring them into the military and put them in close combat, I think is wrong," he said.
Vicari said in her statement that she is thankful for evangelical men "gallantly opposing women being conscripted into the horrors of war."
She added: "Their recognition that God made women and men uniquely different is not misogyny. Misogyny looks like men pulling women away from their families and sacrificing their safety for the sake of political correctness and their political careers."
IRD Just War and Global Statecraft Scholar Marc LiVecche agreed, and argued that men have a "natural predisposition toward gallantry," which he said makes a difference.
"In combat, while it's true that the leaders of fighting units must never waste the lives of their men they nevertheless must be willing to spend them," LiVecche wrote.
"If women are in their ranks, then either gallantry risks jeopardizing combat effectiveness as commanders honor it and shield their women from danger or commanders override gallantry and treat their women indiscriminately, thereby jeopardizing an important facet of human nature."