Evangelical Leaders Aren't Selling Themselves to Trump, Ronnie Floyd Says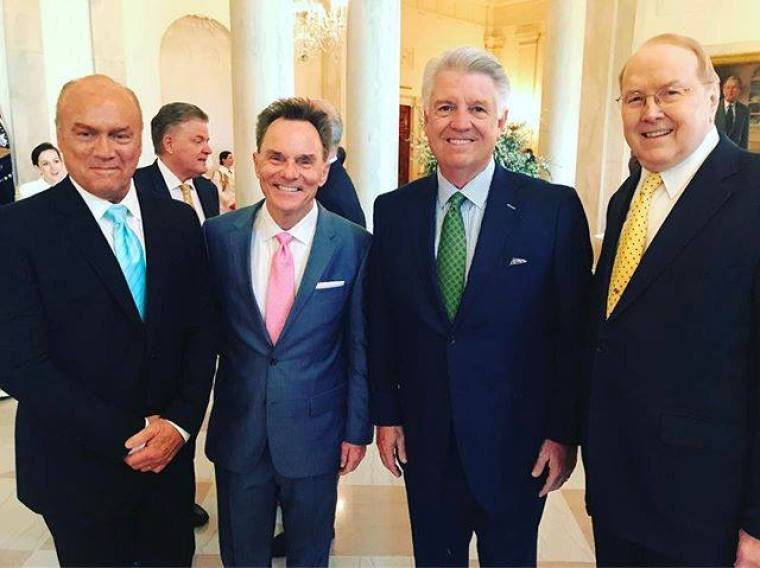 Evangelical leaders involved in last week's prayer over President Donald Trump at the White House have responded to left-leaning Christian critics who claim that they are "bordering on heresy" and embracing a "pragmatism that could damage the Gospel" by praying for and offering advice to Trump and his administration.
"The Gospel is not being compromised," Ronnie Floyd, former president of the Southern Baptist Convention, told The Christian Post. "I believe firmly in the Gospel. I never one time compromised the Gospel of Jesus Christ. I built a church on that Gospel. So nobody is compromising anything."
Headlines were made last Monday after a photo emerged on Twitter showing a group of nearly 30 faith-based leaders, including a number of evangelical pastors like Floyd, Tony Perkins, Paula White, Robert Jeffress and others, praying and laying hands on Trump in the Oval Office.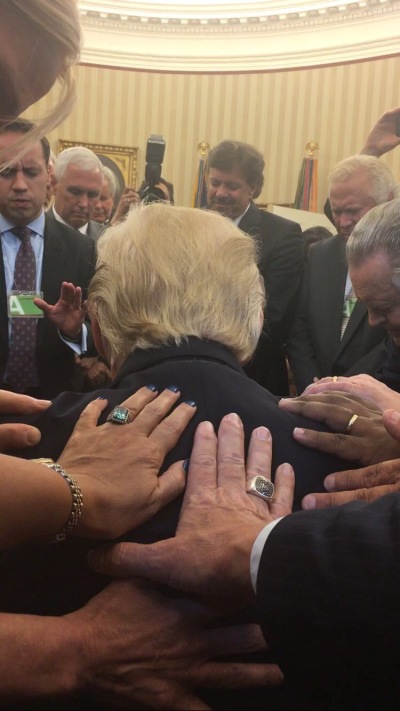 Participants of the meeting told The Christian Post that the Christian leaders, many of which serve as informal advisers to the president and administration, were in the West Wing of the White House for an all-day gathering to discuss a number of issues with administration officials.
Although the prayer was just a small, unscheduled part of the evangelical leaders' day at the White House, pundits on the political left did not take too kindly to the photo of religious leaders laying hands on Trump.
Civil rights leader the Rev. William Barber told MSNBC on Saturday that leaders had committed "theological malpractice that borders on heresy."
John Fea, the chair of the history department at Messiah College in Pennsylvania who once argued that Barack Obama may be the "most explicitly Christian president in American history," suggested in an op-ed for The Washington Post that "Trump has forced them to embrace a pragmatism that could damage the gospel around the world, and force many Christians to rethink their religious identities and affiliations."
"It seems as though Christians are not changing Trump, but rather that Trump could be changing Christianity," Fea wrote.
However, Christian leaders who took part in the meeting told CP that critics like Fea could not be more "wrong" and "off-base."
"These evangelical leaders that were in that room, they are men and women who believe that the Bible is the Word of God. They are not compromisers in relationship to that," Floyd, pastor of Cross Church in Arkansas, said. "In relationship to that, we are going to stand strong. We are going to speak forth matters of that."
Floyd assured that he would serve in such an advisory capacity even if it were another president or party in power and assured that the access that he and the other Christian leaders currently have with the president and members of the administration just shows the "incredible light" Christians can have in an "extremely dark world."
"I believe all of those leaders that I know in that room, I don't know all of them, but of the ones that I know pretty well, that's their very strong commitment," Floyd stated. "They are going to do what is right. They are not for sale. They are there to serve and they are there to pray and they are there to help when called upon to do so."
Johnnie Moore, an author, human rights activist and a former vice president at Liberty University, told CP that the relationships that many of the evangelical leaders have with the administration were not forged in the last year but are personal relationships that go back years.
Moore, who was also involved in last Monday's meeting, asserted that the evangelical influence is coming from within the administration, not just from evangelical leaders serving as unofficial advisers.
"We all have relationships that didn't begin during the 2016 campaign. They pre-dated the campaign. In my case, I met Donald Trump back in 2009 and 2010. James Dobson has known Mike Pence for 25 years. Not to mention, all the people that were staffers in various levels. This is just how administrations are," Moore explained.
"It's just that the evangelical influence [in this administration] is particularly potent. We have a cabinet that is more evangelical than any cabinet before. It just is. That is a fact. They pray regularly. There is a weekly private prayer meeting among many of them. It is real. I don't know why certain people want to disparage it. It is real and it is substantive."
Moore added that he and the other Christian leaders who have the ear of the administration feel that the evangelical influence on the administration is "making a difference."
Moore and Floyd stated that evangelical influence was evident in Trump's nomination of Neil Gorsuch to be a Supreme Court Justice.
"There was a point where the general opinion within the administration was [to pick] another justice and this evangelical board that existed during the campaign and continues its engagement as an informal group with the administration was very influential in changing the decision," Moore said. "We ended up with Gorsuch and we didn't end up with someone else."
Moore and Floyd added that evangelical influence is also evident in the expansion of the Mexico City Policy, the cutting off of funds to the United Nations Population Fund, and the issuance of the executive order that took the teeth out of a law preventing churches and pastors from speaking on political issues and also called for relief to an Obama-era contraceptive mandate that forced religious organizations to pay for birth control.
Earlier this year, the Trump administration rescinded an Obama-era guidance instructing public schools to allow transgender children to decide which bathrooms and showers they access, a policy that was highly criticized by prominent evangelicals.
Additionally, Moore stated that evangelical influence can be found in policies relating to the Middle East and Israel and decisions related to the president's first foreign trip to Saudi Arabia, Israel and the Vatican in May.
"A number of us who are advisers, very informally so, to the administration were actively involved in decisions related to the president's overseas trip to Saudi Arabia and to Israel and to Rome and we were involved in all those discussions and there were some changes made, based upon conversations that we had," Moore, a CP senior editorial adviser, explained.
But even on issues in which the president and administration are in disagreement with many of the evangelical advisers, Moore stated that the leaders "feel like we have been heard out."
Moore and Floyd also explained that in last Monday's White House meeting, the leaders specifically addressed their concerns with the administration's efforts to deport over 100 Iraqi Christian immigrants with illegal status back to a country where they could face persecution.
Gary Bauer, a prominent conservative activist who participated in the meeting and is the president of the conservative nonprofit American Values, told CP that he finds it "distressing" that "self-described progressive Christian leaders" are condemning the idea that pastors would pray for and provide counsel to the president.
"The scriptural direction on praying for our leaders is fairly clear. I totally reject the idea that some of the folks have promoted that unless you believe in big government redistribution of money from one group of people to another that somehow you are not following the Gospel of Jesus Christ," Bauer said. "That is just absurd.
"There is no teaching in Christ's ministry in which He advocates for government to care for the poor. Every message in His ministry is a call to individual Christians and, by implication, churches, to do that."
"You hate to see efforts to hijack Christianity by some on the left for what is essentially socialism," he added.