Famed Evangelical Theologian J.I. Packer's Rare Puritan Collection Now Available Online
A theological library in Canada has digitalized numerous rare Puritan volumes from the 17th and 18th centuries, including books from the personal library of one of the world's most renowned evangelical theologians, J.I. Packer, and made them available for online reading.
The John Richard Allison Library in Vancouver, which is jointly owned by Regent College and Carey Theological College, has made available its entire rare Puritan collection for online reading by anyone who's interested.
The collection includes books that come from the personal libraries of British-born Canadian Christian theologian Packer and Professor of Spiritual Theology at Regent College James M. Houston, one of the founders of Regent.
There are currently 80 Puritan authors in their collection, many of whose works were digitized from Packer's private library, according to the Gospel Coalition blog.
Packer is the Board of Governors' Professor of Theology at Regent. An ordained Anglican minister, Packer holds a D.Phil. from Oxford University. His published works include Rediscovering Holiness, Evangelism and the Sovereignty of God, and the best-selling Knowing God.
The authors include Isaac Ambrose, Lancelot Andrewes, William Bates, Richard Baxter, Jeremiah Burroughs, Joseph Caryl, John Downtime, William Fenner, John Owen, William Perkins, John Preston, Paul Wright and many others.
There are many books by Baxter, who was a 17th-century English Puritan church leader, poet, hymn-writer and theologian, in the collection made available online.
The "Puritans" of England and New England in the 16th and 17th centuries sought to return the church to its Reformational roots and to further reform it to its pure and biblical foundations.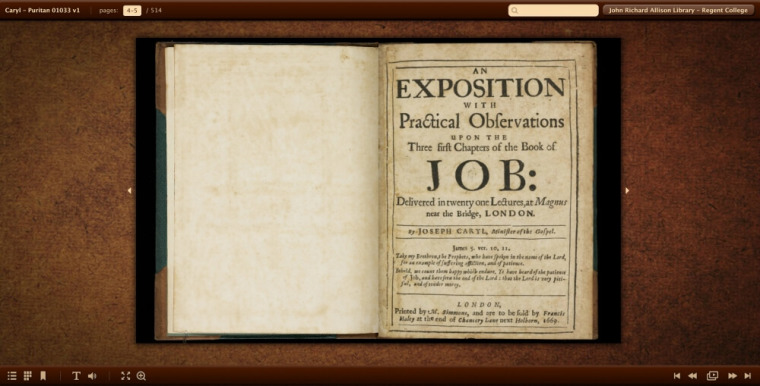 One of the major theological libraries in western Canada, the Allison Library houses a growing collection of over 174,000 monographs, DVD, video and audiotapes, and over 350 periodical subscriptions, according to the library's website. "The main strengths of the book collection lie in biblical studies, congregational and pastoral studies, and Protestant thought," it says.