Ex-Fellowship Church manager bilked over $1M before she was caught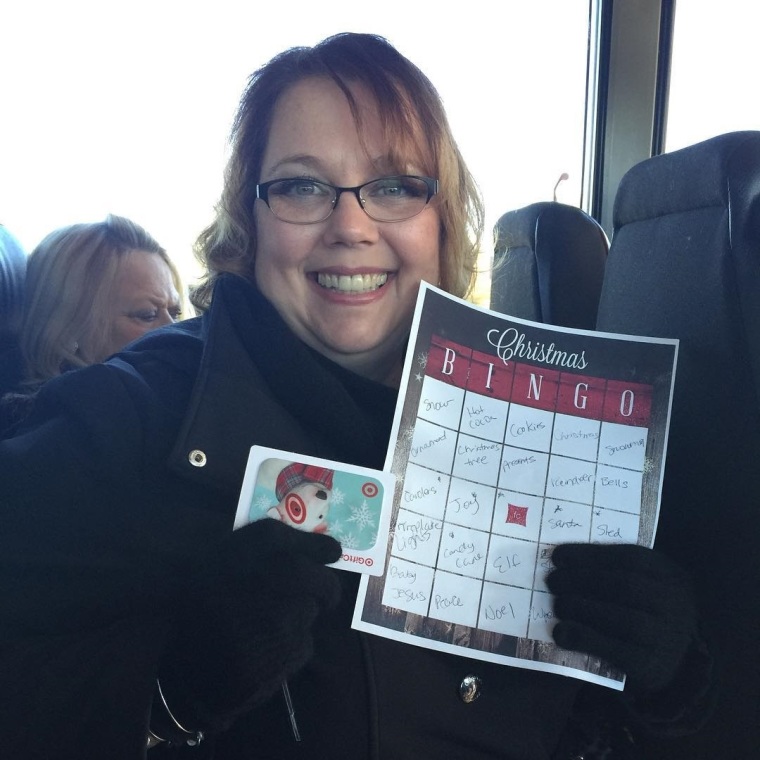 When police first questioned 51-year-old Lara Lynn Ford about why she stole nearly $1.4 million from Ed Young's Fellowship Church in Grapevine, Texas, the congregation's former business manager's initial response was "Umm stupid."
She was smart enough, however, to avoid being caught stealing from the church for more than a decade to support a bad spending habit which she sometimes indulged to "help people," according to an April 2019 Grapevine Police Department report and court records reviewed by The Christian Post.
"When [Officer] Villalobos asked Ford why she committed the theft, Ford replied, 'Umm stupid,' and then elaborated that she has a spending problem. Ford then admitted she didn't have the money in an account, and she would buy things she doesn't need and would help people," Officer T. Karfs wrote.
Earlier this month, on April 16, Ford found out that her actions with the megachurch's money would cost her dearly. She was sentenced to 10 years in prison after she pleaded guilty to theft of property greater than $300,000 in value.
Ford was lucky though.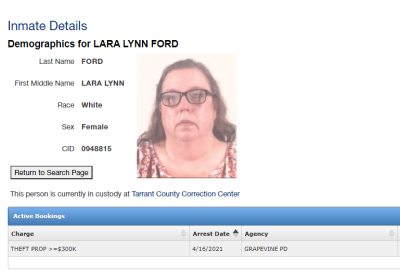 She was facing a maximum sentence of 99 years in prison and a $10,000 fine, according to the Fort Worth Star-Telegram. She hopes to press that luck even further in the coming months by seeking to avoid spending a decade in prison for stealing from her former church when she applies for shock probation.
Shock probation, which is only available to individuals who have received a sentence of 10 years or less, law firm Varghese Summersett notes, allows a judge to send a defendant to prison or jail for a short period of time. After that stint is served, the defendant is placed on probation.
"The hope is that serving a brief time behind bars will 'shock' the defendant into resuming life as a law-abiding citizen," the law firm explained.
The application for shock probation must be made before the defendant has been in custody for six months. And its success will also be based on how well Ford behaves in prison and other criteria.
"Ms. Ford has, through the testimony of others, demonstrated that she is willing to work hard at changing her life," Lex Johnston, Ford's attorney, told the Fort Worth Star-Telegram Thursday. "The sentence puts the burden on her to prove that the change is real."
It is unclear how officials at Fellowship Church, a Southern Baptist congregation with a weekly attendance of more than 24,000, and one of the largest churches in the U.S., feels about this. They did not immediately respond to a request for comment when contacted by CP on Thursday.
Ford's theft was reported by the church's Chief Financial Officer, Dennis Brewer Jr., who was once reported as lead pastor Young's personal attorney, business partner and fishing buddy.
Grapevine Police Department said Brewer reported on April 12, 2019, that he was going through church payroll records when he noticed discrepancies with housing allowance payments. He explained that church employees receive a base pay plus housing allowance, but it was unclear if that benefit was extended to all employees, certain employees or what determined how much housing allowance each employee got. In 2010 for example, Young reportedly received a $240,000 a year parsonage allowance in addition to his then $1 million annual salary.
Starting in October 2018, Brewer said he noticed that Ford had been paying herself an extra $200 every two weeks from the housing allowance account. By January 2019, she increased the payments to an extra $500 every two weeks, also from the housing allowance account.
"Brewer also had an email from Automatic Data Processing LLC (ADP), which manages some of the church's payroll, mainly the housing allowance about 30 employees receive. Ford's allowance was $1796.42 but she increased it [by] $200 to $1,996.42 on 10-03-18. On 01-04-19, it was switched back to the correct amount because Brewer believes Ford knew when Brewer conducted a yearly audit. On 01-08-19, Brewer increased Ford's allowance to $2,043.27, however, the next day, 01-09-19, Ford increased it an additional $500 to $2,543.27," the police report said.
"On 04-12-19, Brewer called Ford and confronted her about the change and at first Ford did not respond, but then admitted to increasing the allowance. This is when Ford responded to the church and confessed to additional thefts. Ford offered to pay back $6,400 to cover the extra funds she gave herself for the housing allowance," it further explained.
Brewer said Ford confessed to taking money from the church for the last seven to eight years. She confessed to making fake ACH transactions using her church-issued laptop, showing money being transferred to vendors from the church accounts when she was really placing money into several of her own accounts she held with Citibank, Bank of America and Wells Fargo.
Brewer told police that Ford was once the finance manager in the accounting department at the church but had been demoted in the summer of 2018 after he began noticing shortages in the church's Bank of America account. There were also questions about her accounting practices. She remained in the accounting department, however, and maintained access to the payroll account.
Villalobos said when he first spoke with Ford she revealed her pilfering at the church started small and with cash.
"Ford stated she first began taking anonymous cash out of the church offering when the money was brought back to the counting room approximately seven to eight years ago. Ford said this occurred once every few weeks for less than a year," he wrote.
Ford, he said, confessed to taking between $50 and $200 each time.
When she gained access to the church's bank accounts as part of her job in the finance department, an electronic token she received allowed her to approve ACH transactions to herself.
"Ford said she observed she was able to manually send money to employees (if their direct deposit did not go through). Ford then began sending herself money using this method," Villalobos noted.
She used her laptop to make online payments to her accounts from an account for Allaso Ranch, an income-generating camp owned by the church as well as another unspecified Fellowship Church account. These payments of $1,500 to $1,700 were made sometimes weekly or once per month for seven to eight years.
Police noted that Hartford Insurance reported that they paid out a $250,000 claim to Fellowship Church in connection to the theft.
Further investigation showed that the total loss from Ford's actions was $1,377,144.76.
Officer Karfs said in April 2019 he was contacted by Pete Evans, a private investigator with the Trinity Foundation, which monitors religious fraud. Evans explained that he got a tip about embezzlement at Fellowship which came from former Fellowship Church staffer who asked that her name be withheld for this report.
The former staffer told police that she worked at Fellowship Church from March 2012 to 2015 and Ford, who was her supervisor, was suspected of committing fraud even then.
"[The former staffer] stated she heard Ford was manipulating accounts and transferring money to herself, and then providing false financial statements to Brewer to cover up the theft. I asked [the former staffer] if she witnessed any of this occurring, and [the former staffer] stated no, but she heard it via third party from someone close to Ford, who Ford allegedly confessed to," wrote Karfs.
Brewer told police that Ford should not have had access to the two accounts she stole money from and that the accounts were not as closely monitored as the church's primary bank accounts.