Ex-Mafia Boss Michael Franzese on His Biopic 'God the Father'; Witnessing to Mob Members (CP VIDEO)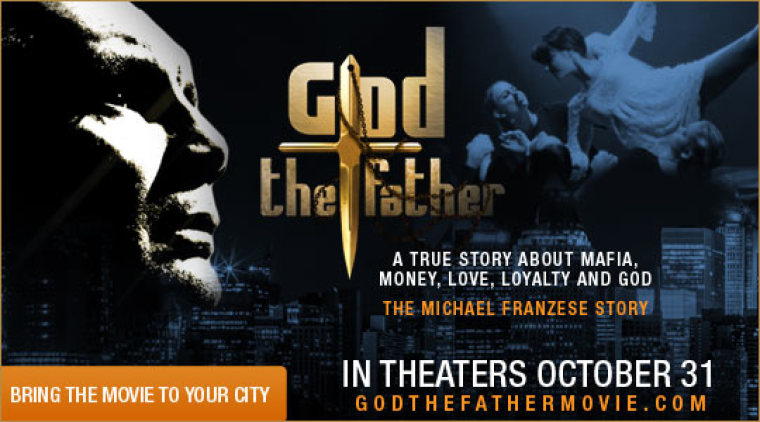 Ex-Colombo Crime family captain and Christian motivational speaker Michael Franzese recently spoke with CP Voice regarding his new autobiographical film "God the Father," and the possibility of preaching the Gospel to mobsters he had worked with.
"God the Father" represents a play on words from the American mafia classic "The Godfather." During the film, Franzese tells his life story growing up in the mob which eventually lead to a top position in the organization's Colombo family. It also discusses the turning point in his life when he accepted Jesus Christ and turned away from his old ways.
During the CP Voice segment, Franzese talked about what it was like when he made that decision to commit his life to Jesus, and if he ever tried to witness to other mob members
"I've been asked many times have I ever been able to witness to any of my former associates and on occasion I do. The opportunity is not always there and you've got to be careful in those circumstances," said Franzese to CP. "It wouldn't be wise for me to go to the social clubs that I used to live in and say, 'hey guys, I want to share the gospel with you.' I probably wouldn't last 24 hours."
He addressed what it was like to walk away from the mob life in more detail.
"There's no blueprint for walking away from my life publicly like I did," said Franzese. "For me, if you know the course that God navigated for me throughout these past 20 years, you would know that this had to be a God thing. I had no plan. I didn't know how I was going to do it. Nobody said to me, 'OK Mike, these are the steps you've got to follow.' It was just my instinct, knowing my former life and working step-by-step with what God wanted me to do."
His new film "God the Father" will be released in select theaters on Oct. 31, which ironically is the same day Franzese was initiated into La Cosa Nostra as a made man in 1975. The movie uses animation, re-enactments and actual news clips to illustrate Franzese's ascent to the top of the mob ranks, his fall and his conversion to Christ.
During the 1980s he was considered one of the most powerful and richest gangsters throughout all of America. According to the federal report, Franzese made more money for a crime family than anyone since the infamous Al Capone.
Franzese elaborated a bit more about the film and during the CP Voice interview.
"I'm excited about [the film] because I've done a number of things on television, a lot of interviews [that are] mob related and I always speak about my faith but unfortunately that's not what the producers want to communicate. But with this movie I consider it an extension of my ministry because I've been able to tell [my] whole story, from start to finish."
"Everything is factual, and we've got different elements of this film to tell the story. Very, very powerfully, I uphold Jesus in this film. We don't compromise in any way."
More information on the "God the Father" can be found at godthefathermovie.com.