Ex-Muslim Ayaan Hirsi Ali Proposes 5 Changes to Islam That Could Help Lead Its Religious Reformation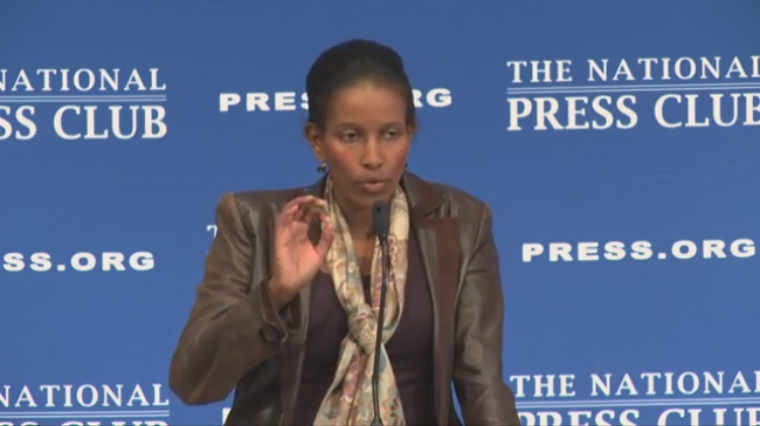 In speaking at the National Press Club on Tuesday, best-selling author, former Muslim and outspoken critic of Islam, Ayaan Hirsi Ali, offered five amendments to the religion of Islam that Muslims should take seriously if they really want to bring about a peaceful reformation to their religion.
In discussing her new book, Heretic: Why Islam Needs a Reformation Now, Hirsi Ali explained that in the last five years she has seen a wave of Muslims throughout the world express interest in reforming Islam so that it is not brutally oppressive toward women, those who break Islamic law, and religious minorities.
Hirsi Ali, who is originally from Somalia and is a survivor of genetal mutialiation, further explained that Islam needs to follow in the footsteps of Christianity and Judaism, which have both previously undergone their own reformation periods.
She highlighted the groundbreaking speech given by Egyptian President Abdel Fattah al-Sisi in front of clerics at the prestigious Al-Azhar University in January, in which he proclaimed that it is time for an Islamic "religious revolution" that embraces peace.
"We have a small group of people, individuals within Islam today that I didn't see in 2010 but I see them now, who are saying that 'there is something wrong within our own scripture," Hirsi Ali said. "'Our scripture, the example of the prophet Muhammad, provides too much inspiration to too many bad people.' ... They say, 'What can we do about it?' and they are struggling to bring about a change."
Expanding on al-Sisi's call for a religious revolution, Hirsi wondered what al-Sisi thinks needs to happen in order to bring about that revolution of peace.
"What does he want?" Hirsi Ali asked. "I don't know. I just know that the very fact that he is doing that and he is new and incredibly brave."
Hirsi Ali provided her own five-point plan for bringing about the change in the religion that al-Sisi and many other Muslims throughout the world are increasingly calling for as more extremist violence occurs and innocent lives are lost.
"I have five amendments that I think the al-Azhar leadership can make," Hirsi Ali asserted. "I don't expect them to. I don't expect any change is going to come from them, but let's give them the benefit of the doubt. I think I know what Mr. al-Sisi is looking for and it is five amendments."
The first amendment that Hirsi Ali calls for is a change in the attitude of Muslims when it comes to how they regard the Quran and the hadith. She argued that Muslims need to realize that their scripture was created by "human hands."
"The document must be read in its context and accept that it is the work of human hands," she said. "It may be divinely inspired, but the work of human hands. Muhammad as a moral guide after Mecca is really problematic, and I am being [politically correct]."
In issuing her second amendment, Hirsi Ali stated that Muslims tend to give more credence to the idea of "life after death," rather than life "before death," and said that dynamic must change.
"There, we need a change in priority," she said.
The third amendment calls for doing away with Shariah law, which she says is the reason why so many people in Muslim cultures are consistently killed, jailed or tortured for a variety of different reasons.
"When it is applied, it manifests itself under the kingdom of Saudi Arabia, Iran and its worst manifestation is the Islamic State founded by Abu Bakr al-Baghdadi," she said.
Hirsi Ali's fourth amendment calls for doing away with the Islamic principle of "commanding right and forbidding wrong."
Under this principle, people who are accused of violating Shariah law or insulting Muhammad are victimized by mobs of citizens who act in retaliation for the alleged wrong doing.
"If you want to understand the worst manifestation of what that looks like, I invite you to look at the images of the Afghani woman who is accused of burning the Quran," Hirsi Ali stated. "She did not burn the Quran. She was accused of burning the Quran. This random man calls and says, 'This woman burned the Quran,' and a mob of men come out and lynch her."
Hirsi Ali's final amendment calls for getting rid of the idea that Muslims are called to initiate Jihad, or Holy war. She said the call for Jihad needs to be replaced with a call for peace.
Although Hirsi Ali is optimistic about the wave of Muslims that is looking for a revolution, she admitted that such a reformation would likely not happen during her lifetime.
"Of course, this is going to take decades. This is a process that could take very long and I won't be around when it happens," she insisted.