'Extremely Distressing' Video Released of Syria Bomb Victims: 'Like the Walking Dead'
The aftermath of an incendiary bomb strike in Syria was documented in an "extremely distressing" video, where victims, many of them children, were described as looking "like the walking dead."
"We feel like some sort of…not even a second-class citizen, like we just don't matter," British medic Dr. Rola, working in Syria with the charity Hand In Hand, said in the BBC video released on Thursday.
"Like all of these children, and all of these people who are being killed and massacred…we don't matter," she added, visibly distressed. "The whole world has failed our nation, and it's innocent civilians who are paying the price.
The BBC team that shot the footage said that the incident occurred near a school playground in the north of the country. The attack killed over 10 people and left a number of children with napalm-like burns over their bodies. Some of the victims had burns on over 50 percent of their bodies, meaning their chances for survival are not good, the report noted.
"What happened here almost defies words," the report says.
"Dear United Nations, you are calling for peace," pleaded Mohammed Abdullatif, an eyewitness to the attack. "What kind of peace are you calling for? Don't you see this? What do you need to see?," he added, over images of the victims.
The attack was apparently carried out by a fighter jet which dropped the bomb, causing a low explosions, followed by fire and smoke.
The video comes at a time when world leaders, including President Barack Obama, are deciding what course of action to take in Syria, which has been locked in a two year-civil war, causing over 100,000 casualties.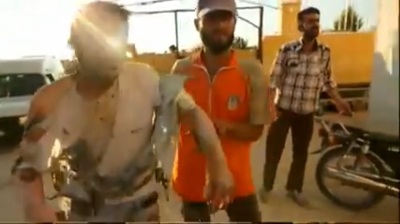 On Friday, Secretary of State John Kerry revealed that at least 1,429 Syrians, including 426 children, were killed in a chemical weapon attack last week near Damascus. Syrian President Bashar al-Assad has denied responsibility for the attack and is blaming rebel forces, though the Obama administration has expressed confidence that his regime is to blame.
Kerry said that the "findings are as clear as they are compelling," and added that ignoring the Syrian crisis is "not an option" for America.
"I'm not asking you to take my word for it," Kerry continued. "Read for yourselves the verdict reached by our intelligence community."
Countries like Russia and China have warned of serious consequences in the region if the U.S. leads a strike on the Syrian government, while the U.K. parliament voted on Thursday against any military action in Syria, going against Prime Minister David Cameron who had argued that "military intervention to strike specific targets" would be "legally justifiable."
France, on the other hand, announced that it will stand by the U.S. if it decides to carry out a military attack.
"There are few countries which can have the capacity of enforcing any sanction through the appropriate measures," French President Francois Hollande said.
"France will be part of it. France is ready."
In the video of the attack on Syria, while showing some of the burn victims being treated, the BBC team concluded with the statement: "Arguments about chemical weapons don't matter here, what does is just death itself."