FCC Chairman Cites James 1:22 in Vow to Fight Internet Censorship of Christian, Conservative Views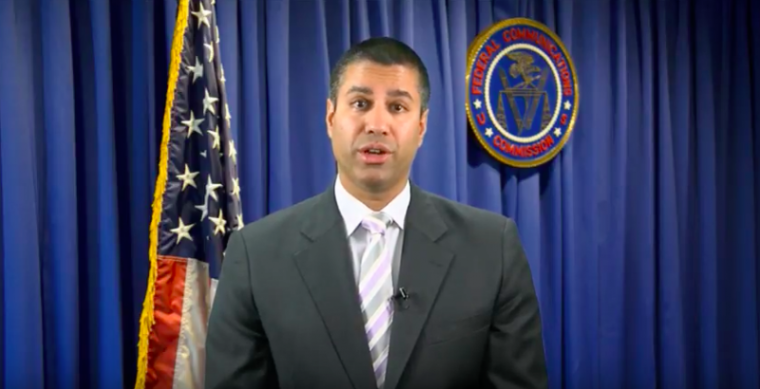 NASHVILLE — Federal Communications Commission Chairman Ajit Pai has vowed to continue fighting for free speech, the "foundation of our great nation," amid continued censorship of Christian and conservative thought by online media giants such as Facebook, Twitter, Google and Apple.
In a pre-recorded message directed to Christian communicators at Proclaim 18, the National Religious Broadcasters' international Christian media convention, Pai acknowledged that "our nation's commitment to freedom of speech is beginning to unravel."
"Just as the virtue of free expression is timeless, so, it appears, is the fight to defend it," he said, citing a study from Pew Research revealing that 40 percent of American millennials believe the government should have the ability to limit "potentially offensive speech."
"Too often today, the mantra seems to be: 'Free speech for me but not for thee,'" he continued.
The internet is the "newest and most important battlefield in the fight for free speech," Pai told attendees.
"Despite vows from powerful online platforms that they will stay true to internet freedom and openness, we have seen them block or discriminate against lawful content they don't like, whether it's online or over the airwaves," he contended. 
"We need to reaffirm our nation's commitment to free expression," he continued. "That's why I haven't been afraid to call out censorship when I see it. I pledge to you today that I will continue to fight for your right to have your voices heard."
"At the FCC, we will not only defend the principles we all hold dear, we are also committed to removing or modernizing regulations that hold you back," he said, revealing that the organization has "been working to identify which rules are still necessary and which should be modified or eliminated."
Thanks to the efforts of NRB, the FCC last year decided to change a restriction that prevented noncommercial radio stations from interrupting their programing to raise funds for third-party charities without FCC approval.
"This made it harder for NCE stations to raise money for worthy causes," he said. "For years, the proposal to relax these restrictions sat on the shelf. But one of the first things I did when I became chairman was dust it off and ask my colleagues to vote for it. And vote for it they did."
The FCC relaxed that rule in April to permit such fundraising, and it was fully implemented within a few months.
Pai concluded his message by quoting James 1:22: "But be doers of the word, and not hearers only, deceiving yourselves."
"We should act in service of a larger purpose," he said. "So let's do that. Let us all work together to lift up one another and to uphold the freedoms and principles that make this the greatest nation in history."
Later, NRB President Jerry A. Johnson said that the organization's Internet Freedom Watch initiative, launched in December, represents a return to its roots to protect freedom of religion and speech in a digital age.
"[I]f conservative and Christian content is taken off of social media, digital media, the Gospel will be muzzled, the Word of God will be muzzled," Johnson warned, adding that it's NRB's job to protect First Amendment freedoms.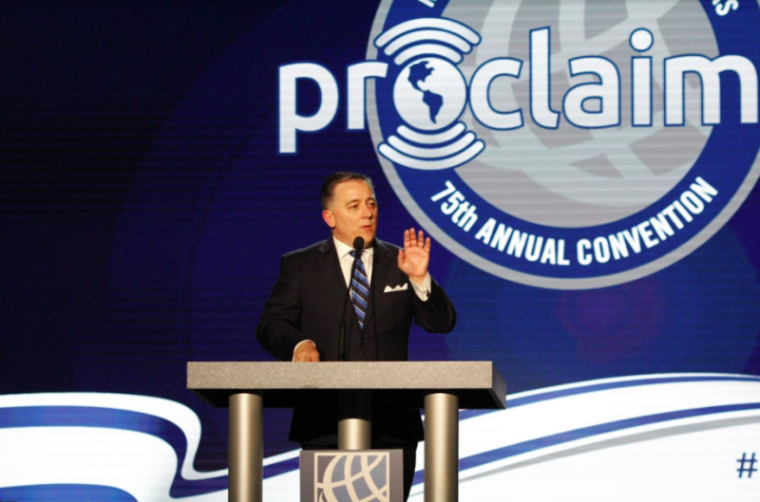 The First Amendment's "first three elements — religion, speech and press — that's NRB," he said. "This is our world, and I want to say to you: If not you, who? If not this, what? If not now — when we are being demonetized, blocked, taken off, and censored — if not now, when will NRB stand for First Amendment principles?"
The initiative, which documents cases of alleged censorship and states that "chillingly, a growing censorship of Christian and politically conservative viewpoints on the internet is happening in America and across the globe," is evidence NRB is "not going to take a back seat," Johnson said.
"Johnson said NRB's efforts today are inspired by similar efforts by those who founded NRB in 1944 in response to evangelical radio preachers being taken off the air."
"We want a level playing field," he emphasized. "We want a place in the public square. Let's go to D.C. Let's go to the Congress. Let's go to the FCC. And in a few years, Christian broadcasters were back on Christian radio once again.
"We have to go back to that, and we have to say, 'The new media today is digital media. It's social media. It's Facebook. It's Twitter. It's Google. It's YouTube,'" he said. ""This isn't a pleasure cruise. We're running a battleship here."
Information on NRB's new initiative is available at InternetFreedomWatch.org.