Ferguson Erupts Over Release of Convenience Store Video; Looting, Rioting as Police and Hundreds of Protesters Face Off
Ferguson Erupts Over Release of Convenience Store Video; Looting, Rioting as Police and Hundreds of Protesters Face Off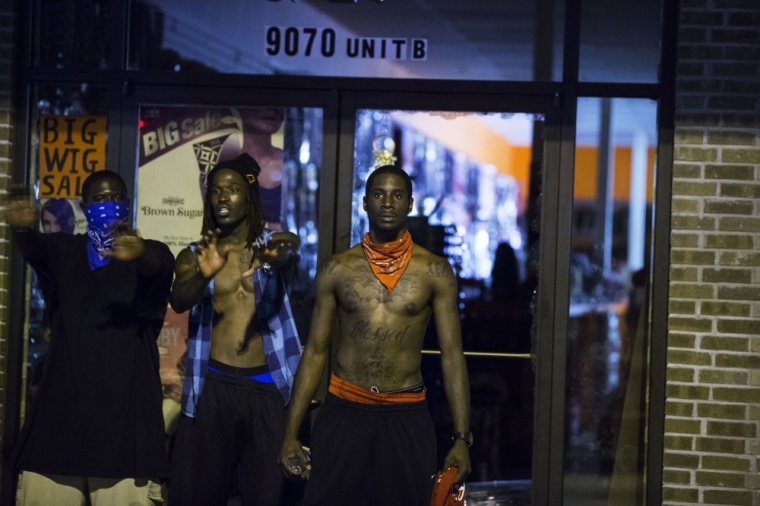 Another round of unrest erupted in the Streets of Ferguson, Missouri early Saturday morning as hundreds of angry protesters vented their anger once again at the shooting death of Michael Brown, an unarmed 18-year-old youth in the community last Saturday. Looters also took the opportunity to raid neighborhood businesses as well.
A report from The New York Times said Saturday's eruption was the first major protest to occur since the Missouri State Highway Patrol took over security of the area on Thursday. Law enforcement officials who faced off with the crowd started pulling back after the protesters began dispersing around 4 a.m.
Looters, according to CNN first targeted the Ferguson Market and Liquor Store which is now a part of the case swirling around Michael Brown's death. Brown is alleged to fit the description of a suspect who robbed a $48.99 box of cigars from the convenience store about 10 minutes before a police officer identified as Darren Wilson shot him dead after a controversial struggle according to Fox News. The incident was captured on surveillance video. Authorities also explained at a press conference that Wilson had no knowledge that Brown was a suspect during their encounter.
The release of the surveillance video according to CNN, is a possible trigger for the new round of protests which angered some supporters of the teenager's family. They charged that police released the video in an attempt to distract from Brown's killing and disparage him in the press.
Brown's family and their lawyer shared the same sentiment according to The New York Times. Capt. Ronald S. Johnson, the Highway Patrol officer who was announced to lead security in Ferguson, agreed that he was also dissatisfied in the way in which information on the case was being released.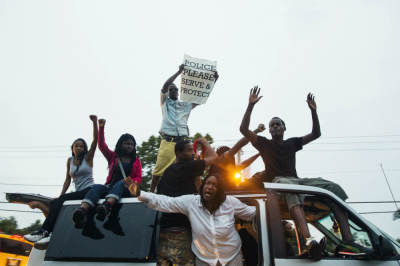 "I will say we talked all day about the release of the videotape at the food mart," Captain Johnson told KMOV. "We had concerns that this would happen."
Protesters reportedly blocked off the store with cars early Saturday and when officers ordered them to disperse they responded with bottle missiles and mayhem ensued after that. Looters took over and ransacked the store which the owner had boarded up after it was looted earlier.
Police kept their distance as Molotov cocktails were thrown at the roof of a Domino's Pizza in the area prompting a response from the local fire department.
Captain Johnson, who was well-received by the community, however, decried the actions of the protestors who did not react peacefully.
"When we start looting, breaking into stores, throwing bottles and rocks, that's not what this protest is about," Captain Johnson told KMOV. "This behavior we saw tonight is riot-type behavior."
The New York Times report noted that many other businesses were protected by the protesters who "blocked entrances and windows in a bid to limit looting." They agreed with Captain Johnson that such actions distort the message they are trying to send.