Michigan city with first-ever all-Muslim city council bans LGBT pride flags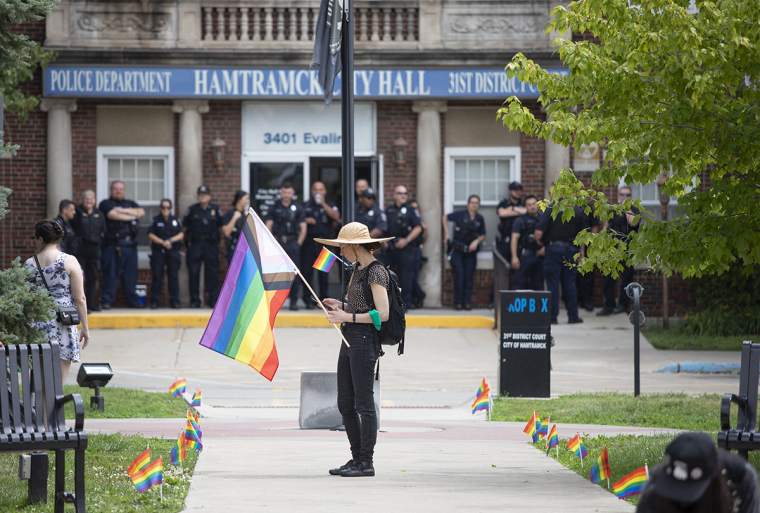 A small Michigan city believed to be the first in the U.S. with an all-Muslim city council is making headlines again over its newly-instated ban on rainbow pride flags.
Located just north of Detroit, Hamtramck, with a population of about 28,000 and a long-standing reputation for racial and ethnic diversity, the city once dubbed "Little Warsaw" for its now-waning Polish heritage, banned public displays of the pride flag on city property this summer, spurring controversy beyond its city limits.
The move led by Hamtramck Mayor Amer Ghalib came after the six-member city council voted in June to ban not only the pride flags but all flags other than the American, state of Michigan, city and POW/MIA flags, according to The Washington Post.
Tension over the ban simmered through the summer and boiled over into the city's Labor Day parade, in which Ghalib and City Councilmembers Mohammed Alsomiri and Khalil Refai reportedly alleged they were "intentionally" placed in the parade order immediately in front of a local LGBT group.
In August, Michigan state Attorney General Dana Nessel called the pride flag ban a "national embarrassment" and demanded the city council reconsider its vote.
Nessel, a Democrat and the first openly LGBT-identifed person elected to office in Michigan, slammed Ghalib and other city officials at an appearance at an LGBT event at Hamtramck City Hall in August.
"I am not a stranger to you, I am not an agitator, I am your attorney general, and yes, I am also gay," Nessel said. "... Banning the pride flag is meant to send … a message of intolerance, hatred and bigotry."
The city first flew the pride flag in 2021, but with Ghalib's election later that year, Hamtramck became the first known city with an all-Muslim city government, according to CNN, culminating in decades of Muslim immigrants being resettled in the city which is now majority-Muslim. In 2004, the city amended its noise ordinance to allow local mosques to issue the call to prayer over a PA system.
In January, the city voted to amend an ordinance to allow Islamic residents to sacrifice animals in their homes, despite some residents and animal rights activists warning about potential issues with sanitation and animal cruelty.
Councilman Nayeem Choudhury was quoted as saying the issue comes down to religious liberty. "Our rights come first," he told the Detroit Free Press, adding that he was "born…Muslim, and that's my faith, and I will stick with my same faith."
Once predominately Polish Catholic and even sporting a statue of Pope John Paul II, the first Polish Pope, in a downtown park, Hamtramck's Polish Catholic population dwindled from about 90% in 1970 to roughly 11%, according to the Post.
In addition to the call to prayer, business owners located within 500 feet of one of the four mosques in Hamtramck are prohibited from owning a liquor license, despite the city's history of accommodation toward Muslim practices.
While the controversy over pride flags in public displays isn't likely to end anytime soon, Martin Mawyer with the Christian Action Network, a public advocacy group "based on biblical principles," urged American Christians to take note of the unity of Muslims in Hamtramck.
"Hamtramck, Michigan, a city where the majority identify as Muslim, did what so many Christians are too timid to do. They fought back," Mawyer wrote. 
He suggested Christians start thinking about ways to come together on social issues rather than divide over less important ones.
"The unity demonstrated by the Hamtramck Muslim community should be a wake-up call for us," he added. "If we, as Christians, yearn for an America that upholds and cherishes our time-honored Christian values, we must rally together. 
"We must be unwavering, stand firm in our convictions, make our voices heard politically, and defend the Word of God with zeal and passion."