First Named Larry Nassar Abuse Survivor Rachael Denhollander Preaches Gospel to Disgraced Doctor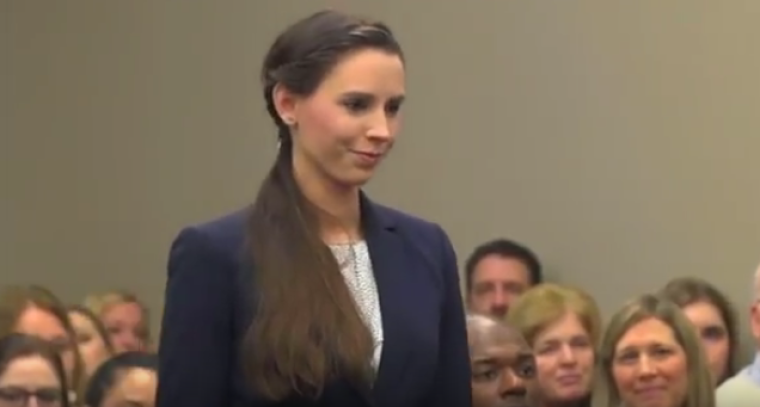 Rachael Denhollander, the first woman to publicly accuse former Team USA Olympic gymnastics doctor Larry Nassar of sexual assault, cited the Bible to chastise his actions and proceeded to preach the Gospel to him.
When Nassar arrived in a Michigan court for his arraignment for 22 counts of first-degree criminal sexual conduct in February 2017, he carried a Bible at his side. Almost one year later, former gymnast Denhollander mentioned that moment when addressing the publicly disgraced former doctor at his sentencing Wednesday.
"In our early hearings you brought your Bible into the courtroom and you have spoken of praying for forgiveness. And so it is on that basis that I appeal to you," Denhollander said. "If you have read the Bible you carry, you know the definition of sacrificial love portrayed is of God Himself loving so sacrificially that He gave up everything to pay a penalty for the sin He did not commit. By His grace, I, too, choose to love this way."
The former gymnast, who said she was abused by Nassar at his Michigan State University clinic as a 15-year-old girl 16 years ago, was the first of over 160 women to be named in the sports doctor's sexual abuse case. During the seventh day of Nassar's sentencing hearing at the Ingham County Circuit Court in Lansing, Michigan, Denhollander spoke to Nassar about forgiveness coming from repentance.
"You spoke of praying for forgiveness. But Larry, if you have read the Bible you carry, you know forgiveness does not come from doing good things, as if good deeds can erase what you have done," she said. "It comes from repentance which requires facing and acknowledging the truth about what you have done in all of its utter depravity and horror without mitigation, without excuse, without acting as if good deeds can erase what you have seen this courtroom today."
Denhollander went on to quote scripture found in Luke 17:2, Matthew 18:6 and Mark 9:42, letting Nassar know how serious his offenses were.
"If the Bible you carry says it is better for a stone to be thrown around your neck and you throw into a lake than for you to make even one child stumble. And you have damaged hundreds," she said. "The Bible you [speak of] carries a final judgment where all of God's wrath and eternal terror is poured out on men like you. Should you ever reach the point of truly facing what you have done, the guilt will be crushing."
Despite his infractions, Denhollander made it clear that grace and hope is still made available for the man who assaulted her.
"And that is what makes the gospel of Christ so sweet. Because it extends grace and hope and mercy where none should be found," she said. "And it will be there for you."
While she prayed that Nassar would experience the burden of guilt, the former gymnast revealed that she forgave her former doctor.
"I pray you experience the soul crushing weight of guilt so you may someday experience true repentance and true forgiveness from God, which you need far more than forgiveness from me — though I extend that to you as well," she said. "Throughout this process, I have clung to a quote by C.S. Lewis, where he says, 'my argument against God was that the universe seems so cruel and unjust. But how did I get this idea of just, unjust? A man does not call a line crooked unless he first has some idea of straight. What was I comparing the universe to when I called it unjust?'"
After highlighting author and theologian C.S. Lewis' quote, Denhollander told Nassar that his actions were "evil and wicked because the straight line exists." She then addressed the court about the penalty for Nassar's sins.
"I ask that you hand down a sentence that tells us that what was done to us matters, that we are known, we are worth everything, worth the greatest protection the law can offer, the greatest measure of justice available," she said.
Judge Rosemarie Aquilina also chastised Nassar when sentencing him to between 40 and 175 years in prison Wednesday after hearing the testimonies of over 150 women.
"I just signed your death warrant," the judge told Nassar, 54, who will spend the rest of his life in prison.