Florida Couple Keeps Statues of Jesus, Virgin Mary on Property Despite Threat of Legal Action by HOA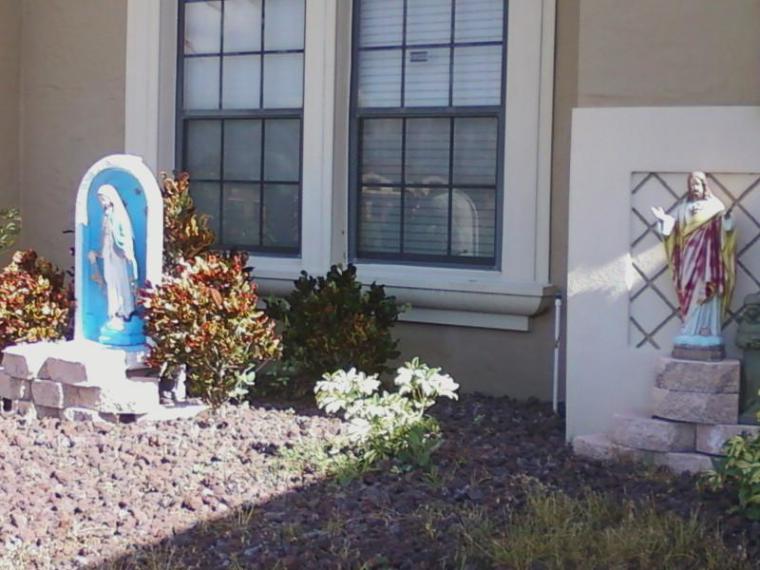 A couple in Florida will be allowed to keep statues of Jesus Christ and the Virgin Mary on their property after initially being told by a homeowners' association that they could not.
Enock and Ines Berluche of Kissimmee will not have to remove the statues, after being told by the Shingle Creek Reserve at the Oaks Homeowners' Association that they had to do so.
The Berluches were given legal help by the Orlando-based conservative law firm the Liberty Counsel, which was founded by Mat Staver.
"Here you have a family living in the neighborhood who has two small statues that are very decorative," said Staver to One News Now on Monday. "... and [the homeowners] received a letter from the homeowners' association asking them to remove them, put them behind the fence [in the backyard] and out of view from anyone on the street."
In late July, the Berluches were given a letter from a legal firm that provides counsel for the Shingle Creek Reserve at the Oaks Homeowners' Association regarding their statues.
According to the letter, the Berluches' statues violated Article VIII, Section 2(C) of the Neighborhood Declaration of Covenants and Restriction of Shingle Creek Reserve at the Oaks.
"No building, sign, decorative or ornamental sculpture, outside lighting, fence, hedge, wall, walk, dock or other structure or planting shall be constructed, erected, planted, painted, altered or removed until the plans and specifications ... have been submitted to and approved in writing by the ARC," reads the section.
The letter threatened legal actions against the Berluches if they did not comply within seven days of receiving the notice by the homeowners' association.
"I am in receipt of your correspondence to the association regarding the religious significance of the statues. The association has the right to inquire as to the religious purpose of these statues," continued the letter.
"Please provide the association in writing the stated religion, the religious significance of the statues, and why these statues cannot be relocated to a different location on the lot or enclosed behind a fence out of street view."
Charla Bansley, communications director with the Liberty Counsel, told The Christian Post that Liberty became involved "in August [when] the Berluches called their attorney, who recommended Liberty Counsel."
"On Sept. 25 the HOA reversed its discriminatory treatment of the homeowners and approved the statues," added Bansley.
Patryk Ozim, an attorney who served as legal counsel for the homeowners' association, provided CP with a statement from the association regarding the matter.
"The association's position has always been that it's the number of statues and not the type of statues that created the violation," stated the association. "There was a misunderstanding regarding the rules in the community regarding the number of permitted statues, and the association has worked diligently with the owners' attorney to reach a resolution."