Florida School Shooting: Students Slam 'Pathetic' Failure of Politicians, Plan 'March For Our Lives'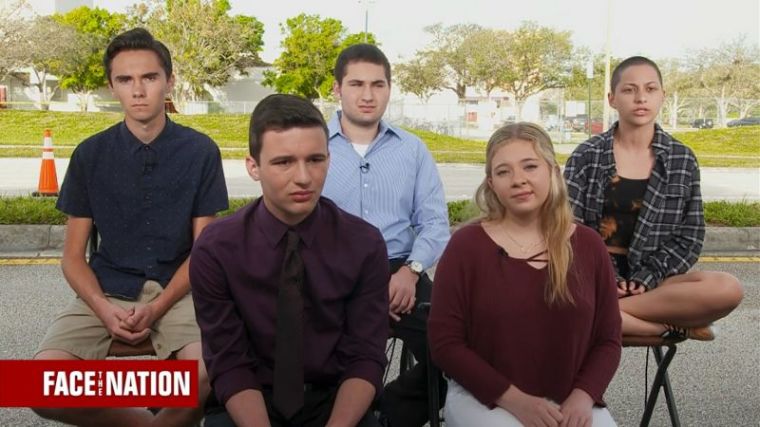 Students from Marjory Stoneman Douglas High School in Parkland, Florida, where 17 people were killed by shooter Nikolas Cruz last week, have organized a protest event against the "pitiful, pathetic" failures of politicians to tackle school violence.
The students created the website March For Our Lives, with the protest event scheduled for March 24 in Washington, D.C., and have declared that since politicians have failed them, it is up to them to demand real change in America.
"We're going to do a march on Washington. Students all over the country are going to be joining up, because the adults have let us down. The people that we put into power who should be working for us, they have us working for them," said Emma Gonzalez, a senior at Marjory Stoneman Douglas, on CBS News' "Face The Nation."
"And that's pitiful. That's pathetic. And we have to do the dirty work here, and we're going to do the dirty work. We're going to shoulder this heavy burden, and we're going to do it well." 
Cameron Kasky, a junior at the school, said that the students are "creating a badge of shame for any politicians who are accepting money from the National Rifle Association."
"It is a special interest group that has most certainly not our best interests in mind. And this cannot be the normal. This can be changed," Kasky argued.
"And it will be changed. And anybody who tells you it can't is buying into the facade that's being created by the people who have our blood on their hands."
The NRA has not yet released a statement on the latest school shooting, though in the past has consistently argued that it is not to blame for the actions of mass shooters.
"The elites always protect themselves and they always protect themselves with guns. And then they lecture the American public how you shouldn't do that ... what the NRA is fighting for is reciprocity, to enforce the existing federal gun laws and to protect Americans' right to protect themselves," reads a quote by NRA Executive Vice President and CEO Wayne LaPierre on the group's website.
The mission statement on March For Our Lives does not outline the details of the changes students want to see, but says that politicians must come together and propose a bill that directly addresses the epidemic of violence.
"We cannot allow one more child to be shot at school. We cannot allow one more teacher to make a choice to jump in front of a firing assault rifle to save the lives of students. We cannot allow one more family to wait for a call or text that never comes. Our schools are unsafe. Our children and teachers are dying. We must make it our top priority to save these lives," the statement declares.
"School safety is not a political issue. There cannot be two sides to doing everything in our power to ensure the lives and futures of children who are at risk of dying when they should be learning, playing, and growing.
"The mission and focus of March For Our Lives is to demand that a comprehensive and effective bill be immediately brought before Congress to address these gun issues. No special interest group, no political agenda is more critical than timely passage of legislation to effectively address the gun violence issues that are rampant in our country."
In the CBS interview, Kasky noted that the nation sees how American politicians treat each other in office and sees the "nasty, dirty things going on with them," while children are being slaughtered in schools.
"At the end of the day, this isn't a red and blue thing, this isn't Democrats and Republicans, this is about everybody and how we are begging for our lives. And we are getting support, but we need to make real change here," he said.
Other students in the interview, such as David Hogg, insisted that as leader of the country, President Donald Trump must also take an important part of the blame.
"President Trump, you control the House of Representatives. You control the Senate. And you control the executive. You haven't taken a single bill for mental health care or gun control and passed it. And that's pathetic," he said.
"We've seen a government shutdown. We've seen tax reform. But nothing to save our children's lives. Are you kidding me? You think now is the time to focus on the past and not the future to prevent the deaths of thousands of other children. You sicken me."
Trump has not yet outlined what he will do, if anything, concerning gun legislation in America following the shooting, but the White House has said that he will meet with Florida students this week.
Trump will host students and teachers on Wednesday, while he will meet with state and local officials to discuss school safety on Thursday.
"I will be meeting with the nation's governors and attorney generals, where making our schools and our children safer will be our top priority. It is not enough to simply take actions that make us feel like we are making a difference. We must actually make that difference," the president vowed in his response to last week's shooting.